Some changes are necessary to stay up to date and Kawasaki have given the Ninja 650 a few timely ones.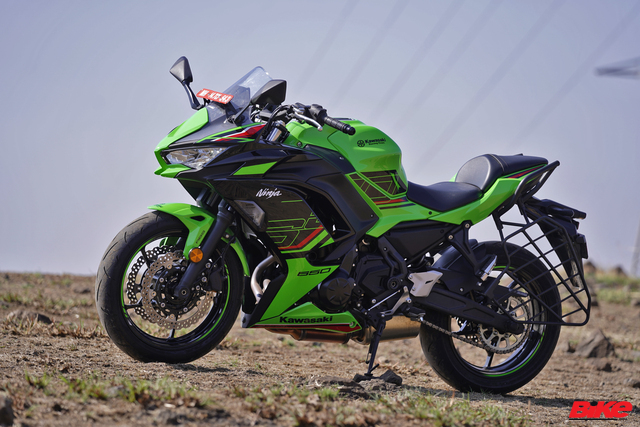 Story: Joshua Varghese
Photography: Sanjay Raikar
The Kawasaki Ninja 650 is a motorcycle that the Indian market has associated with value, usability, and friendliness over the past decade. In its latest iteration, Kawasaki have retained the formula that endowed the Ninja 650 with all those traits but have also thrown in a few updates to make it relevant for the modern customer.
The Ninja 650 has always been a bridge that leads to the ZX family of motorcycles and now the gap is narrower; at least, aesthetically. The re-designed fairing, a flush-fitting windscreen, and LED headlights carry over from the previous model while fresh graphics complete the evolution that has been evident over the past few models and now it resembles a ZX-6R more closely than ever. Of course, where the ZX's design is noticeably sharper and aggressive, the Ninja 650 is curvy and smooth. The rest of the motorcycle does not get such a drastic update and remains largely unchanged. As always, the sari-guard continues to be an eyesore and, given how any self-respecting motorcyclist would get rid of it immediately, it seems like a waste of metal, time, and effort.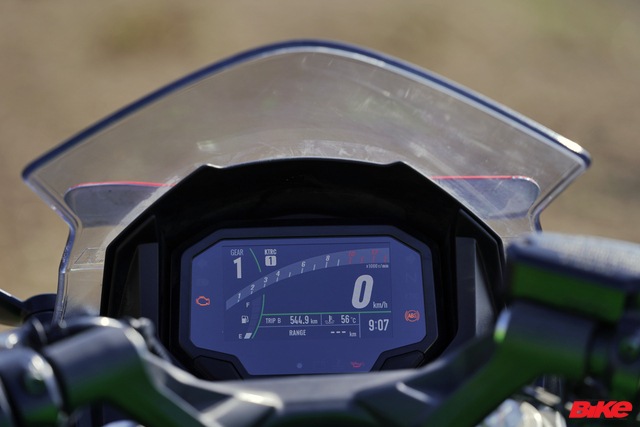 The TFT display from the previous generation has been replaced with a better-equipped console and it is modelled after the units we have drooled over in previous generations of the ZX motorcycles. It looks just as cool in this refreshed bodywork. Moreover, the ability to display colour and connect to a smartphone certainly help. Among the things that are neatly presented on this new layout, one will notice a small window labelled "KTRC" which is Kawasaki's terminology for traction control; also a new addition for this Ninja and currently limited to two levels. In spite of the overall design leaning more than ever towards the sporty side, Kawasaki have not messed with the comfortable riding position that most people like about this motorcycle.
Another area that has been left untouched is the engine and transmission department. Even in this latest avatar, it is powered by the same 649-cc, eight-valve, liquid-cooled, in-line twin-cylinder engine that develops 68 hp at 8,000 rpm and a peak torque of 64 Nm at 6,700 rpm. Incidentally, it does not have any riding modes and the six-speed transmission does not come with a quick-shifter, even as an accessory. Usable power, low-end torque, and a smooth riding experience continue to be among the strengths of this Ninja. Although it is rather heavy for a 650—it weighs 196 kilograms—the handling is predictable at pace and the mass is well distributed, which makes the motorcycle easy to balance and manoeuvre at low speed too. We did find the engine to be rather noisy as compared to previous iterations of this motorcycle but that could have been a one-off case limited to our test unit.
No changes in the suspension and braking componentry either but they did not need to be changed anyway. Set up towards the softer side, the Ninja 650 rides well over our roads and allows the Dunlop Sportmax Roadsport 2 tyres to do their job effectively. In corners, it is not the most agile when it comes to turning into the curve but it remains planted and composed through the rest of it. With its linear throttle response and power delivery, the Ninja 650 is not one to get out of shape while exiting a corner but even if it happens to, now there is the additional safety of traction control to rely on. There is a non-intrusive mode for experienced riders or rain use and another one with a higher level of intervention. The twin discs at the front and the single rotor at the rear are also adequate to cater to the Ninja 650's deceleration requirements and they are supplemented by dual-channel ABS.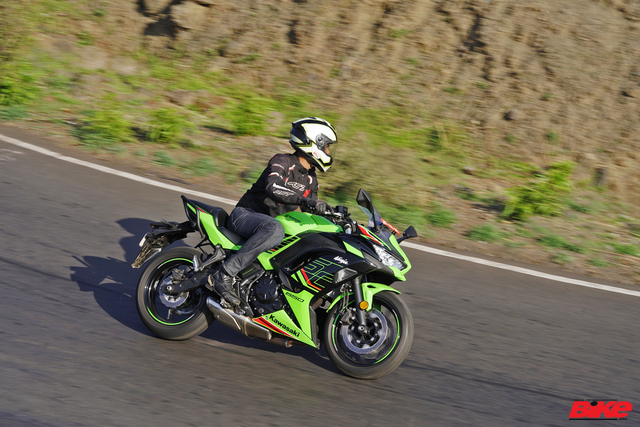 At the end of my time with the updated Kawasaki Ninja 650, I am happy to report that it continues to progress in the right direction by adding timely updates which do not drastically change its lovable formula that has made it popular all these years. One thing that may have changed for the worse is the price. At Rs 7.12 lakh (ex-showroom), the Ninja 650 is still reasonably priced as compared to other motorcycles in this segment, but it is no longer the outright value-for-money proposition that it once was.
Full video review:
Also Read: Bimota TESI H2 Carbon First Ride Review