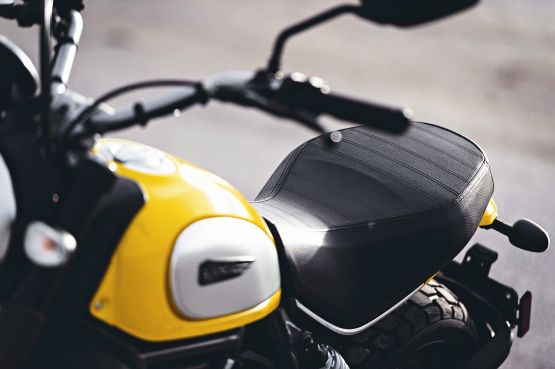 After travelling for what felt like days I reached Palm Springs where waiting patiently in the parking lot were 15 Ducati Scrambler bikes, gleaming in the sunlight and dressed in yellow and black. The motorcycle we were to ride was just one model in the Scrambler range – The Icon (which is the base model). Ducati also have three other variants with minor cosmetic changes. The Urban Enduro comes with a skid plate, off-road handlebar, higher front mudguard, spoked wheels and a protective grille around the headlight. The Full Throttle, on the other hand, has a lower flat track inspired handlebar, racing stripes on the tank and fender, alloy wheels and Termignoni mufflers. The Classic comes with a vintage seat, aluminium front and rear mudguards and spoked wheels. Ducati also have a new range of accessories and apparel to complement the riding culture that goes with the vintage Scrambler look.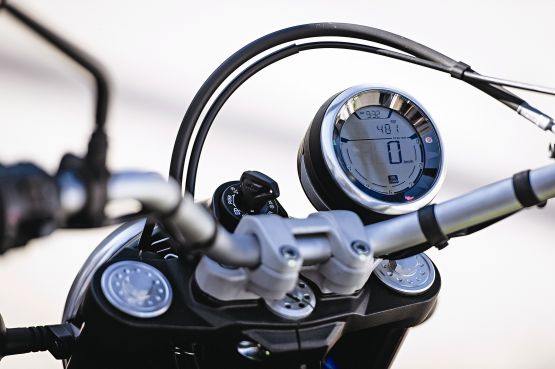 But enough about all that, let's get down to the motorcycle and all that it has to offer a rider. From afar the Scrambler looks very petite and basic but on closer inspection, there are a lot of tit-bits that make this motorcycle unique. The classic round headlight has an LED ring inside which looks quite stunning at night and during the day sets it apart from any other motorcycle in a rear-view mirror. It has a single round instrument console which has an LCD display that gives you information about the speed you're doing, engine revs, kilometres done and, of course, the time of day. The iconic tear drop-shaped fuel-tank brings back that old-school look while the aluminium tank-covers complete the package. Moving along its curvaceous design, Ducati have provided the Scrambler a long, flat low seat which ingeniously hides an under-seat USB charging station and right at the end you have a compact LED tail-light housed between the seat and the rear mudguard. Its minimalistic look apart, the Scrambler weighs only 186 kg, thus making it an easy-to-use motorcycle for beginners and a fun-to-ride one for expert riders.
Ducati are positioning this motorcycle as a lifestyle product for the young and a back-to-school second motorcycle for those in the higher age-group, emphasising more on the aesthetics and emotions involved in riding a motorcycle like this. They've also made the Scrambler an easy motorcycle by keeping the seat height low at 790 mm, which means that riders of a small stature like me can easily plant two feet on the ground while being astride the motorcycle. Ducati even have a lower seat option as an accessory – at a height of just 770 mm.