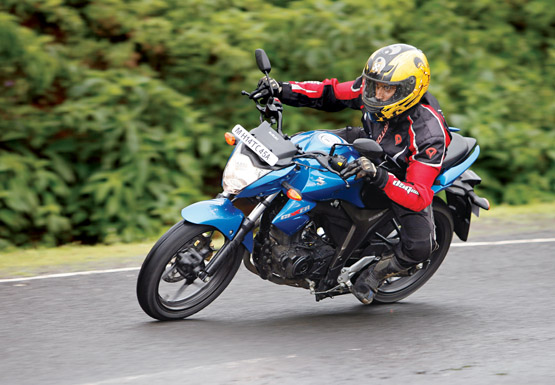 Moving the bike out of the parking lot is easy, since the Gixxer is light, weighing in at just 135 kg. Keeping the bike light has made it easily manoeuvrable. So whether you're riding in congested city traffic or sweeping round bends on the highway, the bike effortlessly manoeuvres without too much input from the rider. This also leads to better fuel efficiency, which, needless to add, is a key purchasing factor for most buyers. As you get astride this bike, you'll notice that the seat height is low at 780 millimetres. This is good for Indian riders of average height and not too low even for taller riders. The padding on the seat is good enough to keep you comfortable on long rides.
The riding position is very comfortable, keeping the rider at ease, and the knee recesses help your legs grip the tank firmly.
The Gixxer has large 41-mm front forks and a seven-step adjustable rear mono shock suspension which makes tackling rough roads an easy task. Moreover, a seven-step adjustable rear mono shock means you can change the suspension setting according to the terrain you are traversing and can be stiffened or softened, depending upon the rider's height and weight. We rode the bike with the suspension set-up at its neutral setting and found that the bike handled pretty well on varying terrain.