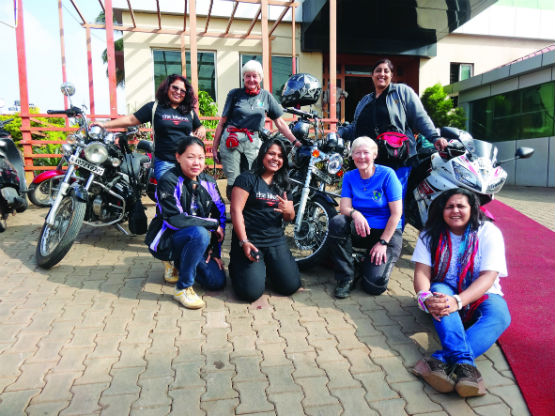 We were keen to meet the Bangalore Bikerni girls and Junaid suggested we ride to Tumkur, and ask them to meet us there. The 50 km of main road south from Hospet, until we reached the highway, was slow, bumpy and very busy with huge wind vanes and extra wide loads crawling towards us. We could see wind farms on all the hills; more are obviously planned. When we hit the highway it was a good road and a fast ride down to Tumkur, where Junaid's cousin, Majid, met us and led us to the hotel they had booked (and also paid) for us.
Next morning we heard the sound of motorcycles and hurried downstairs to meet the Bikerni girls who had met at 5.30 am to ride up to meet us. We compared riding gear. The girls say it is impossible to find proper riding trousers in India – a business opportunity here for somebody? We had a great time chatting: most of them were barely born when Sheonagh last rode round India! They are all passionate about bikes and riding and were on Bullets, an Avenger and an R15. Reena had her 16-year-old daughter on the back; Viksha cannot wait to be allowed to ride a proper bike!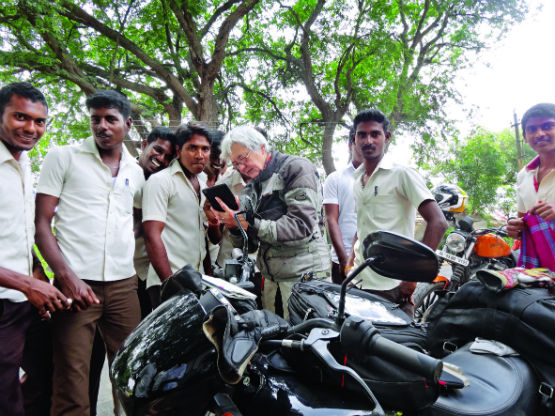 After breakfast (Pat's first idlis and wadas) the Bikerni rode with us, bypassing Bengaluru, and set us on the right road towards Chennai. It was great to meet such a feisty, enthusiastic group of female riders. The NICE road south round Bengaluru, incidentally, is a toll road for motorcycles as well (Rs 60 each).
We then had long stretches with good surface and not much traffic but saw three accidents; one was a rickshaw that rolled right over. Few people take notice of such signs as "Traffic Violators are Accident Makers" and "Safe Driving is like Breathing… Don't Stop It"!
Into Vellore and the maelstrom of a major Muslim festival, Miladi Nabi.  Throngs of women and excited children crowded the pavements and the park around the ancient Fort. Loud music from every direction filled the air and snarled-up traffic hooted madly. The women were all in black chadors, many of which were livened up with elaborate silver decoration. The men must all have been at the mosque. We sought refuge from the noise and the crowds with a walk along the ramparts of the massive 16th-century Vijayanagar Fort, surrounded by a moat. Inside is the impressive Jalakantesvara Temple.
Heading back through the festive crowds, we witnessed a tiny tragedy. Up on a hoarding above us monkeys ran back and forth gibbering and pointing. We looked at the road and there was a smashed up monkey lying in a pool of blood. One monkey looked straight at us and uttered a reproachful cry. I felt bad we didn't have gloves to bring their dead companion out of the road, and anyway we would have been run over ourselves if we had tried.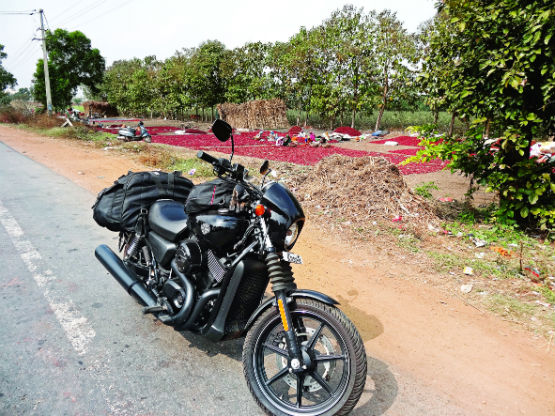 Hotel Darling Residency in Vellore has safe, guarded parking at the back, but we disc-locked the bikes and put the covers on. Generally this works, but is not always successful (see photos). It also has an excellent restaurant on the roof which was so breezy no fans were needed.
Enough of the tourist stuff for the moment. What did we think of the bikes now we have settled in? The 883 Iron is the one that attracts most attention: people love the blingy appearance, the bronze metallic colour and shiny chrome pipes. The black Street 750 is more conventional looking and more discreet with its matte black pipe and less distinctive Harley sound. However, when we tell people that the 750 is built in India, they get very excited. The next question (after photo please) is how much they cost, rapidly followed by the consumption. On this latter point, both the bikes are returning similar figures, with the 883 fractionally more economical (though this may be down to riding style). The overall average for the 883 so far is 24.8 km/litre and for the 750 it is 23.7 km/litre. On highways and clear roads, we get 28-29 km/litre, but when manoeuvring in town and negotiating heavy slow traffic, this drops to as low as 20-22 km/litre. The 883 has a relatively small tank at 12 litres, but this should still give you a range of 200 km. There is no fuel-gauge on either bike, but just after its fuel fairy light came on, we squeezed 8.4 litres of fuel into the 883, so it seems that the reserve is at least three litres.
So far Pat has not managed to prise the keys for the Street 750 from Sheonagh, so her opinion about this bike will have to wait. Riding a large heavy machine such as the Harley after buzzing around on small lightweight 150-cc bikes makes you very conscious of how much you use counter-steering to swing it around. The 883 has quite a noticeable engine vibration at 3,000 revs (about 100 km/h in the fifth gear), making your hands go fuzzy and mirrors blurry. The ground clearance on both bikes necessitate great care when tackling speed-breakers, and, ladies, if you want to ride a Harley on Indian roads, we suggest you also invest in a good quality sports bra.


Riding through some very rough diversions with loose surfaces at roadworks, both bikes rode well and felt very stable.
In Europe we are trained to check over the basics on our bikes before each ride. On a trip like this, I tend to do a swift check each day. If H-D want their owners to be proactive in the care and safety of their motorcycles (this can also help reliability), they need to make basic information easily available with the bike. I could not easily find tyre pressure information, what oil I should use, if necessary, and coolant level checks (750), as we could not find an owner's manual or even a basic tool-kit. I attempted to find the information from the H-D website but all I could get were twiddling icons.
Perhaps, we should also introduce the riders at this point. Both have been riding for over 40 years and clocked up riding in over 45 countries on a variety of motorcycles. Travelling to distant countries by motorcycle is our passion.  Even in hot countries we always wear protective clothing.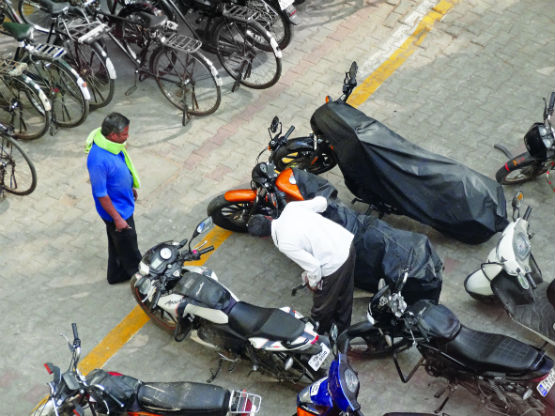 Pat is a retired underwater acoustics research scientist, so she concentrates on the technical details, checks the bikes over and does the navigation. Sheonagh was a professional conference organiser, so she sorts the admin on the road, finds the hotels and chats with everybody.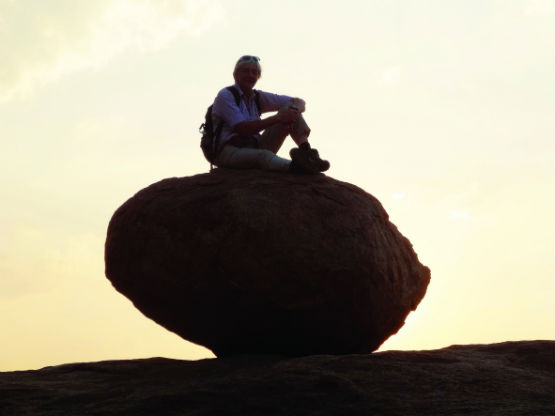 Gear Check
Pat is wearing Shoei XR1100. "I have tried many helmets over the years and these fit my head comfortably and properly. Jacket and trousers by Hein Gericke Tuareg range: these fit me well, keep the sun off, provide protection and have lots of vents. It's a shame they don't make this range any more.  Gloves by Rhino, also vented. Boots by Altberg, a British company that customises army boots for motorcycling."
Sheonagh is also wearing a Shoei helmet, boots by Altberg and vented trousers from the ladies' range by Hein Gericke. Jacket by Gialli and gloves by Held.
We prefer to travel with more than just a change of underwear and a credit-card, and on our own bikes we use soft luggage which is how our moniker of 'dusty old bags' came about. It referred to the luggage we used on a trip through South America. For this trip, we had been intending to just strap a small soft bag on to the back of each Harley for our luggage. This was the solution for the 883; under the orange dust cover and bungee cords is a simple canvas bag. It fits well, even though there is no pillion seat. For the 750, Bike India loaned us an excellent set of panniers that fit well over the pillion seat and a good size tank-bag, both by Viaterra. However, it was not possible to fit the tank-bag on the 883.