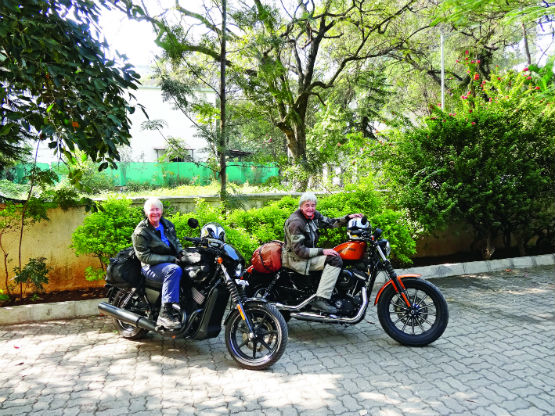 Never in our wildest dreams did we imagine we would be touring India on a couple of Harley-Davidson motorcycles: the new Street 750 and the 883 Sportster. Therefore, when Bike India organised for us these brand-new H-D bikes, we jumped at the chance
Story & Photography: Patricia Thomson & Sheonagh Ravensdale
After Sheonagh's last trip (on a Rajdoot 350 in 1987) she hardly envisaged cruising easily and comfortably on excellent highways at 120 km/h and more.  In Europe Sheonagh normally rides a Suzuki Bandit 600 and Pat a CBR600, so our rides are very different. Initially, we were thinking of buying two motorcycles for our south Indian trip. However, Bike India Editor Aspi Bhathena very kindly made the aforementioned H-D bikes available to us.
To us, Indian traffic is somewhat challenging, to say the least, and we started out somewhat nervously in the late December morning rush through Pune on to NH 4. We took the tunnel that carved through the first ghat, somewhat surprised by totally unlit vehicles in the tunnel and those that only put their hazard lights on and honk their way through. The highway thereafter was busy most of the way to Kolhapur and we soon learned to undertake the lorries hogging the outside lane, but had to watch out for bullying cars that tend to squeeze into any available gap. However, the surface was excellent and the powerful Harley engines lapped up the kilometres easily and very comfortably.  Handlebar vibration on the Street is negligible. On the highway the Street handles remarkably like the Japanese bikes we are used to, and the ability to accelerate quickly to get out of trouble is really useful.
Arrival at the next ghat and it was like being in the dodgems at the fair, with all vehicles pushing and jostling to get past one another on the hairpins: we had never seen anything like it.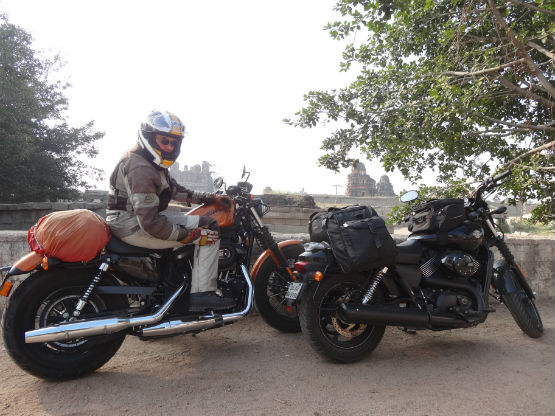 After Kolhapur, traffic eased off and we could start to appreciate the changing countryside scenes. Women walked down the side of the road with bundles of firewood on their heads; cartload after cartload piled high with sugar-cane slowly made their way to a central collection point. We were, however, surprised to see a couple of them coming towards us in the outside lane of our carriageway….  Soon we began to encounter the dreaded speed-bumps that infest the villages and small towns along the way and however slowly we rode over them, the Harleys ground all too often.
After an overnight stop in Belgaum (nice safe underground garage for the Harleys at the Sai Sangam International Hotel), we pressed on to Hampi, stopping only for photos of chillies drying by the side of the road and a scenic small train at a railway crossing. Palm trees line the approach road to Hampi and after some initial confusion as to where Hampi Bazaar was, we found our cosy hostel Ranjani in a quiet corner of the bazaar, and got a great welcome from the family that own it. Bikes were tucked away, but we put the Harry Potter invisibility cloaks on them and they disappeared from prying eyes – just simple bike covers. Up on the roof, we found an after-school English lesson in progress with the children all enthusiastically reading stories aloud. Some of the kids were very good. From the roof you also get an excellent view of the magnificent Virupaksha temple.
We spent New Year's Day visiting the main temple sights with our rickshaw driver, Jilan, who was also a knowledgeable guide. Hundreds of children shouted Happy New Year, demanded to shake our hands and wanted their photos taken with us. Now we know how celebrities feel! We loved the festive saris worn by many of the women; the splashes of colour contrasted beautifully against the sand-coloured buildings.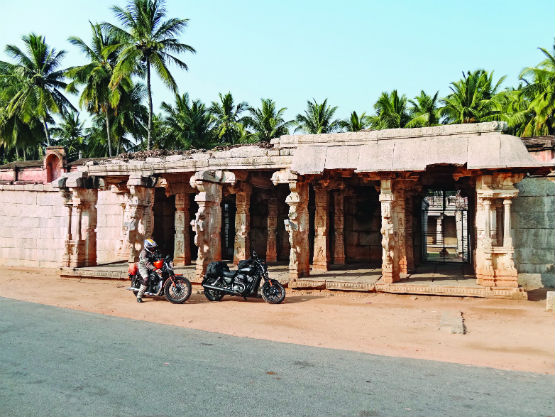 A massive amount of archaeological restoration has been done since Sheonagh's last visit in 1987 and Hampi is deservedly a World Heritage Site.  First mentioned in the Ramayana as Kishkindha, home of the monkey gods, in the 14th century Hampi became the Telugu capital Vijayanagar. Within 200 years it had a population of half a million and was one of the largest Hindu empires in Indian history. Its location in a boulder-strewn landscape is unique.
With its large temples and intricate carvings in impressive courtyards, bath-houses for queens, secret underground meeting places, tiered water tanks, large raised platforms for celebrations, small temples perched on rocks or tucked into crevices and, of course, the famous Elephant Stables and Stone Chariot, you could spend days wandering round the 45 square kilometres of the city.
We decided we needed a chill-out day after this and climbed on to the small, crammed ferryboat which wobbled precariously, engine stuttering, across the river and settled down in the Ooh La La Café for lunch.
Suddenly we heard a Tiger roar… it was Junaid from Art of Motorcycles on his new Triumph come to visit his Nepalese biker friend who owns the café. We were staggered to hear the OTR cost of Rs 17.5 lakh, double what you would pay in England. We spent a wonderful afternoon with him, swapping biking tales of adventures in different parts of the world and showing  each other photos of bikes doing crazy things in crazy places. He told us he has a fleet of 53 Enfields and organises group trips to the Himalayas. (We are tempted!)  Finally, we tore ourselves away from this fascinating chap and hopped into a woven coracle togo back across the river.