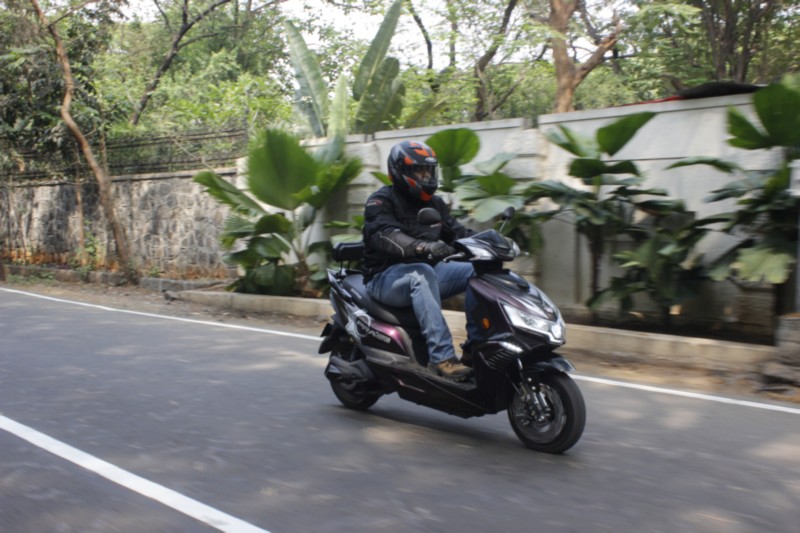 At 1,970 mm long, the Praise is about as long as the old Kinetic Blaze 165-cc sport-scoot. It's also quite heavy, with the weight concentrated in the battery pack. There's another departure from convention that arises as a result of that. The floorboard is high, but the seat height is still 774 mm. This means you ride with your feet, and knees, much higher than a normal scoot. Of course, the riding position is something you can get used to eventually. What is harder to get used to is the stiff ride. The front suspension, a telescopic fork, is extremely firm and has almost no give — whether tackling speed humps or potholes — and that area has a lot of scope for improvement. The rear has two damped springs that, well, work. It does have 12-inch alloy wheels and 90/90 tubeless MRF Zappers, though. Neat. The brakes, a unique "dual disc" set-up at the front — one hub-mounted rotor and one perimeter rotor gripped by a pair of calipers, both on one side — and the rear disc offer okay stopping power. However, the system cuts motor output when the brakes are used making for quite a hazard when manoeuvring it for something like a U-turn. Significant changes in direction are best done slowly. Not so neat.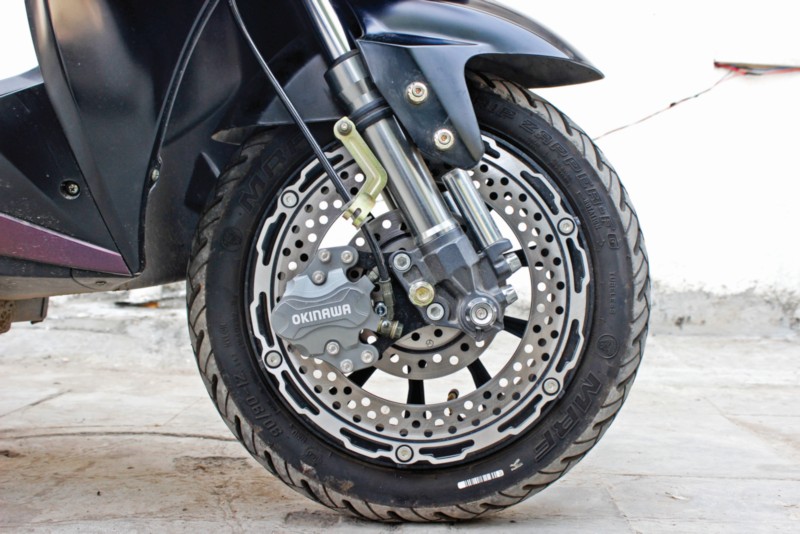 It terms of kit, it does have a USB port and two useful storage pockets. Below the seat is a 19.5-litre compartment that can hold more stuff. The passenger seat also benefits from a huge backrest that has been welded on. Finally, there's the electric part. A packed charger with auto cut-off plugs into a micro-charging slot. A full charge takes six to eight hours for the VRLA battery, and an hour with the optional Lithium-ion battery, or so the company says. Even so, we've managed a decent range of 105 kilometres. Both are in city-commute real-world situations. Other notable bits are the motor walking assist, forward and reverse, a sensor-enabled side-stand that won't allow it to start, and a smart keyless "central locking system with anti-theft alarm" and a "Find My Scooter" function.
Then there's the price. At Rs 60k, the Okinawa Praise is in the ballpark of some great conventional 110-cc and 125-cc scooters. Some states push electric mobility with no road tax and other benefits. The thing with electric mobility, whether scooters or cars, is: what's the point of a clean electric vehicle if the power used to recharge it is coming from a coal-fired nature-killing power-plant? We need to get truly unconventional, sustainably. Food for thought.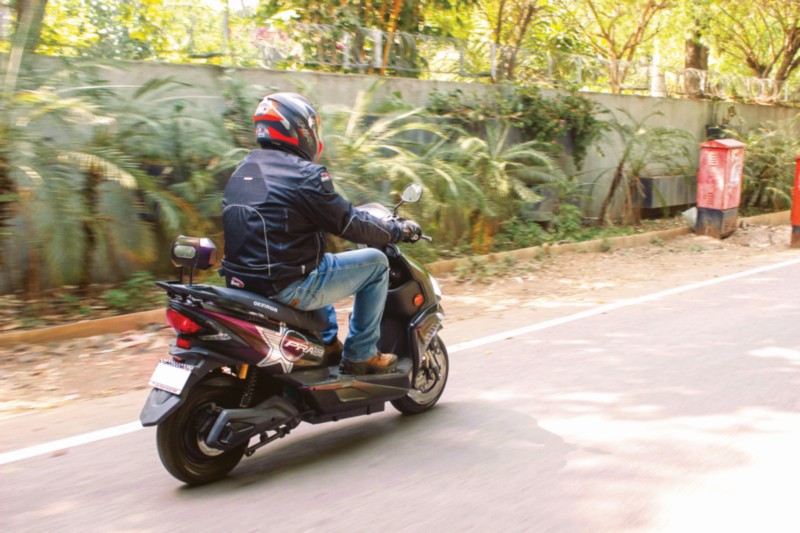 Need to Know – Okinawa Praise
Price: Rs 59,889 (ex-showroom)
Battery Pack: 72-volt, 45 aH Lithium-ion
E-Motor: 1.0-kW Brushless DC Motor
Max Power: 2.5 kW (3.4 PS) peak; 1.0 kW (1.36 PS) sustained
Max Torque: N/A
Range: 170-200 km (claimed)
Max Speed: 75 km/h (claimed)
Tyres (F/R): 90/90-12, tubeless
Weight: 150 kg (estimated)
Gear Check
Rider: Jim Gorde
Helmet: Shiro SH-600 Brno
Jacket: DSG Nero
Gloves: DSG Nitro