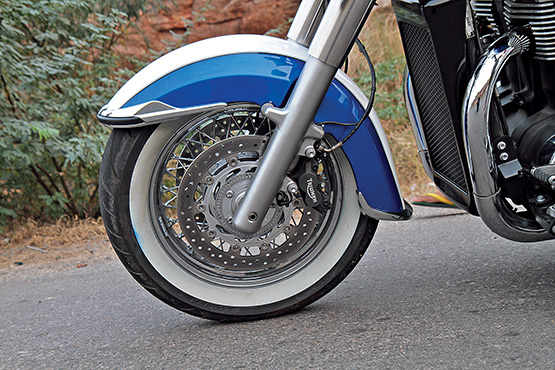 The LT performs exceptionally well for a hefty cruiser and let there be no doubt about the weight of this monster. It was hard for me to imagine that I was taming a beast that weighs a daunting 380 kilos, and with me on it, the scale is just a smidge shy of half a tonne. Despite that, the wide front end felt light – in fact, lighter than it should – which enabled me to weave through the Gurgaon traffic as if I were riding something small and agile. But at lower speeds, say 30-40 km/h, I noticed the bulk of this hulk, especially while taking a turn.
As for the ride quality and handling, the LT stunned me. I had imagined that it would be a charm to ride on the straights, but that it would shiver like a wet cat in the corners. However, this Brit proved me wrong. The suspension, unlike American cruisers, is softly sprung and it glides over all road imperfections like a big butterfly. Just the right amount of softness of the LT's suspension gives it a comfortable and superb ride quality, which I am sure will encourage many buyers to undertake those 500-miles-a-day trips without necessitating a visit to the doctor later on. In a straight line, nothing can shake the LT off its track as it feels solid and sure-footed all the time. However, it was in the corners where I was awestruck by its performance. Although this one is a cruiser, point it towards a corner and it stays on the chosen line as if it were on rails, though, of course, you have to be careful about the approach. After all, it is a cruiser.
To be honest, I was a bit sceptical about the LT being a good cruiser, but it simply amazed me with its talent. It is heavy, no doubt about that, but it is one of the finest and different looking cruisers available in the country. Plus it features a motor that is recognised the world over as the biggest parallel-twin currently available. If I were to buy the LT, I would seriously consider it for its engine, ride quality and handling. It is a perfect blend of retro styling and contemporary technology packed into a motorcycle that costs Rs 15.75 lakh (ex-Delhi). Expensive it may be, but it is a true-blue cruiser that works perfectly well in a crowded city and looks like a million bucks while doing so. Moreover, it's perfect for a quick dash to the coast over the weekends and if I am in a mood to make a grand entry, I don't have to think twice before doing so. So get that cheque-book out.