Engine and Gearbox
Suspended from that twin-spar frame is Kawasaki's excellent four-cylinder, liquid-cooled, DOHC motor displacing 636 cc. Those extra 37 cubic centimetres over the standard 599-cc fare in the Japanese supersport field are responsible for a meaty spread of torque that makes this bike such a joy to ride even at low to mid-range revs. Conventional knowledge claims that middleweight sportbikes are gutless in the midrange, and need to be constantly kept at high revs, but the Kawasaki turns this logic on its head. Although acceleration through the low midrange isn't what you would call sizzling, the ZX-6R pulls strongly well from under 5,000 rpm — better than any other 600 supersport I've ridden — negating the need for constant gear shifting.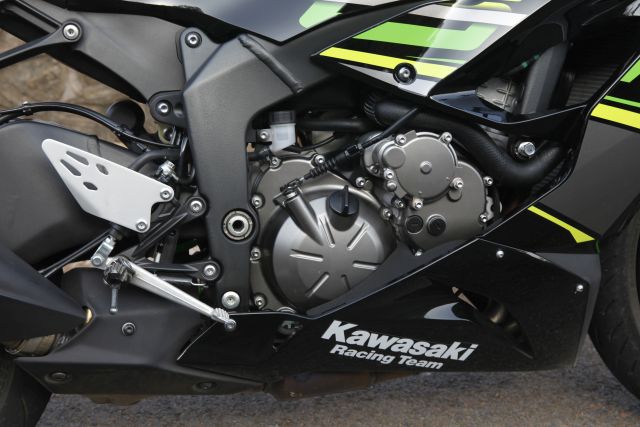 Even when pottering around at 30 km/h in sixth gear at barely 2,000 rpm there was no sign of knocking; extremely commendable behaviour for this class of machine. The flexibility of this engine is why the ZX-6R is widely considered the best, most rideable, road-going supersport in the world and, churning out 130 PS (136 PS with ram air) at 13,500 rpm and 70.8 Nm or torque at 11,000 rpm, it outdoes the competition when it comes to peak figures as well. The engine is mated to a sure-shifting 6-speed gearbox with extremely well-spaced ratios, helped along by a quickshifter for butter-smooth clutchless upshifting.
Ergos, Ride Quality, Performance and Handling
As I reach forward to the extremely low, downward-tapering clip-ons, it becomes apparent that a lot of thought has gone into the wide, flat upper profile of the fuel tank, allowing me to drape myself over it when getting into a proper crouch. There is even a recess ahead of the filler cap to accommodate the chin bar of your helmet when in a full tuck, while the sides are designed to provide a bit of extra support to the rider's forearms when hanging off in a corner. Both levers are reach adjustable, and the footpegs, although high enough to allow for generous cornering clearance, aren't so high as to make this bike unreasonably uncomfortable for taller riders. My short legs were at an acceptable angle for sporty riding on the road, although more aggressively-positioned rear-set foot controls may be needed to unlock extreme lean angles when pushing limits at the racetrack.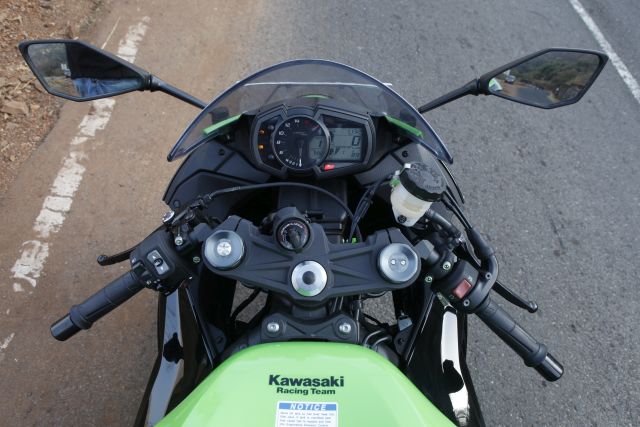 Turning the key in the ignition brings the informative analogue-digital dashboard to life; this unit is similar in design to the one we saw on the Ninja 400, with the tacho calibrated all the way to 18,000 rpm, and the redline marked at a tasty 16,000 rpm. An LCD gear position indicator with a shift light above and clock below sits within the tachometer dial, a larger digital panel to the right displays speed, odo and trip meters, fuel level, coolant temperature, power mode, traction control level and more, while a panel for all the warning lights is placed to the left.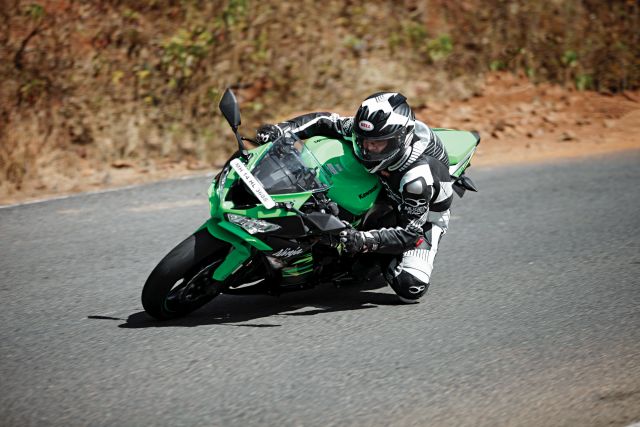 Riding this bike through heavy traffic is no mean feat, and will take some getting used to; the reach to the bars is anything but comfortable, and the tank protrusions that provide forearm support when cornering foul with the rider's wrists at full lock. Consequently U-turns need to be planned out, and may involve some backward paddling. Fast-flowing traffic is easier to dispatch, and the green missile obligingly slides into gaps and powers past cars with just a twitch of the right wrist. Here, in the real world, is where the extra torque borne from those extra 37 cubic centimetres comes into play, and quick overtakes at low to medium revs can be executed without the need to downshift.