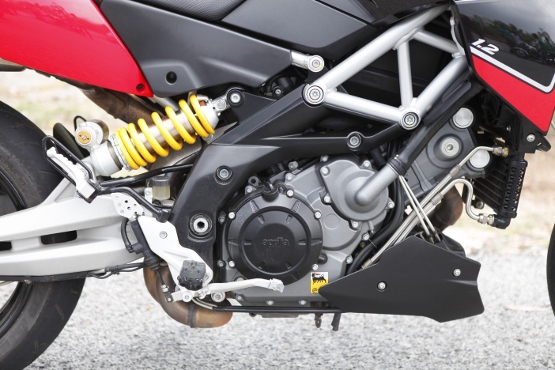 Suspended from the steel trellis frame of this Aprilia is the company's four-valve 1,197-cc 90-degree liquid-cooled V-twin. The motor puts out a maximum of 130.5 PS and 115.2 Nm, which are sent to the 17-inch rear wheel via a six-speed gearbox and chain final drive. The box itself is slick shifting but with a positive click to each shift. But before I move to the way the Dorsoduro rides, it's imperative that I explain the bike's three ride modes – R, T and S – which are activated via the engine start button. Start the motor, then hold the button down again and it allows you to select the desired mode. What is great is that modes can be altered while on the go. What the system does is select a pre-set ECU map for the corresponding mode.
Obviously, R is the most sedate mode and is good for first-timers on this bike as they get accustomed to the machine. Select S and the bike seems to go a bit mental with all that power and torque coming on in one massive rush that threatens to be overwhelming. No. For a majority of riders the de facto default engine mode will be T (which stands for Touring) that provides the best of both worlds.
Power is available instantly and continuously from the moment you twist open the throttle right up to the higher reaches of the Aprilia engine's rev range. A word of caution here. This is a seriously fast machine that's capable of getting the speedo up to 150 km/h before your brain registers how quickly everything is going by. So you need to have respect for the Dorsoduro. At the same time, the bike's inherent nature inspires the hooligan in you (the one who keeps grinning long after the ride is over) to make his appearance.