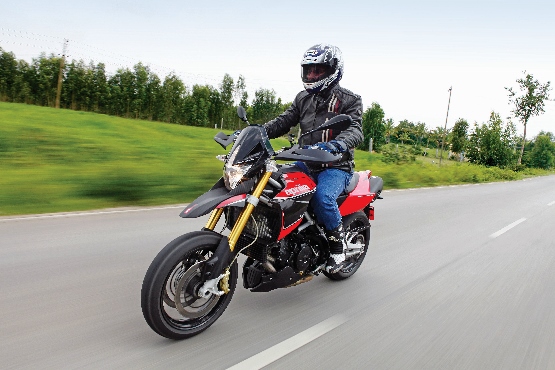 The Aprilia Dorsoduro 1200 ABS is a veritable grin factory on two wheels as we found out on the windy roads up to Nandi Hills in Bengaluru
Story: Aninda Sardar
Photography: Sanjay Raikar
Corner. Sighted. Bike. Tipped in. Throttle. Open. And she shoots out of the bend like a slingshot. You are suddenly aware that your helmet feels tighter. The reason? The wide grin pasted on your face like a joker's mask has stretched the cheek muscles to their max. Think I'm off my rocker? Trust me, the Aprilia Dorsoduro 1200 ABS is such a hoot to ride that it excites you to a point where even speaking becomes staccato bursts of chatter like the bike's exhaust note. By the time I finish the ride and head back to base at the Golfshire golf resort, I am nearly convinced that the grin is there to stay for quite a bit longer than the time it takes for me to get off the bike and remove my helmet.
Riding an Italian motorcycle, especially a 1.2-litre Supermotard, doesn't happen daily. Not even in my profession. Naturally, when the opportunity did come up, I for one clung to it for dear life. Now, I had never ridden this format of motorcycles before. I have ridden sports bikes, sports tourers, nakeds and cruisers in the past and my leanings are definitely towards the former two rather than the latter two. As a result, I had absolutely no idea what to expect when I approached this somewhat outlandish looking motorcycle with its beaky carbon finish nose and third eye like single pilot lamp. Although it doesn't really look it from a distance, the Dorsoduro is a tall bike. Tall enough for a six-foot tall rider like me to have to stretch his legs a bit to have both feet on the ground. The upside of this is extra ground clearance, which is always a boon on Indian roads, and a commanding view of the road ahead, which is another boon on our hazard-prone highways.
The other thing that is immediately apparent is how well-put-together the machine feels and the amount of attention that the bike's Italian makers have lavished on details. Even the 1.2 sticker on the shroud flanking the fuel-tank announcing the bike's engine capacity is embossed and feels nice. Nice enough for you to want to run your fingers over it at least once. If you're used to Japanese machines, then it is advisable to take a couple of minutes to orientate yourself with the bike's controls. Ergonomics are top-notch and every switch on either side of the flatish handlebars fall to the fingers quite instinctively and you don't really need to search for them.