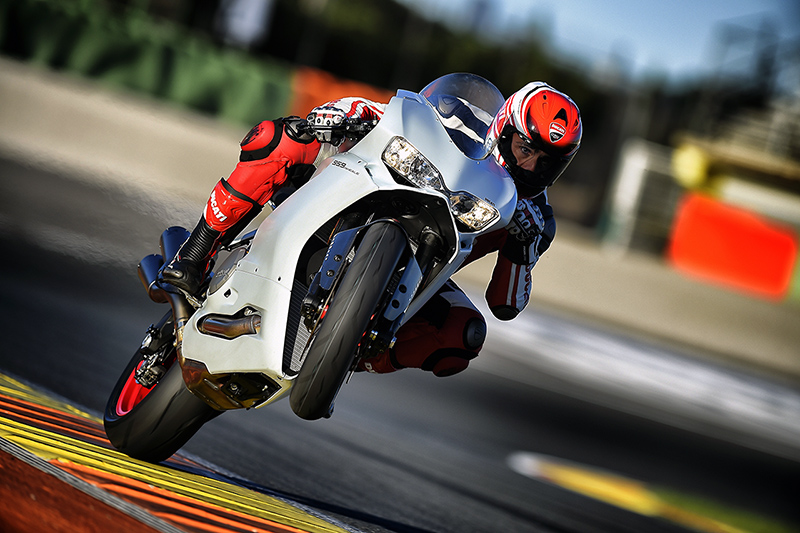 The improvements were obvious immediately. Throttle response was crisper and more direct, the Ducati punching out of turns with added enthusiasm. There was only occasional, relatively minor interruption from the DTC, now backed off to its third of eight settings, and presumably benefiting from the extra traction provided by the lower swing-arm pivot. On Valencia's relatively short pit straight the Panigale rumbled up to an indicated 250 km/h with a little more to come, while I jammed my head as far as possible behind the slightly taller screen inherited from the 1299.
Top-end performance is definitely improved over the 899, and so is midrange torque, which will be useful on the road. But even this longer-stroke V-twin did still have a slight issue of needing 7,000 RPM-plus on its tacho to deliver serious shove when exiting turns, and hit its rev-limiter rather abruptly at 11,500 RPM if I didn't hook another cog in time. Through the Ricardo Tormo circuit's infield series of second-gear turns that occasionally meant I had to change up and then immediately down again, when a broader usable rev range would have been handy.
There's mixed news on the gear-change front. The box itself was very sweet and the quick-shifter, a more refined version of the 899's, worked flawlessly. It seemed to cope with lower revs too, which should be a bonus on the road. But unlike the 1299's shifter it doesn't incorporate an auto-blipper for down-changes, which was a disappointment. At least this mid-sized Panigale has gained an efficient slipper clutch, which was especially useful when dropping two gears while braking into one long, slow left-hander.
The 959 shed speed very rapidly, too, though braking was another area where the competent Ducati suffered in unfair track comparison with its senior sibling. The combination of Brembo Monobloc callipers and 320-mm discs is never less than powerful but when sitting up at the end of that pit straight the 959 required a firm squeeze, its M4.32 callipers not matching the two-finger ferocity of the 1299's sublime M50s. On the road the smaller-engined model's less sharp stopper might well be preferable. And its Bosch ABS worked superbly even on track, though it doesn't approach the sophistication of the 1299's cornering system.