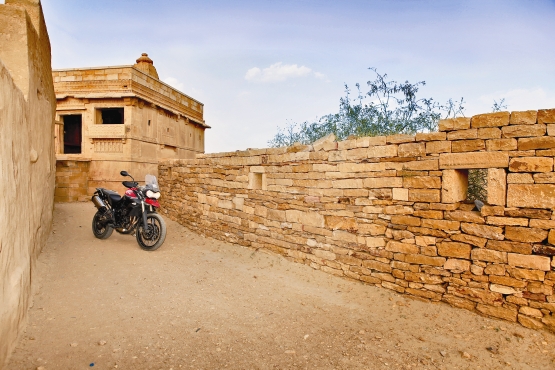 We pulled into 'the golden city' of Jaisalmer about one o'clock and immediately stopped under the shade of the nearest tree. The Jaisalmer Fort made up most of the background and was a glorious sight to behold. We decided it was best to check into a hotel now and begin our exploration when the sun wasn't in such a brutal mood. Jaisalmer has a number of hotels to choose from and the whole place seems well-organised. The people are polite and extremely courteous and finding our way around was easy, even without Google Maps. After a quick lunch and a power nap, we set off for Kuldhara, a "haunted village" about 15 kilometres from Jaisalmer.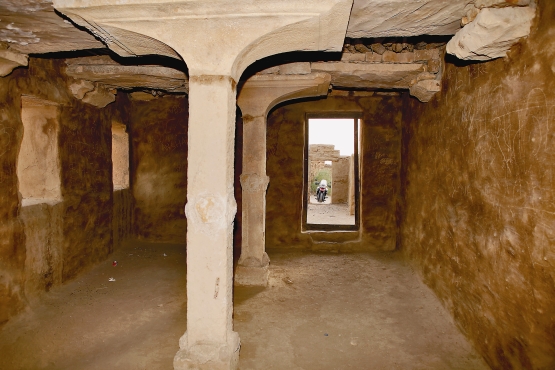 Although Kuldhara is commonly referred to as a haunted village, folklore speaks of it as an abandoned city. The early inhabitants were successful traders and a wealthy lot. The then King of Jaisalmer took a fancy to the Kuldhara chieftain's daughter, but, due to complications, things could not proceed. Furious, the King gave the chieftain an ultimatum. Overnight, the villagers took what they could carry and buried the rest, leaving only after casting a curse on the land. Today, Kuldhara has been classified a heritage site and protected, with many structures being retained or renovated. The moment you cross the boundary, you enter what seem to be endless ruins. Yet, there are several houses, complete with full-size rooms and a reconstructed temple.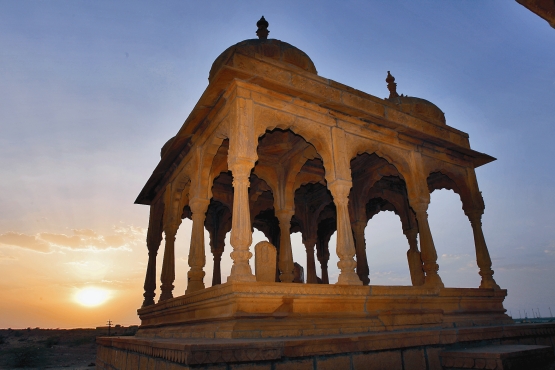 Further up from Kuldhara, about 40 kilometres, is Sam. Famous for the endless sand-dunes, Sam is the doorway to the Thar Desert. There are several operators whom you can approach for a desert safari in a 4×4 or even on camelback. As much as I wanted to try my luck with the Tiger, I had to head back to the city. Our next stop was Vyas Chhatri, one of the most beautiful examples of Rajasthani architecture, with intricate designs adorning the domes. It is dedicated to the sage Vyas, author of the epic Mahabharata. It is probably the best location to catch the setting sun over the desert. You can also get a great view of the city, and an eyeful of Fort Jaisalmer, which is exactly where we were headed.
Fort Jaisalmer is unlike anything I had experienced before. Towering walls, battlements, watch towers and turrets surrounded me, and, since we had reached after sunset, everything was aglow in amber light. Situated atop the Meru hill, Fort Jaisalmer was built over eight centuries ago in 1156, but unlike many historical monuments, it is still inhabited, packing stores, restaurants and clearings where children play. It is an abode and a city to many within. Everything is artistically carved in stone and wherever you may look; there is an opportunity to capture memories in a format of your choosing. Not the kind to head out to a typical restaurant when in a place like this, we chose to have a quick dinner and fresh juice at an eatery called '8 July'. Before we knew it, it was time to call it a night.