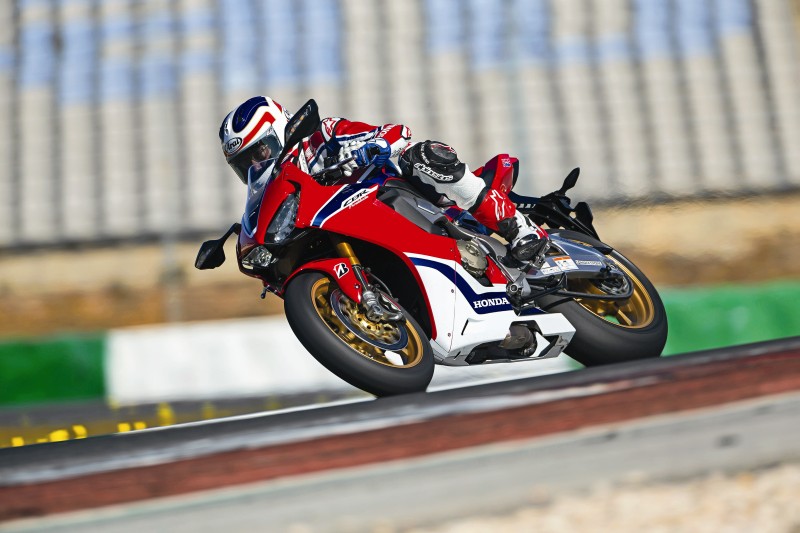 Handling was impressively sharp with the Showa units on standard settings, and better still after I'd firmed both ends slightly for the second session. The front end tracked accurately and gave plenty of feedback, and the rear remained well controlled and benefited from tweaking to suit my relatively heavy weight. The Tokico front brake slowed the bike fiercely, too, although in a couple of places I was surprised to find the Nissin ABS system cutting in, probably because the rear wheel was lifting rather than the front tyre was losing grip.
That suspicion was reinforced in the third session, which was astride the Fireblade SP, whose semi-active Öhlins suspension firmed itself automatically under hard braking to keep the Honda very stable, and resist the ABS' tendency to activate. If the RR had been delightfully responsive and agile, the SP was even more so and cornered even harder, especially because it was fitted with Bridgestone's V02 slicks instead of the RS10s it wears as standard.
The soft and sticky rubber combined with the Smart-EC suspension to allow even stronger braking from the SP's Brembo Monoblocs with less pitching and minimal ABS intrusion, though I'm still surprised Honda didn't allow the anti-lock to be switched off. (A few of the fastest riders still had trouble with it.) And the Öhlins kit was seriously impressive, too, both initially and even more so during the 45-minute afternoon session, which gave time for some push-button fine-tuning.
The SP felt very good in its first session with the suspension in Manual mode, which keeps the NIX30 forks' and TTX36 shock's damping rates constant, and allows fine-tuning by pushing the handlebar button rather than using a screwdriver. And it was better still after lunch, when we used the semi-active option, which monitors suspension movement 100 times every second, and constantly adjusts damping levels to suit.
With this generation of Smart-EC, Öhlins and Honda have tried to make setup simple by dividing chassis performance into braking, cornering and acceleration zones, and allowing push-button fine-tuning in each section. The SP felt so good straight away that I would have been happy to keep lapping just as it was, but I felt it would benefit from firming up slightly so came in and increased general damping levels at both ends.
This succeeded in making the Honda feel even tauter, but the firmer, higher front end meant that the bike didn't steer so easily and tended to run slightly wide. Back in the pits, the Öhlins technician took only a few seconds to soften the front slightly under braking only, which restored the sweet steering, this time with extra control.
That ability to change settings so easily and effectively was useful on track, and would possibly have been even more so if we'd had the chance to ride the Fireblade SP on the road, in which case a quick press of the button into 'Winding Road' or softer still Street mode could instantly have tweaked both suspension and power delivery. The SP is expensive, costing roughly 25 per cent more than the standard RR (and about as much as Yamaha's YZF-R1M) but it's a seriously classy superbike.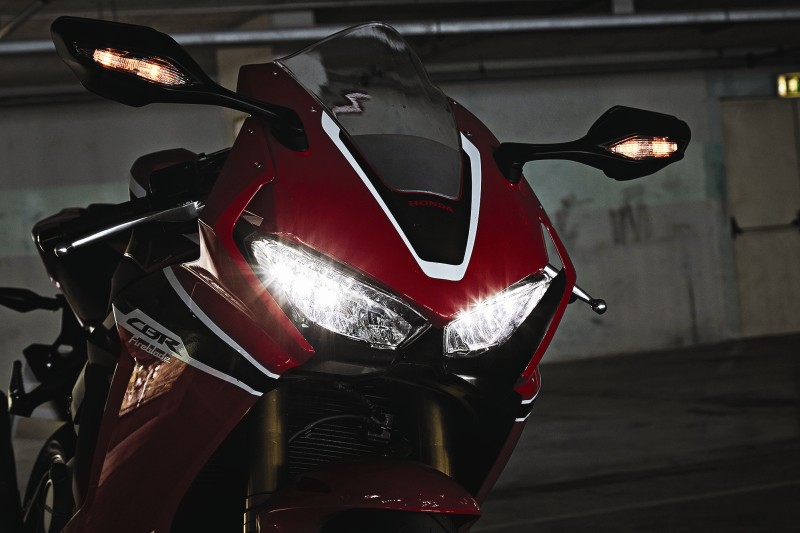 And the standard RR, too, is a fine machine that puts Honda right back into the super-sport mix on both road and track. Compared to the outgoing model, it's faster, lighter, more manoeuvrable and infinitely more sophisticated. Better still, it honours original 'Blade designer Tadao Baba's legacy by impressing not simply with horsepower and pure speed, but with a balance and agility that should make it fast and fun in a wide variety of situations.
The 2017 Honda CBR1000RR has been launched in India and priced at Rs 23.35 lakh(ex-showroom).