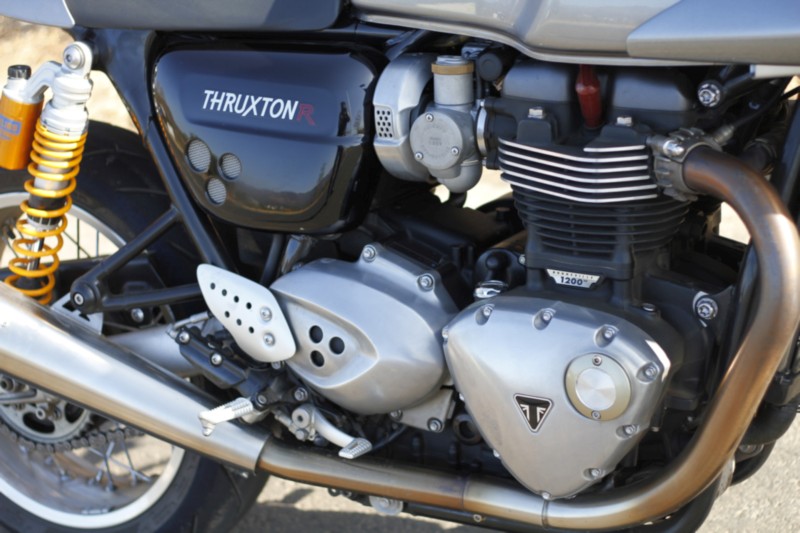 This is the new liquid-cooled 1,200-cc parallel-twin in its most potent form. The 270° specially-lightened crank leads the deliverance of 112 Nm of torque that peaks at 4,950 rpm — seven Nm more than in the T120 and 1,850 rpm higher, too — yet, there's no lack of grunt, with almost 70 per cent of the output available at 4,500 rpm and the ride-by-wire akin to natural selection. Like systematic chaos, every flame burns hard and powerful, releasing all 97 horses at 6,750 rpm. You don't have to rev it up. Those ratios are spaced to perfection and the first four are all you need for most part. Fifth is to let loose. Sixth is interstellar overdrive.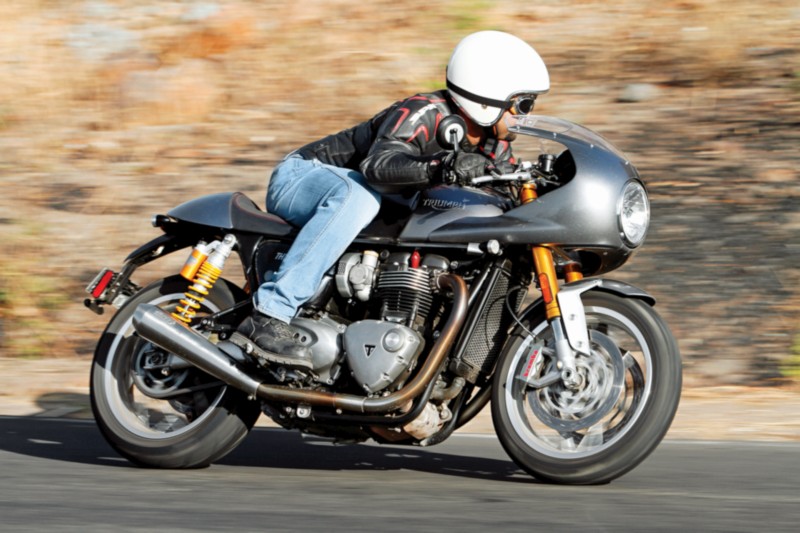 Crouch into position, eyes on the road ahead, and open the throttle. With the advanced fuel-injection system disguised as carburettor barrels, every molecule of fuel is sentenced to burn. There's an even flow of power and at no point does it feel like a freak on a leash. As those Diablos do the devil's dance, the R flows from one corner into the next, with barely any effort. And it gets easier with each passing turn. Even if the scenery becomes a little too animated all of a sudden, it's agile enough to swerve clear and power out of the situation no matter what gear you're in.
The ABS-equipped brakes deliver incredible feedback whether lightly coaxed or squeezed with a panic attack from the traffic. More throttle, and those pipes rumble out a consistent then increasing beat akin to double-bass drums on a high, giving the experience a further full-bodied feel. Set the controls for the heart of the sun and, like a pillow of winds, the aero bits envelope you in speed. It can munch miles, and with relative ease. Riding over the hills and far away is easier knowing technology has your back. The 14.5-litre tank and — I kept checking to see — the indicated 5.5 litres/100 km (18.2 km/l) efficiency figure promise a range of about 250 km, give or take. It had been 120 km since I'd started and I was yet to find a flaw or, in fact, anything negative to say about the Thruxton R.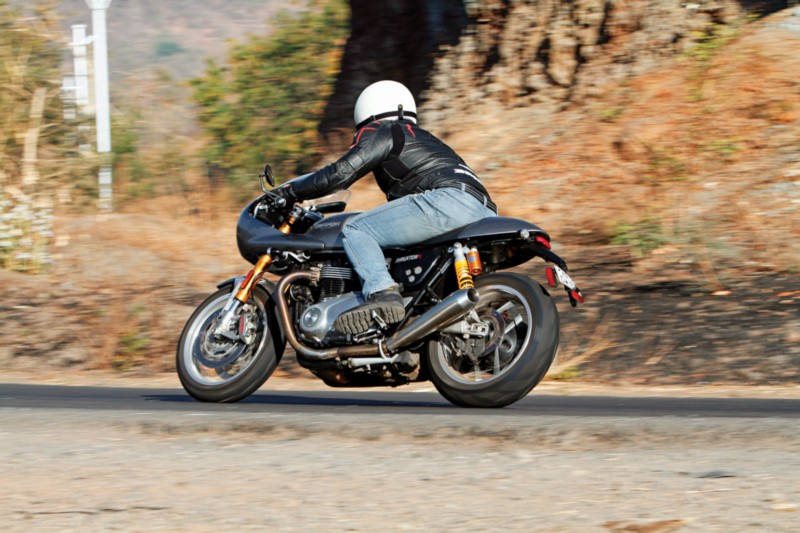 Today's day and age has seen an explosion of variety and, dare I say, good taste is in dire straits. Electronics are everywhere. There's always one like another. But, thankfully, the Thruxton R is no soldier of fortune, and makes do with just the essentials; blending cutting-edge aids with mechanical brilliance. With its abilities, it's not just hot in the city, but it's also a highway star. It's certainly not another brick in the wall. It's the ace of spades. At Rs 11 lakh (ex-showroom) you will not want a single nickel back. It's not a vulgar display of power; it's the art of shredding tarmac with absolute domination of the senses.
You could be perfect strangers at the start, but then, riding along, you don't worry about the way things might have been. Those big wheels keep on turning, and you keep on rolling. It's a painkiller on wheels and can be equally capable of silencing demons. You may come as you are. It's pure motoring, a hell-raiser. It was born to be wild and it will, it will rock you!
---
Need To Know – Triumph Thruxton R
Price: Rs 11 lakh (ex-showroom, Delhi)
Engine: 1,200 cc, liquid-cooled, SOHC eight-valve, parallel-twin
Bore x Stroke: 97.6 x 80 mm
Max Power: 97 PS @ 6,750 rpm
Max Torque: 112 Nm @ 4,950 rpm
Transmission: Six-speed gearbox, chain final drive
Brakes: Twin 310-mm discs (F), 220-mm disc (R) with ABS
Tyres: 120/70 ZR17 (F), 160/60 ZR17 (R), tubeless, Pirelli Diablo Rosso Corsa
Weight: 203 kg
---
GEAR CHECK
Rider: Jim Gorde
Helmet: Shiro Bad Boy
Jacket: Spidi Track
Gloves: DSG
Denims: Wrangler
Boots: Caterpillar
---