Essential heavy metal, fearless design and echoes of time standing still, this Triumph is a hard rocker to the core. Rockers, rejoice. Your full-blooded café racer, the Thruxton R, is here.
Story: Jim Gorde
Photography: Sanjay Raikar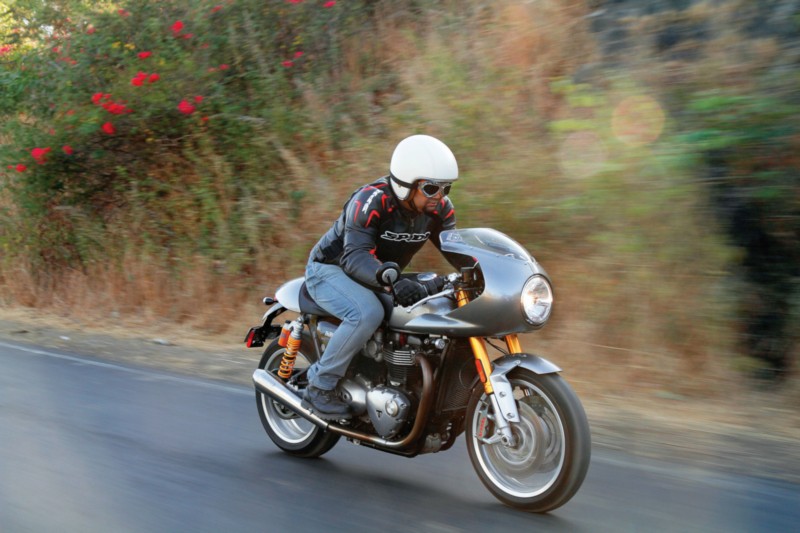 Gunning down the highway fresh from the twisties, I'm headed to the Classic Rock Coffee Company, a popular café on the other side of town. I'm negotiating truck traffic with a wide grin, astride the Triumph Thruxton R. The new one. With the larger 1,200-cc parallel-twin. This one's not just refined and vibe-free, but also brings the sound to silence everything from sceptics and critics to bullet fire and the cry of the blackbirds, and that grin.
Early mornings for me are like Mondays for most people. Not something I look forward to. However, on occasion, there comes along one exceptional work of engineering excellence that breaks all known moulds of acceptance. When I first laid eyes on the new Thruxton R, on a computer screen, I was reasonably enthralled by how different it seemed from its predecessor. High hopes I had indeed. Now I would be riding it in and out of town and all around; a great day for freedom!
A café racer has to look the part, yes, but it must be appealing, too. The Thruxton R's styling, then, is essentially café racer, including the solo seat, and, though it may seem like a new machine from a momentary lapse of reason, it shows signs of life. And character. Its metallic grey/silver hue and tank strip appear to be forged between the hammer and the anvil. With 120-mm travel suspension goodies: Showa USD front fork and Öhlins adjustable monoshock, and those wire-spoke wheels wrapped in ZR-17 Pirelli Diablo Rosso Corsas, it has all the reassurance you need that attention to detail was not marooned. The racer fairing has a windscreen enough for what it needs to do and gels well with the flow of lines, making it seem like one lithe form.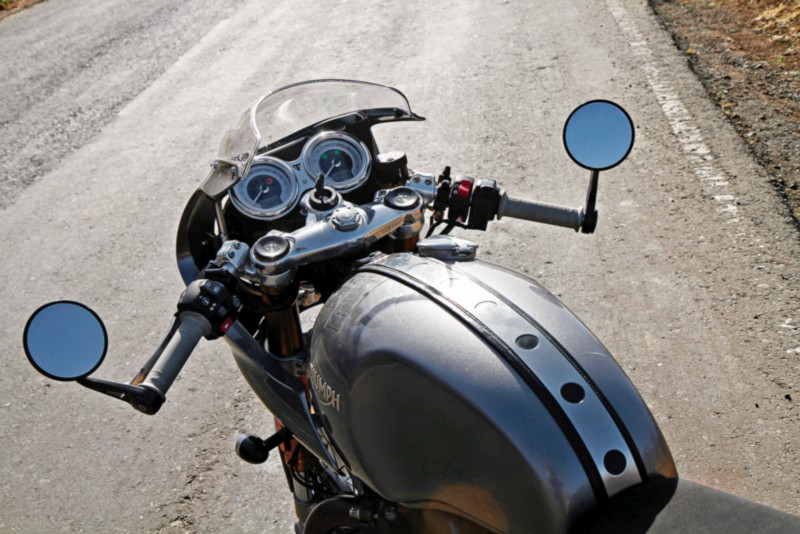 Key into the slot. Thumb the starter. The coming back to life of the motor is nothing short of the delicate sound of thunder. This iron maiden may look old-school but, underneath, the Thruxton R is every bit the awakened modern-day slayer of miles and tarmac. The only rocker arms are those gripping the clip-on handlebars. Clutch action is appreciably light and the bike fits like a glove around me. Everything falls into place with ergonomic precision and the gear lever slots first cog simply and unmistakably.