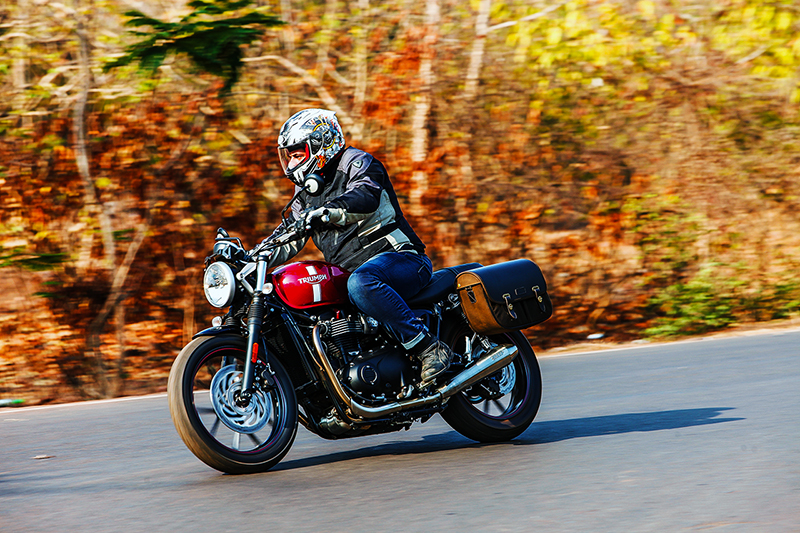 The chassis also has been made to make sure that the bike handles quite well. After getting my hands on it for the first time in India, I couldn't believe how agile the Street Twin was. Having ridden the earlier Bonneville, I expected this one to be somewhat similar but, as I said earlier, it was nothing like the previous-generation Bonnie. It felt light even though it weighs over 200 kilos (ready-to-ride). Its compactness and agility impressed me highly and, combined with the 80 Nm, this bike is an absolute delight to ride. The tubular steel cradle frame also adds to that wonderful ride-ability. The chassis is taut enough to handle almost any terrain and riding style. The frame has just enough flex, which inspires confidence as I found out when I threw the bike into a few really tight corners with enthusiasm. The turn-in was quick and full of feel and I was able to throw the bike deep into a corner without an unnerving feeling. The bike's stability also impressed me immensely as it remained rock-solid through the bends.
The suspension of the Street Twin is equally amazing. It is set on the softer side to make things more comfortable and this lends the motorcycle good ride quality. Normally, a softer setup is a strict no-no for a good handling motorcycle, but this setup on the Street Twin doesn't hamper its handling even a bit. In fact, I quite enjoyed riding the bike hard into the corners. It may be a 900-cc beast weighing 198 kilos (dry) but the way the chassis and the suspension have been tuned it feels more like a 200-cc lightweight motorcycle. The weight distribution is perfect; the bike doesn't feel heavy on any one side.
Although it is a great handler and has oodles of low and mid-range torque, I wish the Street Twin had a little more grunt in the higher rev range for more fun and a little more power. However, for what Triumph are offering, the Street Twin makes perfect sense as an everyday motorcycle that can be ridden by almost anyone without any apprehension. It is quick to turn in, superbly stable, handles like a charm, has ample of power and torque for city and Indian highway riding conditions, a comfortable ride quality and, most important of all, a brilliant price tag: Rs 6.90 lakh (ex-Delhi). At this price you get an entry into the exclusive Triumph Motorcycle family and also an easy-to-live-with big bike. So if I had the money to spare, I would have already booked one.