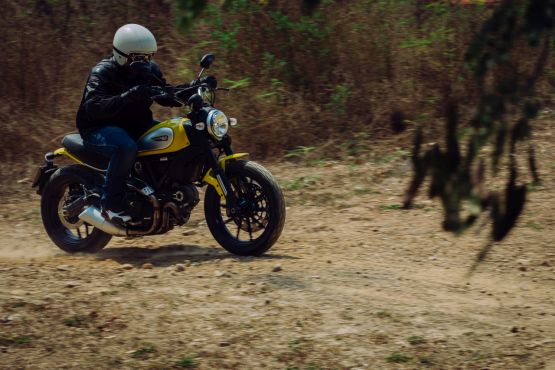 This doesn't even include the customisable bits on the actual bike. Mixing and matching parts like handlebars, tank embellishments, seats, wheels, exhaust pipes and the works is very much possible because all versions of the Scrambler are built on the same frame, so you can cherry-pick your Scrambler to look and feel exactly like you want it. I even heard chatter of a side-car for the Scrambler under development by the manufacturer to complete that whole heritage vibe, but no confirmation was forthcoming. Well, side-car or no, the Scrambler range consists of a quartet of gorgeous looking bikes, with the Urban Enduro in particular drawing backward glances out of me.
Now, on to the most important bit — how the bike fared. The sweltering 39-degree heat of Thailand coupled with her high humidity levels meant the Icon was being tested by us in climates very similar to those you might find in a lot of places up and down India. European bikes are notorious for misbehaving when subjected to the rigours of Indian climes, but the air-cooled Icon cruised along without a hitch. While the biggest of the original Scramblers sported a 450-cc single, Ducati have moved on with the times in the engine department, unlike a certain other classic themed bike (this one styled like a café racer) launched a shade over a year ago.
That EFI-sporting 803-cc, V-twin powerplant in the Scrambler range is a de-tuned version of the one appearing on the Monster 795 (and 796), and what it loses out in power output, it gains in bottom-end and mid-range thrust. It produces 75 PS at 8,250 RPM and a cool 68 Nm of Torque at 5,750 RPM; handy that, especially when it comes to kicking up some dust. This engine is mated to a very well-sorted six-speed gearbox, and is propped up on a Kayaba fork and rear shock pairing. The ride quality is on the firmer side, as is the want on a bike touted for its off-road abilities.