There are plenty of things to appreciate about the new Suzuki V-Strom, but the party piece in the package has to be that super V-twin heart tucked in a sweet handling frame. We bring you the seat of the pants report
Story: Aninda Sardar
Photography: Sanjay Raikar
When our overseas correspondent Roland Brown rode the Suzuki V-Strom a couple of months ago (the international review was carried in the May 2014 issue of Bike India), every adventure bike enthusiast in the team felt a pang of envy. We wanted to ride the bike and see it on our roads as well. At some point of time immediately after reading that review we also wondered: would Suzuki bring the bike to India? Despite the fact that the Indian bike scene has become increasingly receptive to fast bikes with big engines, most of us were sceptical. After all, the V-Strom didn't look like anything that would appeal to the Indian consumer who has grown up either on an aspirational diet of sports bikes or American-style cruisers and choppers.
The adventure bike phenomenon is still very much sporadic at best. Nope. Suzuki probably would bring in some other product that would be more in line with conventional wisdom so far as Indian consumers go. Yet, two months later I find myself at my desk hammering out the review of the very same V-Strom. Kudos to Suzuki Motorcycles for going against conventional wisdom and bringing to our shores a product that is so different from what we mostly see.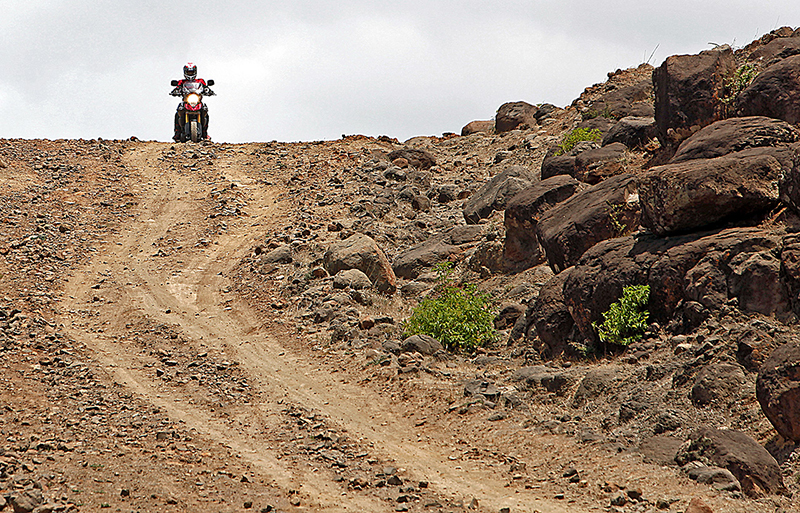 If you want a product that stands out from everything else — and I really mean everything else — on the road, then there probably isn't a better bike to buy than an adventure bike, especially the Suzuki V-Strom. It's a Japanese machine with a totally European body. Yes, there's no other way to describe the styling of this bike, which might polarise a few and lead them to call it outlandish. With that fat muscular tank, even though quite a bit of it is under a black plastic shroud, the tall stance, a high wind deflector and that incredibly beaky nose the V-Strom will stands out in any and every crowd.