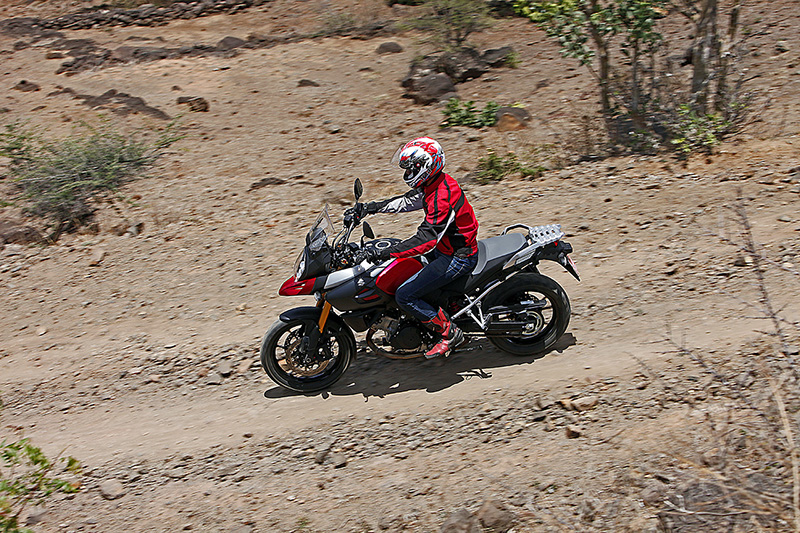 For a motorcycle that tips the scales at 228 kg, the V-Strom handles very well. Its well-sorted chassis keeps the bike stable at all speeds, both high as well as low. As a result, it's as easy to manoeuvre through crowded roads as it is to ride through sweeping bends on the highways at triple digits. At the same time, the ride quality remains pliant over virtually all but the harshest of road surfaces. The suspension is set up such that it returns a good balance between handling and ride comfort, which is very essential when riding on Indian roads where surfaces can range from super-smooth to totally broken and potholed. The balance is also essential for high-speed cruising where a little bit of give in the suspension is welcome so that a sudden stretch of patchy road surface will not unsettle the bike as it soaks up the bumps and ruts. The addition of Suzuki's first-ever traction control system also helps matters.
Suzuki have kitted the V-Strom with a pair of 310-mm dia discs at the front with Tokico four-piston radial monobloc callipers. At the rear there is a 260-mm dia disc with single-piston calliper. Both get the benefit of ABS, adding to peace of mind on variable surfaces dotted with frequently fatal and utterly inexplicable behaviour of many an Indian road-user. There's great bite on offer and the brakes are progressive, too, resulting in the bike's no-drama speed shedding capability. They are ably complemented by Bridgestone's Battlewing tyres.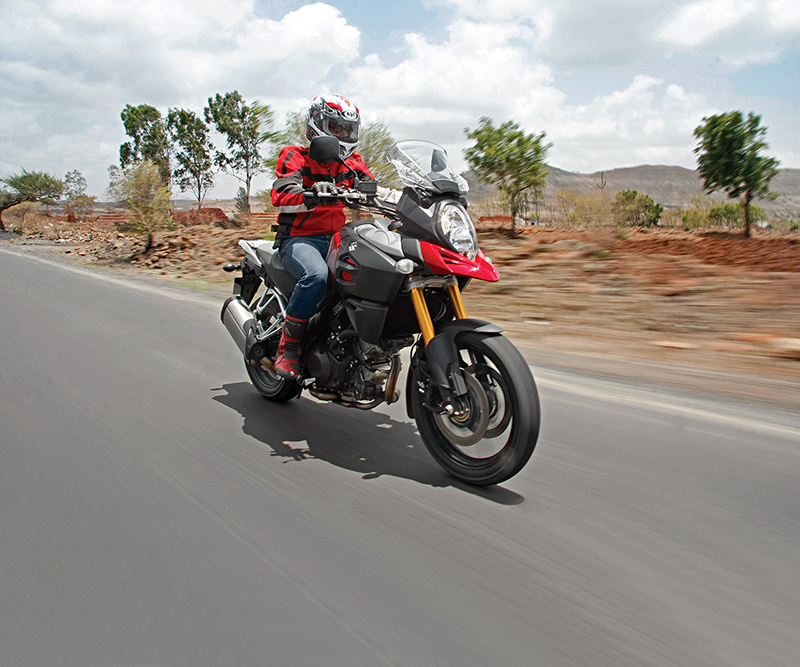 For what it is then, the Suzuki V-Strom 1000 is a great bike to own. It stands out. It rides and handles well. There's more than sufficient grunt for almost every rider. It has ABS and traction control for hairy situations and a variety of info for consumption on its digital-analogue instrumentation. It's easy to use in the city and good to ride on long journeys. In fact, there's precious little not to like about this bike, except, perhaps, its price-tag. At nearly Rs 17 lakh, the Suzuki V-Strom's pricing is anything but reasonable. But a majority of the blame for such an extravagant price for a bike that's great but not exceptional has to lie with the folk who framed our taxation norms. Nevertheless, if you're up to spending that kind of money in any case for a pair of wheels and you happen to like what you've read and seen so far, go ahead and head to that Suzuki showroom. Chances are you won't regret it.