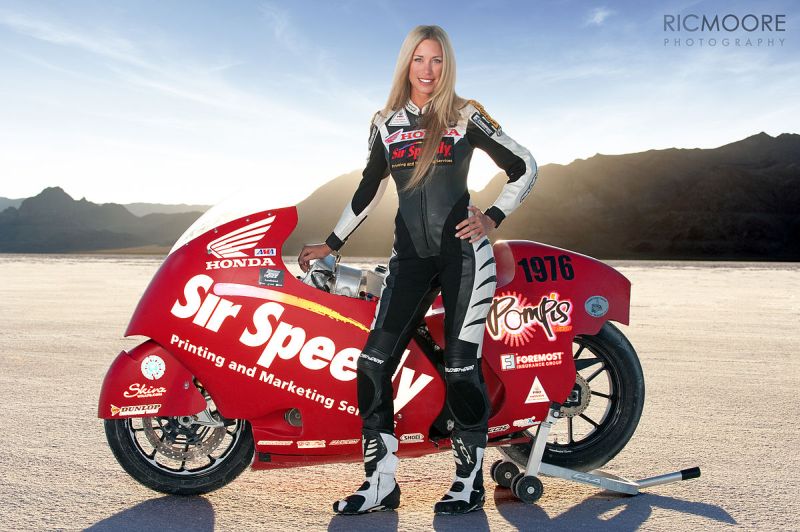 Interviewed By: Sarmad Kadiri
The number of the girls riding two-wheelers is growing fast, and what's growing even faster is their self-confidence and riding speed. One of them has taken things to the next level by breaking all boundaries and records and entering the Guinness Book of World Records – not for her super-model looks, but because of her unparalleled biking skills. Riding at a breakneck speed, she set the Bonneville Salt Flats afire by recording an overall land speed record of 374.208 km/h on her Suzuki Hayabusa. Presenting (drum roll) Leslie Porterfield – the Fastest Woman in the World on a Motorcycle, who is now attempting to become the fastest person in the world!
THE JOURNEY OF A CHAMP
Leslie Porterfield virtually vanquished the Bonneville Salt Flats in 2008 when she achieved a land speed record of 374 km/h in the 2,000-cc modified class, making her way into the Guinness Book of World Records as the 'Fastest Woman in the World on a Motorcycle'. The title was previously held for over 30 years by Marcia Holley, motocross rider and stunt woman, who had attained a top speed of 369.12 kph (229.361 mph) astride a single-engine streamliner motorcycle in 1978.
Porterfield was also honoured as the AMA Female Rider of the Year. Among her many achievements she has been featured in the Discovery channel documentary, 'Speed Capital of the World: Bonneville'. This gorgeous rider tours the world as a public speaker and as an advocate and role-model for the rising population of woman riders. She is a member of the prestigious Bonneville 200 MPH Club and runs High Five Cycles, a used motorcycle dealership in Dallas, US.
Bike India: You have been riding for 16 years now. How did you get hooked to motorcycles?
Leslie Porterfield: I bought a beat up old motorcycle at 16 for transport. I did not know anything about motorcycles and didn't know anyone who rode them. I loved learning how to ride. I had no idea how buying that first motorcycle would influence my life!
BI: It's quite a feat for a novice rider to become the 'Fastest Woman in the World on Two Wheels'. What other records have you demolished until now?
LP: I hold many records. From the Production Class 1,000-cc record on a Honda CBR1000, a naked ("No fairings," she explains, so that people don't get wrong ideas), to a 1,350-cc record of 336 kph that made me the first woman on a conventional motorcycle in the Bonneville 200 mph (322 kph) club. I also hold the record of 374.208 kph (232 mph) in the 2,000-cc turbocharged class with fairings. I set a record of 376.5 kph (234 mph) in the 1,350-cc turbocharged class with fairings in 2009.
BI: When did you realise that you could enter the Bonneville 200 mph Club? Why did you choose a conventional motorcycle?
LP: I like conventional motorcycles. I am a motorcycle enthusiast. I chose them over cars and streamliners. Bonneville had always been a dream of mine to go to. I was in awe my first time on the salt. It is like being on another planet. Pictures don't do it justice.