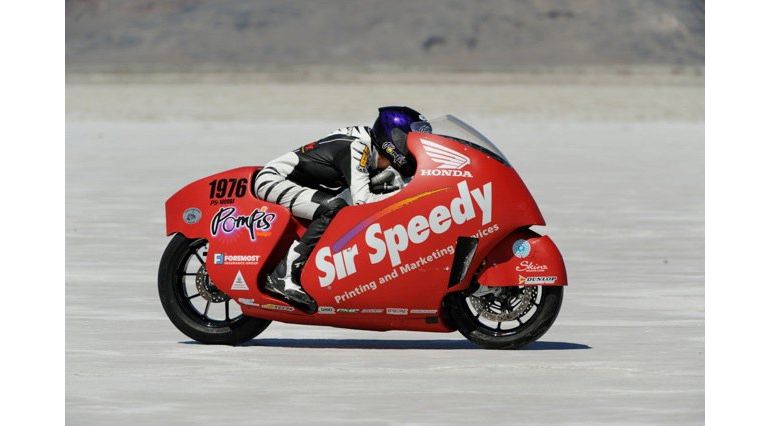 BI: Tell us something about your mean machines and the team that helped you break the world record.
LP: I have a great team and sponsors that help me prepare the bikes. Sir Speedy Printing and Marketing and Foremost Insurance have been a great help as sponsors. My fastest bike is a turbocharged machine with over 500 horsepower (507 PS). We have done much work on developing bodywork that is aerodynamic and fabrication of parts. It is truly a custom machine. It also has the best electronics from Apex Speed Technologies. It logs so much data, it is truly overwhelming! It helps us tune for the ever-changing elements at Bonneville and helps me be a better rider. It is great having so much information about everything that the bike is doing at high speed.
BI: Do you like to get your hands dirty at the workshop?
LP: I have a wonderful team and I also work on my own bikes. I often change tyres, tear down motors and do work on them. I try not to work on them during the events, though. I am too busy competing! I have a great team that works on the bikes if I tear them up.
BI: Racing is a physical and mental sport. How do you prepare for a race?
LP: I make sure I am mentally and physically prepared. I go over the motorcycle and am confident that it is ready. I then picture what I need to do to make the perfect run and get the record. I make sure my gear is ready to go fast, also. My Shoei helmet and Fieldsheer leathers are a very important part of keeping me safe.
BI: Which other motor sport events do you follow?
LP: I love MotoGP.
BI: You know, India might host a round of MotoGP soon?
LP: Yes, and I will definitely come to watch a race in India when MotoGP comes there!
BI: Do you have a motorcycle that you use for your daily commute?
LP: Yes, a CBR1000RR. I also own dirt bikes.
BI: Tell us something that we don't know about you…
LP: I spend time with my four rescued dogs and volunteer to help homeless children. I also like scuba diving, racing cars (road racing), riding horses, flying aeroplanes and running my motorcycle dealership, High Five Cycles, in Dallas.