Suzuki Motor India have introduced a new limited edition variant of the legendary Hayabusa, complete with a Yoshimura exhaust.
The new Limited Edition variant, apart from a selection of special two-tone paint schemes – Pearl Vigor Blue and Pearl Bracing White each paired with Metallic Mystic Silver, also boasts a slip-on R-77J carbon end-can from Yoshimura. The popular accessory had found its place on many owners' bikes and Suzuki have thus decided to offer the exhaust as standard on the Z LE variant. Also standard are ABS-equipped high-performance brakes. What's more the price is just Rs 25,000 more than the standard-specification GSX-1300R Hayabusa: Rs 16.20 lakh (ex-showroom, Pune).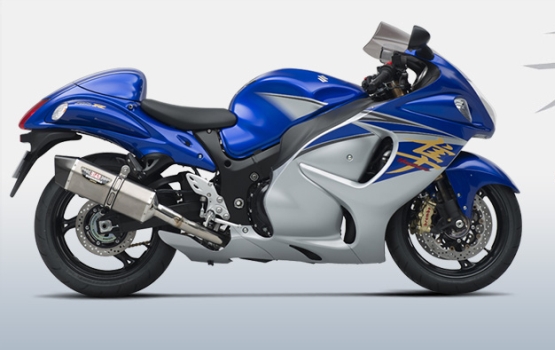 The GSX-1300R Hayabusa underwent major change six years ago, growing from 1,299cc to 1,340cc and gaining a substantial amount of power and torque as well, now delivering 197 PS at 9,500 RPM and 155 Nm of torque at 7,200 RPM. The smooth six-speed transmission continues unaltered as well. All that power is needed for the 260+ kg bulk that it needs to carry around.
Needless to say, the Hayabusa remains one of the world's fastest motorcycles with the Gentlemen's Agreement limiting top speed to 186 mph (300 km/h).
Story: Jim Gorde