In a world dominated by the smartphone, manufacturers cannot afford to ignore Bluetooth connectivity for long. Suzuki have also updated the small Gixxers to stay relevant.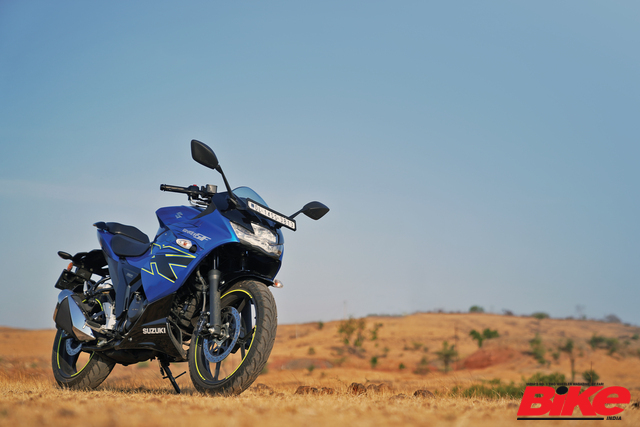 Story: Joshua Varghese
Photography: Apurva Ambep
In its latest iteration, the Suzuki Gixxer SF has been updated to be OBD2-compliant and to run on E20 fuel. Furthermore, they have equipped it with "Suzuki Ride Connect", their version of a Bluetooth-enabled console. We spent a few days with this updated motorcycle to experience these changes and check just how relevant the Gixxer SF is in a class that is currently dominated by 160-cc machines.
In the styling department, the most obvious change appears to be the colour schemes. Three of them are now on offer, of which I feel the blue works best. Suzuki's departure from MotoGP was a pity and, as collateral damage, the Ecstar livery—undoubtedly the best paint scheme for the Gixxers—is no longer available.
Like the Hayabusa, the Gixxer SF's styling was also inspired by a bird of prey and the placement of the LED lighting units complement that aggressive silhouette without taking anything away from the sleek design. To further improve the styling, one could immediately dispose of the sari-guard.
The instrument console continues to be a fully digital unit but with the addition of Suzuki Ride Connect, which is capable of relaying smartphone-based information. The Suzuki Ride Connect app is available for both iOS and Android platforms and, more importantly, is simple to operate. Bluetooth pairing is quick and the phone automatically connects to the console every time the ignition is switched on; provided the phone's Bluetooth is on, of course.
The connected features on offer include navigation, call alerts, message alerts (both SMS and WhatsApp), speed warnings, ETA updates, and phone battery's state of charge. Of these, I found the most use for the first two. When navigating to a new place, the directions appear on the dashboard quickly and missing a turn does not seem possible, provided one is riding at a reasonable speed. The call alerts were particularly useful because they display the name of the person calling. That allowed me to filter the irksome telemarketing calls from the important ones. Incidentally, even though I had selected the SF model in the phone's menu, it kept displaying the naked Gixxer on my screen. Hopefully, something that will be fixed in a subsequent update.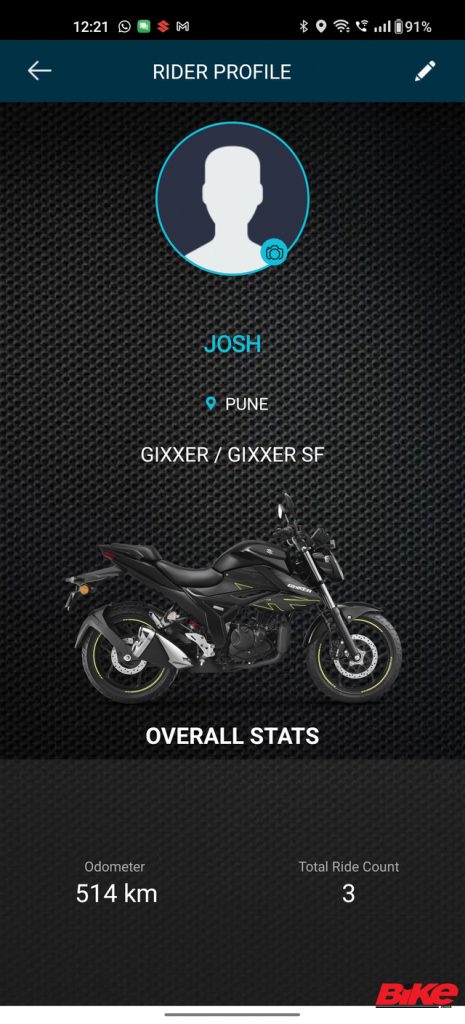 The Gixxer SF continues to be among the most relaxed faired motorcycles in its segment. Even though it has sporty elements such as clip-on handlebars and a split seat, they offer a commendable balance of function and comfort. While split seats are usually a pillion's nightmare, this one is not. It is spacious, well-padded, and reasonably high, offering the pillion rider a perch that is convenient to access and comfortable to use. By the way, it also has a centre stand (quite rare in this segment) which makes parking and general maintenance that much easier.
The 155-cc, air-cooled, two-valve, SOHC, single-cylinder engine develops 13.6 hp at 8,000 rpm and a peak torque of 13.8 Nm at 6,000 rpm. Not the most impressive power figures on paper but Suzuki's engines are known for their refinement and no vibrations are felt until close to the red-line, thus allowing one to enjoy the engine's healthy mid-range to full effect. It revs freely and supplies power progressively while evenly spaced ratios and optimized final gearing ensure that all of its capability is utilised well even with a five-speed transmission. However, it is rather sad that Suzuki still cling to a 155-cc two-valve platform when most of their competitors have already moved on to 160-cc four-valve engines.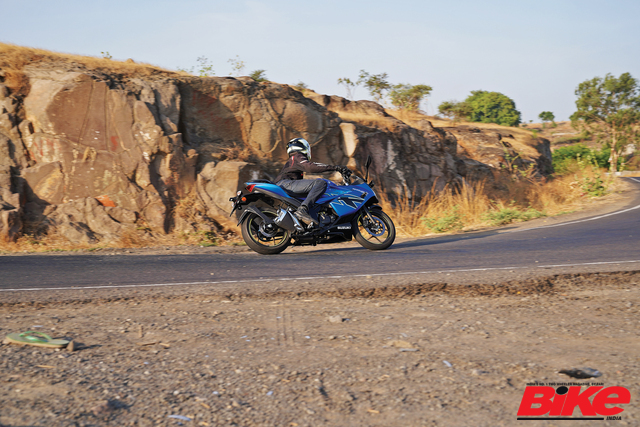 There are no changes in the chassis, suspension, and braking departments. Regardless, it continues to be a joy to ride, as always. It is not too heavy, is quick to turn, remains composed mid-corner, and changes directions easily, making it rewarding to ride on winding roads. Thankfully, it handles city and highway duties flawlessly too. I would say that Suzuki have optimized this motorcycle more for urban use than outright sporty riding. The bite from the disc brakes is good and there is enough feedback at the lever but dual-channel ABS should have been available, at least as an option.
Priced at Rs 1.46 lakh (ex-showroom), the Suzuki Gixxer SF is the only faired motorcycle with a 155-cc air-cooled engine available in India. Concurrently, it is interesting to note that it finds itself in a price bracket where there are more accessible 160-cc naked motorcycles that use four-valve engines.
Also Read: Yamaha FZ-S v4.0 DLX Update Review