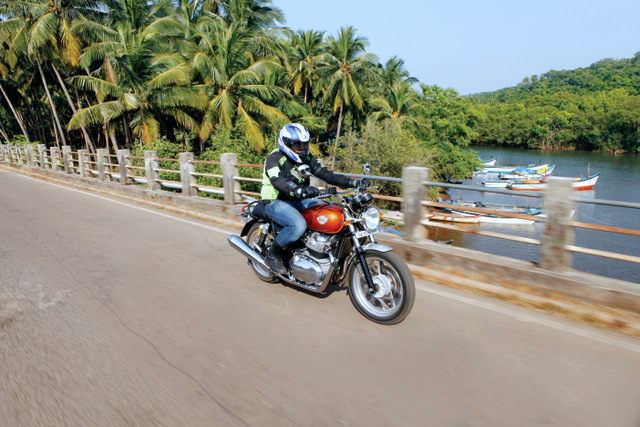 Once we got out of town limits, we arrived at a few hilly bits and it was then that I found out that if you show the Conti some corners, it'll impress in the handling too. The new twin-cradle frame inspires confidence, the suspension set-up is a good compromise between handling and shock-absorption, the Pirelli Sport Phantom Sportcomps give you plenty of grip, and the sharp rake ankle means this bike, despite tipping the scales at just over 200 kilos, feels agile. The rear-set pegs and aggressive riding position mean you feel a part of the bike and you can absolutely glide through the bends.
The first part of my ride ended at a fancy golf resort, where I quickly switched over to the Interceptor.
As soon as I did, I felt my back thanking me. The Conti, enjoyable though it is, isn't made for the long haul. The Interceptor, on the other hand, is just an astoundingly good fit for the whole Goa vibe with its wide bars, upright stance, and roadster styling. In this particular shade of Orange, with all that chrome glistening and that familiar old-school twin-pod cluster indicating that the 12-litre tank was full and classic round headlamp leading the way, off we went.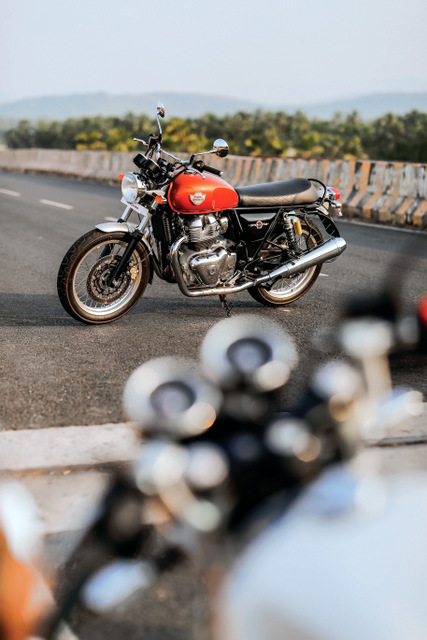 While the Conti tempts you to push the envelope, the Interceptor is all about the cruise. It is so comfortable, has the power on tap when you need it, and the braking, too, is sharp and bitey (on both bikes, to be honest), with the ABS (yep, no trash heaps for this one haters) doing its job effectively when called upon. While cornering doesn't feel as locked in as it does on the Conti GT because of the more upright stance, because the frame and tyres are the same, it'll behave just as well when shown a few bends.