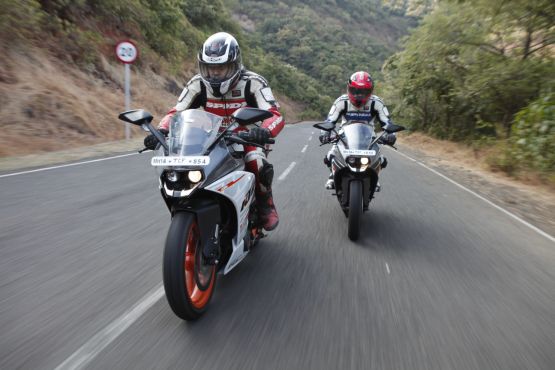 So far as styling goes, apart from the paint scheme and the missing bar-end weights on the RC 390, you'd be hard-pressed to tell these two apart. Unless, of course, you're extremely observant and manage to look at the tyres. Then you'll notice that while the RC 390's orange painted wheels continue to be shod with Metzeler rubber, the 200 gets home-grown MRFs. In both cases the styling is unique and nothing of this nature has ever been seen on our roads in the past. The sharp, edgy lines, the wonderfully integrated grab recesses under the pillion seat, the exposed trellis frame, clip-on handlebars, rear-set foot-pegs and that neatly tucked in under-belly exhaust make both RCs look very sporty. The mirrors, too, are very well integrated. Relation between seat, handlebars and foot-pegs is super sorted. Indeed the RCs' riding position feels a tad more natural than that on the Dukes.
That said, there are some downsides too. For starters, as with all sport bikes, the pillion seat is too high (even more so in the case of bikes sold in India on account of the extra foam on the pillion seat). The mirrors, while good looking, offer limited visibility and you will have to shift your elbow to actually see what's behind. Then there's also the issue of cleanliness. The fairing is fitted in a way that it puts form over the cleanliness function. As a result, it will be difficult to clean certain portions of the bike since it'll take some effort to put a cloth behind the fairing and clean it. Also, as we found out on the track in Modena, the fairing, though effective, is a shade low. Taller riders will really need to crouch down and lie flat on the tank to save themselves from wind blast.
Beyond the looks, however, there are several bits to the bike and virtually all of them are positive. So Piyush and I tried to get as much under the skin of these two motorcycles to find out what they were like.