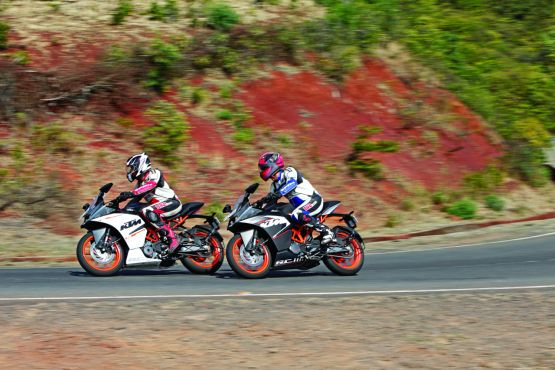 Aninda Sardar (AS): It's amazing how light both motorcycles feel even before you've got a move on. The RC 200, more than the 390, obviously, since the former is almost ten kilos lighter without a rider taken into consideration. Naturally, this makes it very easy to manage.
Piyush Sonsale (PS): Yes, the 390 is heavier than the 200, but it has 20 more horses and that gives it a much better power-to-weight ratio. In fact, you are hardly ever conscious about the weight when flicking it from one corner to another.
AS: I must say that the 200 is also very nimble and light-footed. All you need to do is just set up the bike for the corner ahead and flick it in. Then you sit back and watch as the bike traces your chosen line almost instinctively.
PS: What I like the most about the 390 is how confident it makes you feel. A little weight transfer and it readily leans into the corner. The focused riding position, powerful brakes, the rightly sprung suspension, the trellis frame and the strong yet predictable throttle response all together make for a highly enjoyable riding experience.
AS: I have to agree with those. The RC 200 is also impeccable round corners. It also holds its own quite well at high speeds on the straights, feeling planted and thus adding to rider confidence. The suspension is set up nicely too, making both the RCs great handling bikes.
PS: Of course, the exceptional handling comes with a compromise. Unless you are riding on a racetrack, the 390 offers a slightly bumpy ride and the hard saddle results in a sore bottom after a long ride. The focused riding position isn't the most ideal way to sit on the bike while riding in heavy traffic and the 390 is plagued by high-frequency body vibrations.