The QJMotor SRC 250 is the manufacturer's entry-level product and it also happens to be the most accessible parallel-twin motorcycle in India.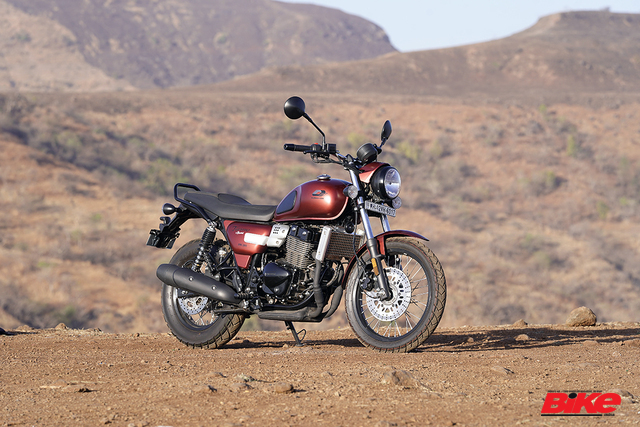 Story: Joshua Varghese
Photography: Sanjay Raikar
For those who do not know, QJMotor is a Chinese two-wheeler manufacturer that bought Benelli to our shores a few years ago. Fast-forward to the present day and both these brands are retailed in the country by Adishwar Auto Ride India. However, this is the first time that QJMotor is officially joining our country's two-wheeler market with its own products: SRC 250, SRV 300, SRK 400, and SRC 500. We rode the smallest motorcycle on offer to tell you what this most accessible QJMotor product feels like.
The QJMotor SRC 250 is part of the firm's retro-modern line-up. With enough attention to detail and period-specific elements, this motorcycle finds no difficulty in blending into that segment. Bodywork has been kept to a bare minimum, which accentuates the twin exhaust pipes emanating from the engine, immediately making the SRC rather unique and desirable. True, the motorcycle may look rather unremarkable in this shade of brown, but it is also offered in two more colours. Even so, it makes up for it with a defining stance thanks to the mismatch of an 18-inch wheel at the front and a 15-inch one at the rear. The use of dual-purpose CST rubber and a ground clearance of 160 millimetres further add to this SRC's tough and rugged appeal.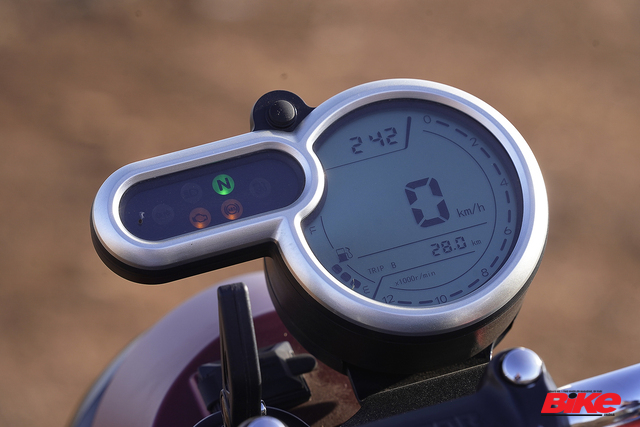 The instrument console is a round full-digital unit that displays the essential information in a crisp and easy-to-read layout. To reduce the clutter, all the tell-tale lights have been moved into a little window of their own, offset from the main display. If one is able to set aside the prejudice about Chinese products, then it is easy to see that the quality is decent on most parts of this motorcycle, including switchgear and body-panels, though items such as the fuel-filler cap could have been finished better.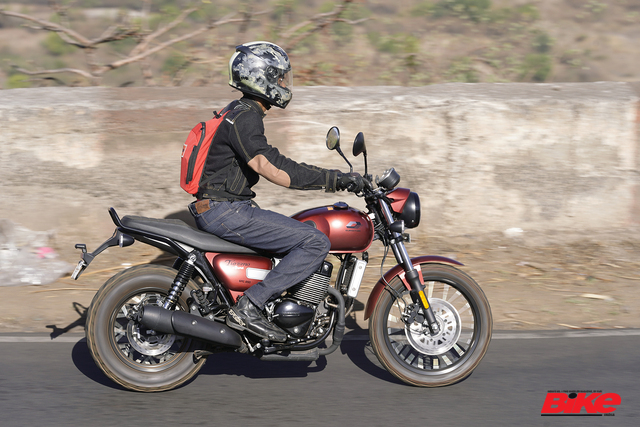 Once in the saddle, the SRC 250 feels plush and comfortable. The riding position is fairly upright and the handlebar is slightly swept back, making for an easy reach. Life for the pillion rider is also similarly stress-free. Although I would not go so far as to say 'cramped', there were times when I felt the SRC 250 was a smidge too small for a 250-cc twin-cylinder motorcycle, but then smaller riders might find that beneficial.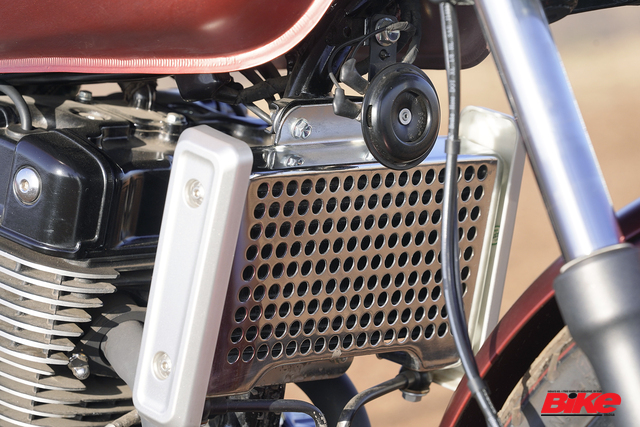 In a way, the SRC 250 comes bearing the formula an enthusiast would appreciate, but even on paper it falls short of being desirable. The 249-cc, air-cooled, parallel-twin unit nestled in the split double-cradle frame develops a meagre 17 hp at 8,000 rpm and a peak torque of 17 Nm at 6,000 rpm. This is a particularly mild state of tune for a twin-cylinder. To make the most of it, QJMotor has used a five-speed transmission and very short final drive gearing that allows this motorcycle to pull away from as low as 35 km/h in fifth gear without any drama. Thus, although it may not have enthusiasts and speed freaks foaming at the mouth, it does have enough form and function to keep things interesting and, more importantly, functional.
In town, the 163-kilogram SRC 250 is effortless to manage. It responds to rider input easily and is rather quick on its feet when it comes to changing direction. What the SRC lacks in firepower, it makes up for with acoustics and it is equally engaging whether one is wringing the thing through each gear or just cruising around town. Furthermore, it is also rather well-sprung for our unpredictable road surfaces and returned a fairly blemish-free ride throughout.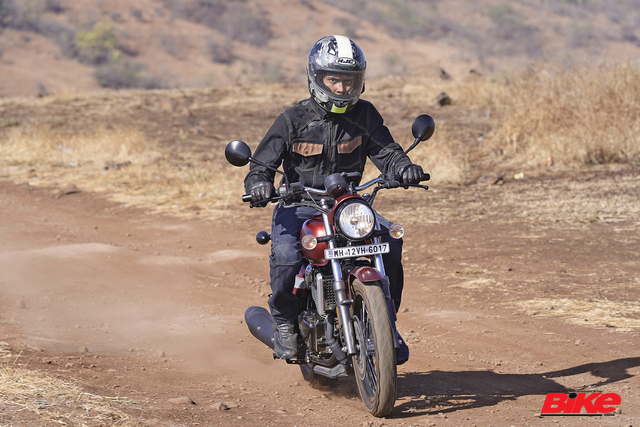 To verify the integrity of its dual-purpose nature, some off-road riding was essential and we explored that potential too. On the well-paved switchbacks leading to the trail, the combination of the power output, overall gearing, and the 15-inch rear wheel makes riding fast rather tricky because one ends up hitting the limiter faster than expected which, in turn, provokes mid-corner up-shifts or entry in a higher gear while still being within the usable power-band (easier said than done). It also limits the top speed of the SRC 250 which accelerates reasonably well but struggles to achieve a triple-digit speed.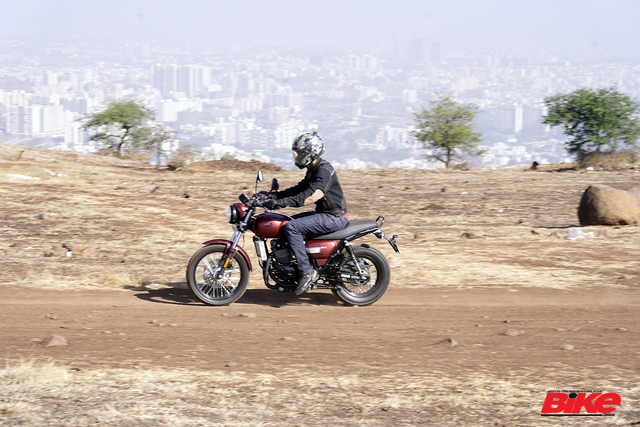 The suspension set-up is fairly simple. A conventional fork at the front and twin shock-absorbers are all it gets in that department. The SRC 250's agility allows quick turn-ins and reasonable stability through a curve but it is also evident that corner-carving is not its forte. The suspension is set up on the softer side and that returns a plush ride over undulations and carrying speed over a decent trail in admirable comfort is well within its capabilities. The rear wheel spins up quite fast and, more often than not, I found myself using third or fourth gears in certain places where I might have used second or third on similar motorcycles to carry the same pace.
The SRC 250 is not a particularly fast motorcycle and so it gets a deceleration set-up that matches its acceleration. Braking duties are effectively managed by single disc brakes at either end and they have ample stopping power along with the safety net offered by dual-channel ABS.
By offering a twin-cylinder motorcycle as the most accessible product in its Indian portfolio, QJMotor's intentions appear to be clear. It is here to cater to the premium market and, at Rs 1.99 lakh (ex-showroom), the SRC 250 is also the most accessible twin-cylinder motorcycle in India. However, it makes noticeably less power than the most mildly tuned 250-cc single-cylinder motorcycle available now and that suggests considerable improvement is needed in the performance department.
Watch the video review:
Also Read: Ducati Streetfighter V2 Review