The Ducati Streetfighter V2 promises to be brutal but as a street motorcycle, it must also be at home on the road. We find out how it fares in town.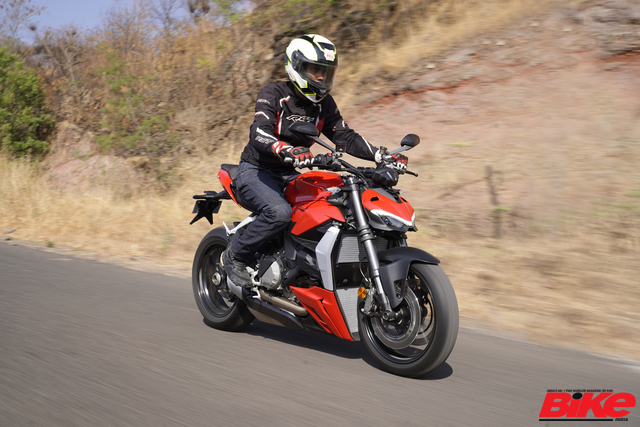 The emotions that a bright red Ducati evoke are something that every motorcyclist can relate to but even at standstill, the Streetfighter triggers an area of the human brain so violently that it becomes indelible in one's memory. To make that experience more accessible to their ever-growing clientele, Ducati launched the Streetfighter V2. Smaller, but no less brutal than the mental V4.
One of the design challenges with this V2 would have been to make it as similar as possible to the V4 with enough elements to tell them apart. A tough task that, but it was well managed because the V2 has all the familiarity one expects of its larger sibling. Furthermore, it also sports enough unique traits to create its own identity. This Streetfighter has a different exhaust, is more coy about displaying its engine and is without doubt slimmer than the V4. However, its fuel-tank volume is 17 litres, one litre more than the V4's. Yes, winglets are available but they are not standard kit and that brings us to the end of the V2's connection with the Streetfighter family.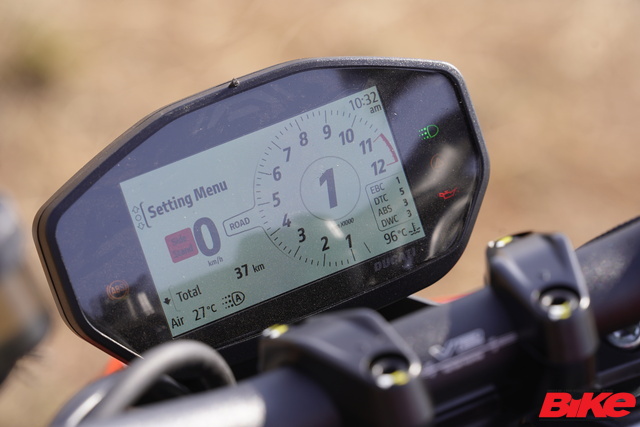 The instrument console is clearly from the Panigale V2—a 4.3-inch colour TFT unit—and it displays the essentials in a neat layout but there is one important item missing here. Considering this is a motorcycle that prioritises road use over track-days, the lack of a fuel-gauge is irksome. Why would a manufacturer with the latest technology not provide that simple feature on a motorcycle made for the road?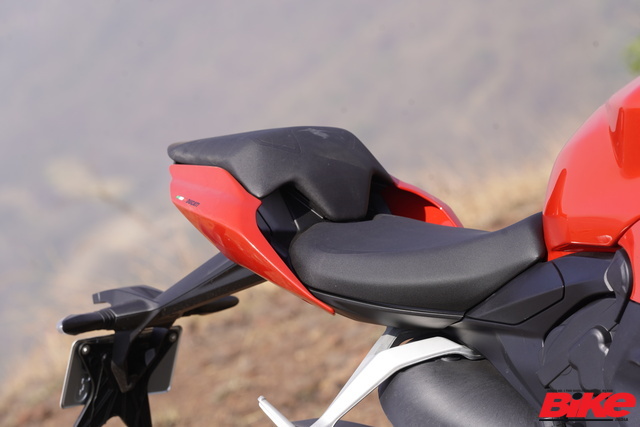 Thankfully, more thought has been given to the riding position. A wide handlebar and foot-pegs right below the seat offer a comfortable perch but the proximity of the rider's legs to the engine make them somewhat vulnerable to engine heat; especially in traffic on a hot day. The seat is well-cushioned but is 845 millimetres off the ground, which could make it tricky for some.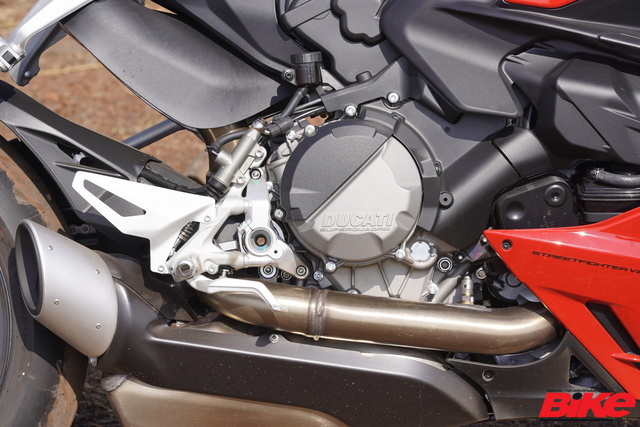 Powering the Streetfighter V2 is the same 955-cc, liquid-cooled, 90-degree, Superquadro V-twin that does duty in the Panigale V2. In this naked motorcycle, it develops slightly lesser power and torque: 153 hp at 10,750 rpm and 101.4 Nm at 9,000 rpm respectively, to be precise. To tell the two-hp deficit in real life is almost impossible and it may be noticed only by an expert rider who is at the limit on a racetrack. When ridden back-to-back with the Panigale V2, some riders may notice the difference in final gearing because the Streetfighter gets two more teeth at the rear sprocket. This makes it a livelier package and also more forgiving when one selects a higher gear than necessary. Aural pleasure is brought to you by a stubby side-exhaust which pops and crackles angrily as one shifts through the six-speed transmission. Before I move on to the motorcycle's behaviour at good pace, it is worth pointing out that there are a few things that need special attention during low-speed manoeuvres. The steering lock of the Streetfighter V2 is limited, so one needs to get used to executing U-turns. Similarly, the hydraulic clutch can be a pain at times when stuck in slow-moving traffic, but these are small prices to pay for this machine's greatest strength: its sheer ferocity that promises to awaken the hooligan in even the most sedate of riders.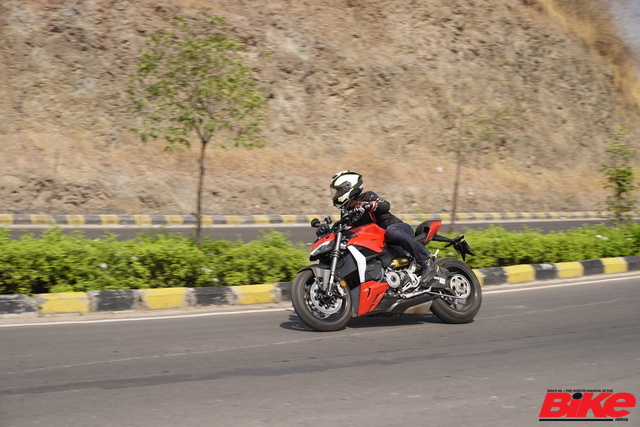 At the end of the livid crescendo that accompanies the first gear's journey through the rev-range, angry bursts announce the selection of second gear, third gear, and so on as one taps the quick-shifter. The Streetfighter's pace matches its raw and brutal exhaust note thanks to a healthy band of torque that makes its presence felt early. By about 8,000 rpm, the motorcycle establishes that 153 hp is more than enough to gather pace violently but past 9,000 rpm, a chunk of that power arrives in a manner that can aptly be described as nothing but explosive. Full power is available in Road and Sport modes and, personally, I prefer the linear throttle map that the former offers for carving corners. The sharp and aggressive Sport mode is best used by those brave enough to shift late and hang on to the motorcycle as it slices through the air leaving the rider at the mercy of the wind and the efficiency of the steering damper.
It is not tough to ride this motorcycle fast, primarily because it is eager to be ridden rapidly. By equipping it with a longer swing-arm, the weight has been sent forwards and the wheelbase has been increased to offer more stability and to keep wheelies in check. By no means has it made the motorcycle docile because because the Streetfighter V2 tips into corners with an enthusiasm that could easily outmatch the rider's own affinity for fast curves. It is similarly pliant while carrying speed through the rest of the corner and only stands up to shake its head when exiting on full throttle. The aluminium monocoque frame, fully adjustable Showa USD fork, and fully adjustable Sachs monoschock play their roles well, leaving no room for complaint. Of course, full adjustability further offers the chance to fine-tune the Streetfighter V2's ride and handling. On our less than perfect roads, the ride quality cannot be described as plush but even so, it is a compromise I would willingly make for the sheer fun this motorcycle offers when unleashed in its natural habitat. To support the ballistic acceleration, equally powerful deceleration is necessary and that is managed by twin 320-mm semi-floating discs at the front and a single disc at the rear. Four-piston Brembo Monobloc M4.32 calipers provide braking force at the front under the watchful eye of cornering ABS. Two fingers are all that a rider needs to shed speed in a hurry and any rider error is easily ironed out by Ducati's clever electronics that have been calibrated so well that they step in only when necessary, leaving the riding experience pure and unadulterated.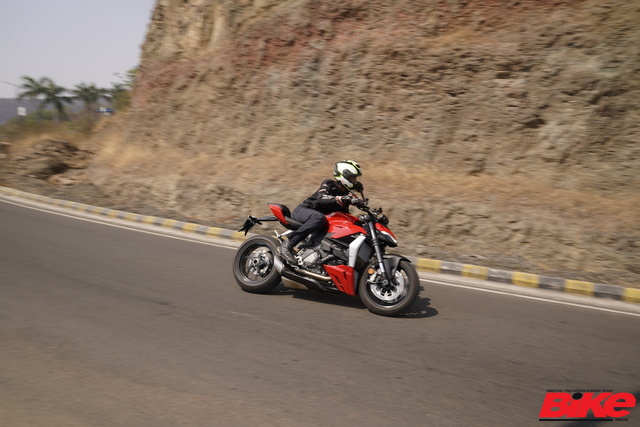 Ducati have been quite clever about the placement of this motorcycle because it has no direct rival in our market and the closest one is the Triumph Street Triple 765 RS. While it is the obvious choice for those who want a naked Panigale V2 or a smaller Streetfighter V4, it is equally hard to ignore as a street bike that can transform a ride into an event by simply grabbing a handful of throttle.
At Rs 17.25 lakh (ex-showroom), the Streetfighter V2 comes with an eye-watering price tag but if one can find the space to ride it as it is meant to be ridden, it could be worth every rupee.
Video Review:
Also Read: Ducati Diavel V4 Review