It is with great sadness that we report the tragic demise of famed moto-journalist Kevin Ash, who died of injuries sustained in a motorcycle crash at Cape Town, South Africa. Kevin was taking part in the two-day press ride of the 2013 BMW R1200GS, when the accident happened. A legend in the industry, Kevin's work could be found in a countless number of publications and his own blog Ash on Bikes. Known for his technical knowledge, clear writing, and honest reviews, Kevin's work was seen by many in the industry as the gold standard of motorcycle reviews.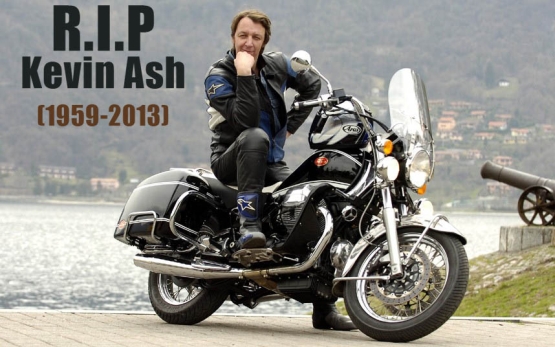 Tony Gallagher, Editor, The Daily Telegraph, said: "Kevin Ash was the doyen of motorcycle correspondents. Respected throughout journalism and the motorcycle trade, he was also one of our most admired motoring columnists and will be greatly missed by both Telegraph staff and readers. Our thoughts and prayers are with his friends and family at this difficult and sad time."
BMW released an official statement late last night, saying. "It is with deep regret that BMW Motorrad confirms the fatal injury of Kevin Ash in a motorcycle accident during a launch event in South Africa. The accident happened to the north of a town called George, 250 kilometres east of Cape Town. Out of respect for Kevin's family and friends, no further information is being made available at this time."
Adrian Roderick, general manager for BMW Motorrad UK, said: "We are shocked and deeply saddened to hear the awful news about Kevin Ash; one of the most well-liked, experienced and respected journalists in the extremely close-knit motorcycle community. Losing Kevin is a tragedy which will be felt across the entire industry. He was a friend, as much as a journalist, and will be sorely missed. Our heartfelt thoughts are with his family, friends and colleagues at this awful time."
Fellow journalist Geoff Hill, who was at the same launch as Kevin, said: "No one is still quite sure what happened, and we won't know more until the police and BMW investigation has finished, but all of us on the launch from the British bike world are devastated, and are still finding it hard to believe that Kevin won't just walk through the door with a witty remark. He was not only a legend in motorcycling journalism, with an unsurpassed technical knowledge and writing style, but a close friend to us all, and the world of motorcycling in general, and motorcycling journalism in particular, is today a much poorer place without him."
Ash is survived by his wife and three daughters. Our thoughts are with them, along with Kevin's friends and extended family.