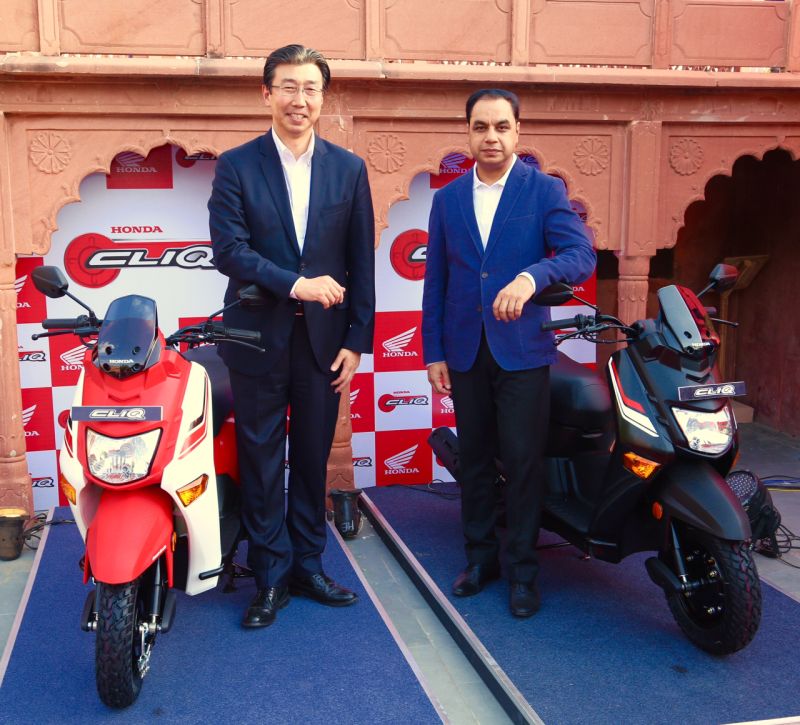 Honda Motorcycle and Scooter India (HMSI) have launched a unique new scooter called Cliq aimed at the rural market.
To penetrate further into the rural segment where commuter bikes rule the roost, HMSI have developed this scooter to offer the rugged utility of a motorcycle with the practicality and convenience of a scooter. With this move they are hoping that a scooter like the Cliq will become more acceptable in smaller cities, towns and villages of India where bad roads and poor infrastructure restrict scooter sales.
Honda claim that the rural market is only responsible for a mere 17 per cent of scooter sales. With the Cliq, Honda aim to bridge the gap between 100-110-cc motorcycles and scooters. They have aggressively priced the Cliq at Rs 42,499 and Rs 42,999 (ex-showroom, Delhi) for the standard and deluxe variants respectively, making it the most affordable scooter in the current HMSI portfolio. The deluxe variant has additional graphics on its body over the standard one.
The new vehicle comes with an interesting design and utilitarian features, which are usually not seen on conventional scooters. The Cliq will be made available in smaller cities and towns before coming to bigger metro cities. Currently it is on sale exclusively in Rajasthan, but Honda have promised that it will be available across India by festive season. Six out of ten two-wheelers sold in India are between 100-110-cc engine capacity. In this segment, scooters have seen tremendous growth with the Honda Activa out-selling competition in the recent months.
Speaking about the concept of Honda Cliq, Minoru Kato, HMSI's new CEO and President said, "With the highly increasing demand and varied customer needs this segment (100-110 cc) is poised to sub segmentation. As leaders of the scooter category, Honda has developed Cliq which would address the needs of customers with additional value of comfort and convenience."
With an overall length of 1,745 mm and wheelbase of 1,241 mm, the Cliq is slightly smaller than the Activa. It weighs just 102 kg and has a low seat height of 743 mm, which also makes it handy for ladies and short adults. The unisex design is pretty radical, with a Dio like headlight (AHO) positioned on the front panel. What makes the design stand out is the integrated bikini fairing, which also comes with an optional visor. The flat side design borrows cues from the Honda Navi, giving the Cliq its compact dimensions.
The Cliq borrows plenty of parts from other Honda scooters like the Activa including the 109.19-cc air-cooled engine which makes 8 PS at 7,000 rpm and 8.94 Nm of torque. The gear-less scooter offers the convenience of a CVT which powers the rear wheels. Honda claim that the Cliq will return a fuel-efficiency of 83 km/litre but it comes with a rather small fuel tank capacity of 3.5 litres.
Based on an under-bone frame, the Honda Cliq gets a flat floorboard, and offers an additional storage box which can be mounted on it. Interestingly it comes with an additional load carrier (optional) at the back and a motorcycle-like handlebar. There's a flat and long seat, which seems to be longer than regular scooters. The idea behind these is to attract motorcycle buyers from rural India to consider the new scooter.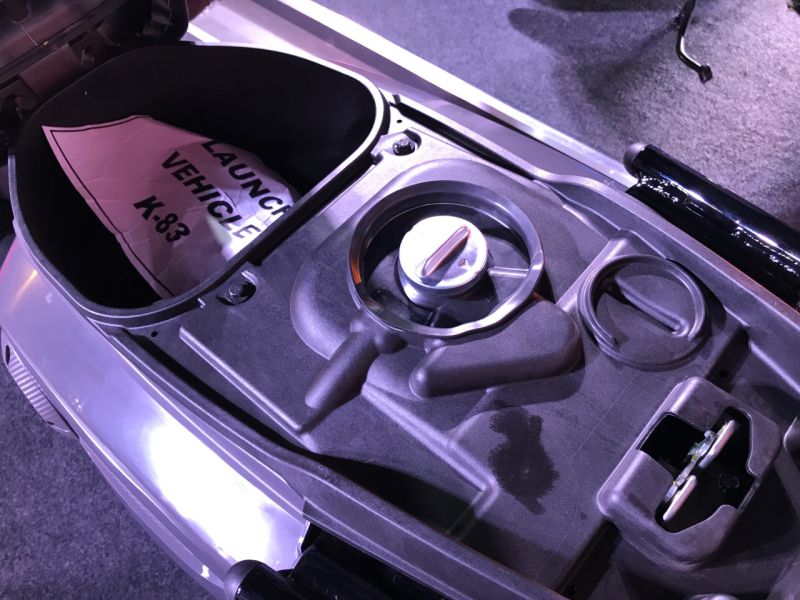 Another attraction for buyers in smaller cities will be the block-pattern tubeless tyres on 10-inch wheels (90/100 10 53J), which promise to offer good grip even on bad road conditions. There are 130-mm drum brakes in the front and rear. Honda have omitted the optional disc in order to keep the price attractive for the rural market.
Also common with it's siblings is the trailing link front suspension in combination with a single shock absorber at the rear. There's an ample 14-litre storage space under the seat and it also comes with a socket to charge mobile devices. Like all Honda scooters, the Cliq is equipped with Combi Braking System (CBS), which distributes the braking pressure on both wheels to reduce the braking distance and provide stable braking.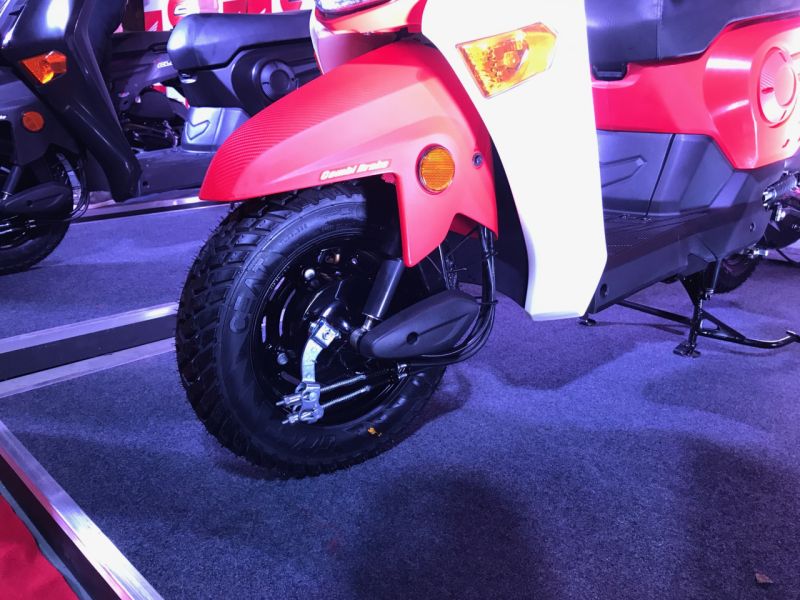 Other features include a maintenance-free battery, viscous air filter which needs to be replaced around 16,000 km and All-time Headlight On (AHO) feature. The Honda Cliq is available in four colour options, including Patriot Red, Moroccan Blue, Ocus Grey and Black.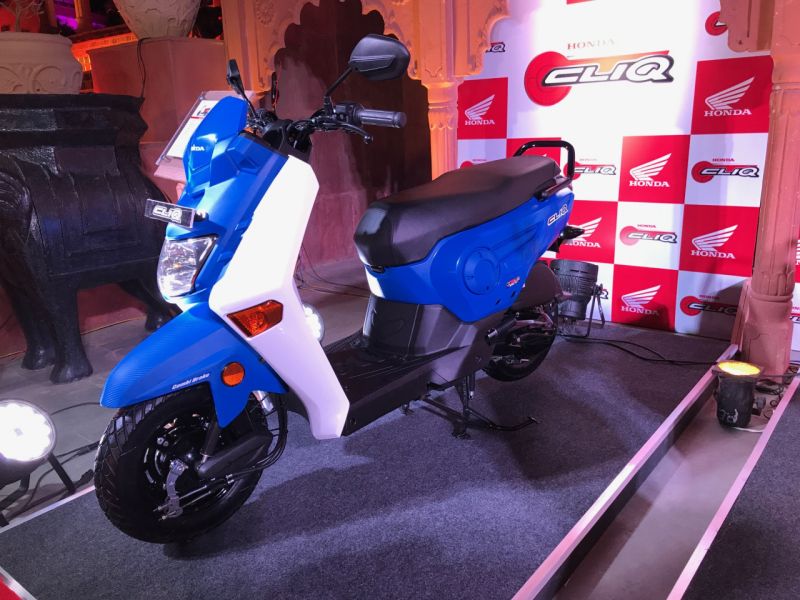 Y. S. Guleria, Senior Vice President, HMSI said, "Focused at up-country customers with progressive mindset, Cliq is a perfect blend of practicality, versatility and value for money."