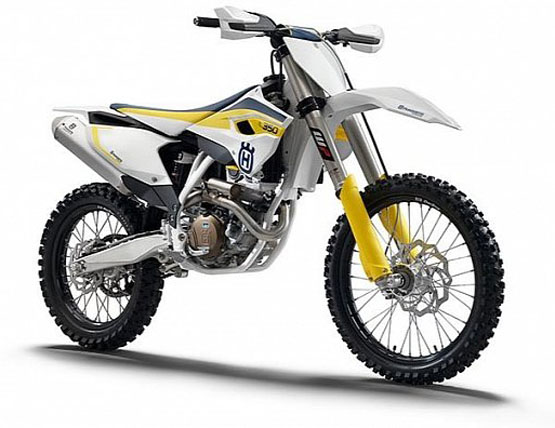 A year after its resurgence as a KTM-owned brand, it seems that Husqvarna is ready to retake its position in the market.
Details of the new 2015 Motocross and Enduro range by Husqvarna have surfaced. Remaining loyal to its two-stroke design, there are three motorcycles in the MX range with three additional bikes making use of the four-stroke engine. The Enduro class has three two-stroke motorcycles out of the available four, with the fourth being a four-stroke.
The new bikes come with an updated design with smooth lines and flowing shapes contributing to the modern looks of the bikes. The graphics too have been upgraded, with the new Husqvarna machines coming with luminous livery, white backgrounds and the classic blue and yellow stripes and accents.
The motocross roster contains the TC 85, TC 125 and TC 250, while their four stroke counterparts are the FC 250, FC 350 and the FC 450 being the flagship. The Enduro range comprises the TE 125, TE 250 and TE 350 two-stroke machines, complemented by the FE 250, FE 350, FE 450 and the top-drawer FE 501 machine.
There are several important changes that have been made to the 2015 MX range. There is a new WP 4CS fork with improved damping specifically designed for Motocross. A new shock with 4mm more travel, improved linkage geometry and a new 22mm front axle ensure optimum suspension and handling characteristics for the MY15 models. The FC 250 and FC 350 also benefit from an improved clutch basket and spring design while the TC 85 receives a lighter swing-arm.
The 2015 Enduro range too has gone under the scalpel, coming out with a new headlight and front fender with the triple clamps adapted for easier mounting as a standard on all models. All models benefit from the WP 4CS closed cartridge front fork. The two-stroke range sees improved power delivery while the TE 250 and TE 300 receive a lighter, more efficient 3Ah battery. The FE 250 and FE 350 also benefit from an improved clutch basket and spring design while the FE 250 has a longer sixth gear for better transfer capabilities.
The new Husqvarna MY15 range is available from July 2014 at all Huskvarna dealers across Europe.
Story:Pranjal Bhatnagar