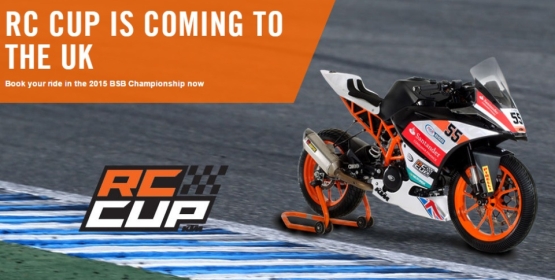 KTM are set to bring the RC Cup to the UK.
The Austrian two-wheeled giant is preparing what could be a global phenomenon soon: the RC Cup – to put the RC line to good use. The one-make junior race series will use RC390-based motorcycles.
The Santander Consumer Finance KTM British Junior Cup will take place at selected MCE British Superbike Championship rounds and is designed for novices, but also open to all road race licence holders, aged between 13 and 18-years old. Riders that attain 13 years of age during the season can join the Cup at that point, furthermore a special autumn mini series comprising of the final three event will be established as a forerunner to the 2016 Championship.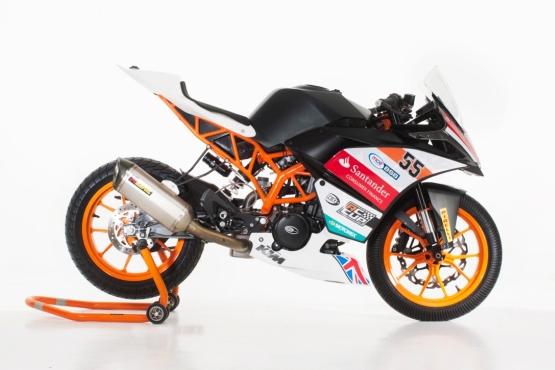 The Cup Edition bike is based on the series production model launched in 2014, but fitted with track-focused official KTM PowerParts and is both directly linked to KTM Racing and its Moto3 project. With the road bike already boasting sporty credentials, the Cup version takes it to the next level with changes such as fully adjustable WP Suspension, upgraded braking and a big reduction in weight with the removal of unnecessary road equipment.
The Cup bike represents an affordable racing motorcycle that condenses all of KTM's philosophy into a smaller displacement fully-faired racing bike. All bike parts are available as KTM PowerParts and the fully adjustable suspension package not only allows for individual set up for each race; it is also a valuable learning tool for suspension setup. The bike has adjustable foot pegs and handlebar levers to fit different ergonomics, making it ideal for young talent that is still growing.
Here's the calendar:
26 March – Official welcome and testing – Donington Park
4-6 April – Donington Park GP
17-19 April – Brands Hatch Indy
22-24 May – Donington Park GP (WSBK)
19-21 June – Snetterton 300
2-4 July – Knockhill
31 July – 2 August – Thruxton
4-6 September – Oulton Park
2-4 October – Silverstone GP
Story: Jim Gorde