With the W175, Kawasaki have re-introduced themselves as a manufacturer that does not shy away from radical decisions. We find out how cool this old-school motorcycle is.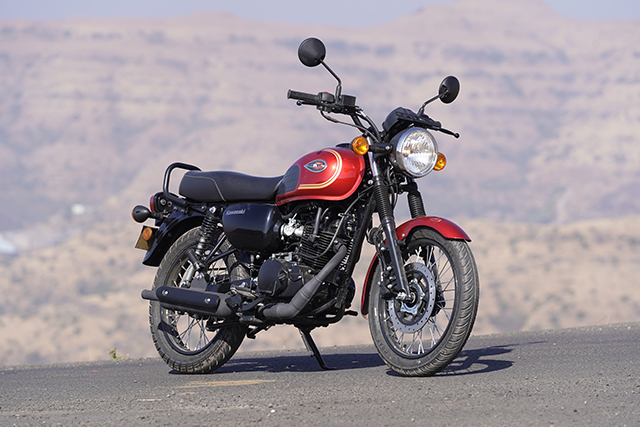 Story: Joshua Varghese
Photography: Sanjay Raikar
In September 2022, Kawasaki invited a select group of journalists to Goa for the launch of a special product. It was exciting primarily because it was the manufacturer's first made-in-India motorcycle and it also turned out to be the most accessible Kawasaki in the country. When the wraps came off, there were two W175 bikes on stage: a standard model and a special edition. We received the latter for a test-ride.
The W175 is the smallest offering in Kawasaki's "W" series of motorcycles and, in my opinion, this Candy Persimmon Red colour does the most justice to its character. From head to tail, this little W is clear about what it is, a motorcycle with a nostalgic design that is powered by modern engineering, and Kawasaki have done well to fuse the two elements together. Its round headlamp, tastefully detailed fuel-tank, indicators, and tail-lamp could easily allow this motorcycle to blend into a scene from the 1980s or '90s. The lower half of the W175 is contemporary in comparison, but it does not draw attention away from the retro-inspired details because the engine, exhaust, and even the 17-inch spoke wheels have been finished in black. The quality level is acceptable so long as one does not expect a premium product because the fittings, finishing, mounts, and workmanship are not fully up to the familiar Kawasaki standards. The frail key with its weird rubber loop, inadequate headlamp, and utilitarian grab-handle come to mind immediately as examples.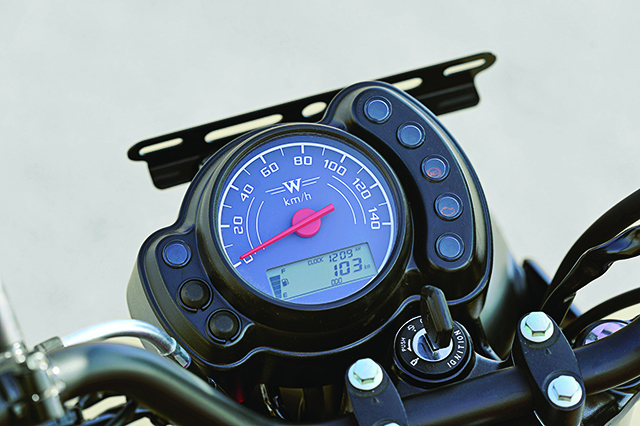 The instrument cluster is a simple affair that leans more towards retro than modern. A large analogue meter relays speed clearly with an inset digital display for the odometer, trip meters, and fuel-gauge; flanked by a set of tell-tale lights. The 790-millimetre seat height makes the W175 accessible to many riders and the saddle is well-cushioned, complementing the relaxed rider triangle of the motorcycle.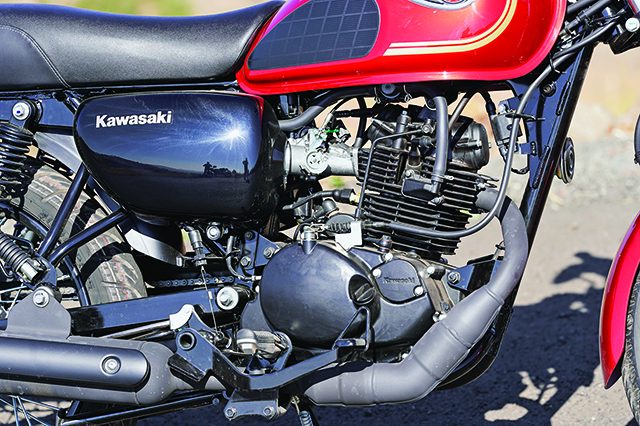 The W175 draws motive force from a 177-cc, air-cooled, single-cylinder engine that develops 13 hp at 7,500 rpm and a peak torque of 13.2 Nm at 6,000 rpm. It is mated to a modest five-speed transmission that rewards the rider with smooth and precise gear-shifts. When the engine comes to life, a couple of things become easily evident even at standstill. The W175 has an impressive exhaust note; one that is good enough to inspire more reasons to ride. Accompanying the soundtrack is a much-appreciated lack of vibrations from the engine and the refinement continues in that state until the upper ends of the rev-range. Thirteen hp may not sound like much for a 177-cc motorcycle, but it is enough to propel this 135-kilogram machine to a decent clip. The engine makes most of its power in the mid-range and the thoughtful final gearing allows one to utilise that band with ease. The W175 pulls away from as slow as 40 km/h in fifth gear without much fuss. When shifting through the gears rapidly, it reaches 80 km/h reasonably fast but progress from there onwards is not as quick, which means achieving 100 km/h depends more on space and patience than outright firepower.
In town, this is one of the easiest motorcycles to ride and that should make it a hit among new riders. It has enough power and agility to perform quick changes of direction and overtakes. However, on the highway, overtakes need more planning and time. During our test-ride, the skinny 80/100 (front) and 100/90 (rear) tyres kept the W175 light on its feet and the chassis was able to comfortably hold up its end of the bargain when I tipped the motorcycle into corners. Suspension is managed by a thin 30-millimetre telescopic fork at the front and twin shock-absorbers at the rear. It is set up on the softer side but, despite appearances, returns a good ride quality that could even be described as pliant. In terms of braking, the W175 relies heavily on its ABS-equipped disc brake at the front because the tiny drum unit at the rear is not as effective. Both brakes could do with some improvement in terms of feel and feedback, but taking into account the fact that this is not a fast motorcycle, these brakes do serve their purpose quite well.
To own one of these, a budget of Rs 1.49 lakh (ex-showroom) is required but the reasons to justify such a price tag are few. To make things more difficult, the customers shopping for motorcycles in that price range are now spoilt for choice with similarly priced larger-capacity motorcycles. As a premium product, the W175 has room to improve but as a motorcycle, the basic dynamics are well sorted. One could swing a leg over this one and appreciate a sedate and enjoyable ride. This is not a machine for blasting along at full chat; rather it is a trip down memory lane in the most compact of packages from the iconic Japanese manufacturer, specifically made for the Indian market. Kawasaki have proved beyond doubt their ability to make a refined engine that also sounds great and place it in a chassis that handles well. The only magic missing in this formula appears to be the pricing.
Watch the video review here: