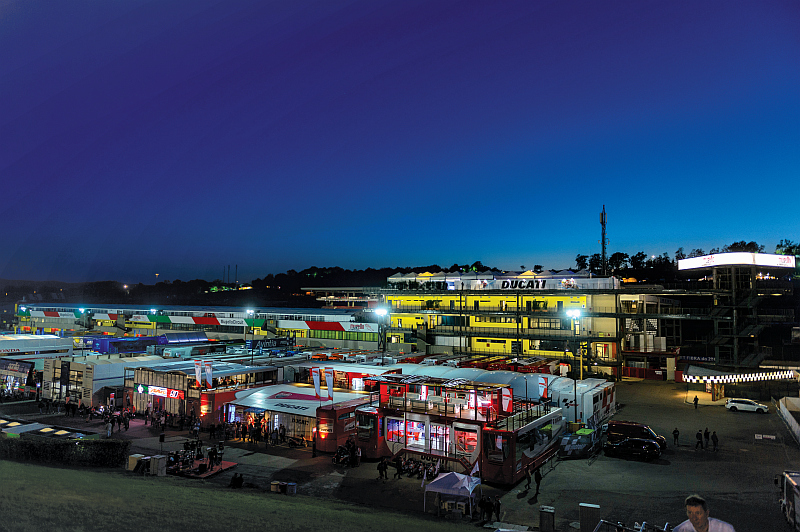 We buy tickets or switch on our telly over a weekend afternoon, chew our nails and pray for our favourite rider to finish ahead of all the others. Once the chequered flag has come down and the podium ceremonies are done with, it's a wrap for us. Few of us can imagine the kind of logistics involved in the world of MotoGP
Stepping inside the MotoGP Paddock at the Circuit de Barcelona in Catalunya made me feel like Charlie Bucket walking through the gates of Willy Wonka's chocolate factory. It's a world unlike any that I have seen anywhere. The buzz of activity, the throngs of people, the pit girls, the occasional Moto 3, Moto 2 or even MotoGP rider scooting around aside, it's the sheer scale of events that really caught my breath. Massive would be the understatement of the century if I had to get down to describing the scale of operations involved in top class motorbike racing. The only phrases that come close are 'incredible', 'indescribable' or 'unimaginable'.
I mean, we're talking 350 metric tonnes of cargo being shipped from one circuit to another between races. Over the course of a full MotoGP season this enormous amount of equipment, which ranges from the bikes to the safety car to the pit equipment to tools to electronic equipment, cleaning equipment and more, will have travelled a staggering 90,000 km around the globe!
The Paddock itself is quite a sight actually. There are no permanent structures anywhere, from the hospitality lounges of each team and sponsor (and there are a great many of those) to the garages with their equipment to the riders' motor homes, everything is a temporary structure that disappears from the circuit premises by the end of Monday after a race weekend.
To give you an example, we were shown into the Aprilia hospitality lounge when we arrived at the circuit on Saturday. The climate controlled lounge is a fancy affair with a gourmet buffet at the centre, well stocked fridges on each side, a coffee bar in one corner, multiple TV screens broadcasting the action from the track and multiple tables and chairs, a few bean bags and even a couple of race chairs. It could have been a fairly upscale restaurant, except…wait for it…the walls of the lounge were actually…wait for it…the side of two massive trucks!
What makes all this even more incredible is that Dorna, the company that manages MotoGP and all related racing activities, wraps up the entire affair (with the able help of other logistics partners of course) in less than 24 hours! While in Europe the GP circus travels from country to country by road, for inter-continental races travel is managed by DHL (MotoGP has a three-year contract with them as of now). It's organisation on a scale that beggars belief.
As I walked between row after row of massive trucks parked alongside each other, I couldn't help but marvel at the sheer precision and discipline that every member who works behind the scenes of such a fantastic event would need to display for the show to be a success. At some level, as an Indian journalist at an international event I felt myself drawn to comparisons between what I was witnessing to what I have witnessed in the Indian motorcycle racing universe. Of course, one could argue that we are still light years away from the level of professionalism exhibited at MotoGP levels and I would be the first one to buy that argument. I just hope we have the intent to reach that level of commitment and professional attitude rather than being happy in our inertia of no motion and remain stuck where we are. We are, after all, notoriously prone to repose faith in the maxim "If it ain't broke, don't fix it."