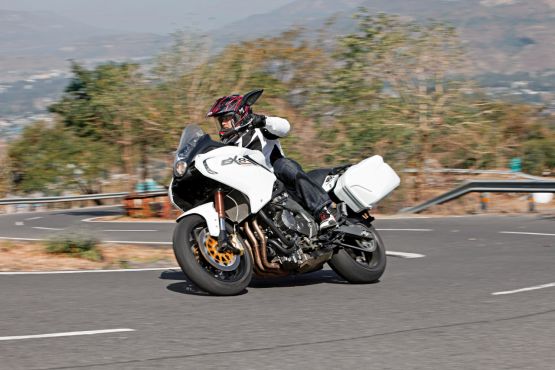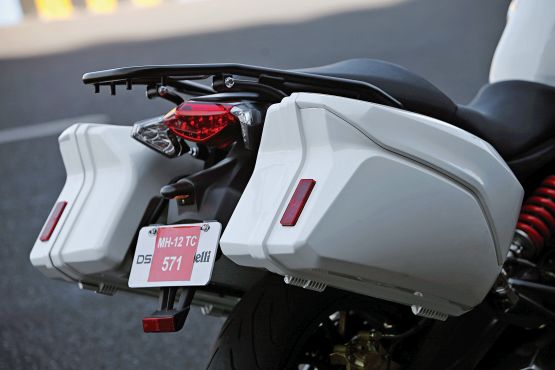 It's got a big and curvy tank, a contoured one-piece seat and a luggage rail at the rear end of the tail. The tilted rear monoshock is placed on the right and has an eye-catching red spring while the four-into-one exhaust is tucked under the belly to make way for the snazzy pannier boxes mounted on either side of the tail. The bike has 12-spoke alloys and stylish LED tail-lights while the stickers and graphics will be different from the ones on our model year 2014 test bike since DSK Benelli will launch their 2015 range in India.
So far as looks are concerned, the 600GT is blank and uninspiring but get into the saddle and you would want to keep riding it till the end of the day. The first thing that pleases is the highly comfortable seat. It has a well-carved-out design with generous padding and yet has the right amount of firmness at the pressure points and the texture of the seat-cover is grippy. Thus long hours in the saddle is not going to be a problem, unless you have a sweaty bottom. The handlebars are high and I could reach them while sitting upright, legs snugly wrapped around the tank, feet resting lazily on the low-placed foot-pegs. The windscreen prevented wind-blast below the chest while my legs were tucked in behind the wide fairing. The tilted information panel allows quick glances at the readouts and the tapering mirrors surprisingly provide a large field of vision.
The GT's 600-cc in-line four engine is mated to a six-speed gearbox that has a one-down-five-up shift pattern. The engine is refined and powerful and the gear-shifts are precise, with the ratios well suited for touring. Maximum power output is 83 PS at 11,000 RPM while the peak torque of 55 Nm is generated at 8,000 RPM. The power delivery is flat below 6,000 RPM and the engine feels restrained. So the initial acceleration is lazy, though it gets much stronger beyond 7,000 RPM. The bike can easily cruise at 150 km/h and is capable of nearing the two-ton mark on the speedo when pushed to the limit.