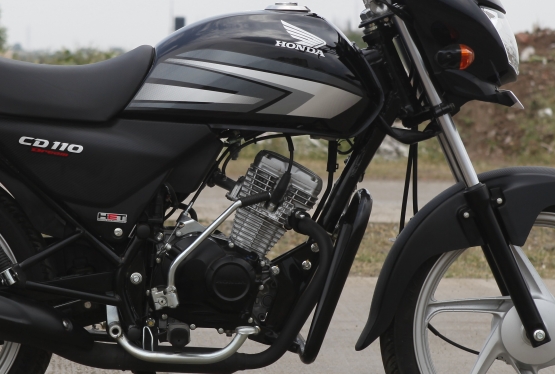 The Honda CD110 just has a kick-starter, and once you get the engine running, it doesn't literally speak volumes at all. It's all silent, and typically Honda-smooth. There are no conceivable vibrations and the engine ticks away stealthily. The 109.2-cc air-cooled single makes 8.36 PS at 7,500 RPM and 8.63 Nm at 5,500 RPM while breathing through a two-valve head. Not too bad at all, considering commuters earlier had more than a horse less and were utter bare-bones to look at too. The four-speed gearbox shifts all up and has nice ratios to get you up to 50 km/h, after which I found myself hunting without success for another gear. Even so, it pulls cleanly and even over 60, it doesn't feel stressed.
Pushing it to the limit saw a top speed of 86 km/h, and that's all the bike wrote. The refinement is truly commendable, even at higher non-commuter speeds; which saw me fingering the left switchgear mount in search for a passing switch, which, again, I couldn't find. The handling too is not bad at all. It's very flickable and even though it's very light – weighing just 105 kilograms – it lets you turn in confidently and holds its line well. The throttle response is good and the bottom-end, for what's on offer, is also very good. The 80/100 tyres offer decent grip and are not too skinny. Being tubeless is a big advantage too. Within the city, you don't find yourself shifting gears too often, unless it's stop-go traffic, of course. Braking too is handled well by the pair of drums.
The Star City+ is a different ball game. The features are there to be enjoyed and appreciated, whichever way you look at it. Thumb the starter and you're set to go. The engine settles to a happy whirr but there are some vibes which filter through the seat cushioning to your backside. The engine here is a few decimals up on the Dream's with 109.7 cc and an output of 8.4 PS at 7,000 RPM and 8.7 Nm at 5,000 RPM. Although the peak figures come in 500 revs earlier as compared to the CD110, the City doesn't feel as refined as the revs climb. It too has a four-speed all-up shift and pulls cleanly away from standstill. Yes, it could use another gear too; something anyone who wants something fast but can only afford a commuter will notice immediately they get up to speed. However, as a commuter, it does its job well and without any fuss.
The City's suspension is well sorted for the, um, city, and it soaks up the bumps very well indeed. However, that bounce effect can be unnerving if you happen to dive into a pothole, many of which are prevalent all over whichever city you may be in. Find an open road and the Star City+ will breach 90 km/h. The brakes too are quite good at shedding speed when you need to. The TVS tyres offer good grip levels and seem more ready for the rough that the black circles of rubber on the Dream. At 109 kg, the Star City+ is only four kilograms up on the CD110 Dream. That brings us to the key factor of comparison for most – efficiency.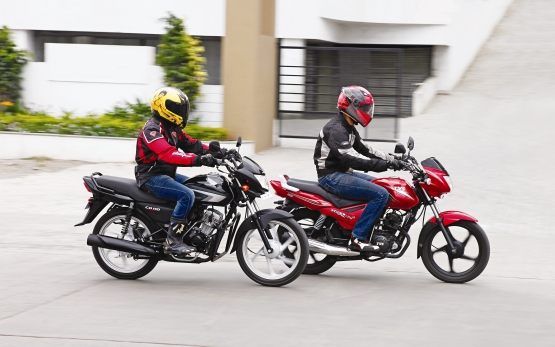 The Honda CD110 Dream delivers on the mileage front with an overall 72.5 km/litre, compared to the 67 km/l offered by the Star City+. On the open highway, the Star City+ manages 76 km/l, but it's the CD110 Dream which delivers a stunning 82 km/l. The tank volume, though, speak too. The Dream has an eight-litre tank; working out to a range of 580 km. The 25 per cent more volume the City has means a range of 670 km. Big numbers for sure, but those are the ones which win the game in this segment, the dreams and stars of those who look through this window. Then there's the price, the CD110 will set you back by Rs 43,472, whereas the Star City+ costs a smidge more at Rs 44,000. Either way, they're different in their own ways and quite similar when it comes to getting about with business like they're expected to. Close call!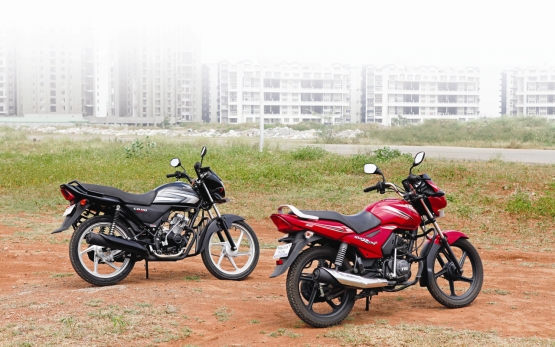 Verdict
The Star City+ is a great option for those who want their extremely efficient style statement to have a dash of colour. But if outright mileage and refinement are your key criteria, then the CD110 Dream, with wings on the tank, is truly hard to ignore.