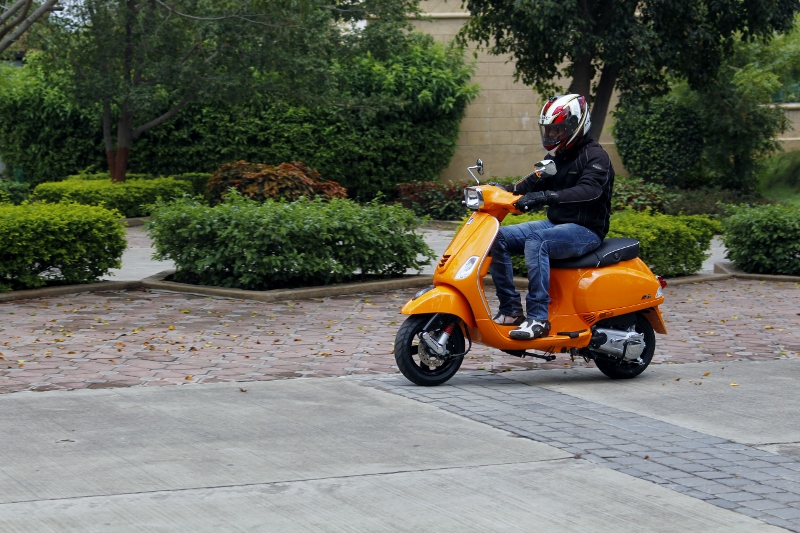 Once astride the Vespa, the riding position is comfortable and the handlebar at level with my midriff, which is pretty convenient. However, a lower position would've been far more appreciated. The contoured seats are separated by a small step and are on the harder side. As I thumb the starter, the engine comes to life with a throaty rasp. The 150-cc engine, like the 125-cc one, employs a three-valve aluminium cylinder-head and is fed by a CV carburettor. This puts out peak power of 11.6 PS at 7,000 RPM and peak torque of 11.5 Nm at 5,500 RPM. These figures make it the most powerful scooter on offer in the country. That's not to say that you'll be setting the streets ablaze with the Vespa. The grunt is not as much as we would have liked. At best, the 150-cc feels like a really powerful 125 but definitely not what is expected of a 150-cc unit. Power delivery is linear and acceleration is progressive. However, noise levels increase in lockstep with the speed. Shedding speed is a tricky ordeal on the Vespa. Although the 200-mm disc offers sufficient bite, it lacks progression and requires more than a handful from the right lever. Given the limited scope of avenues, we couldn't explore the Vespa's capabilities to the fullest.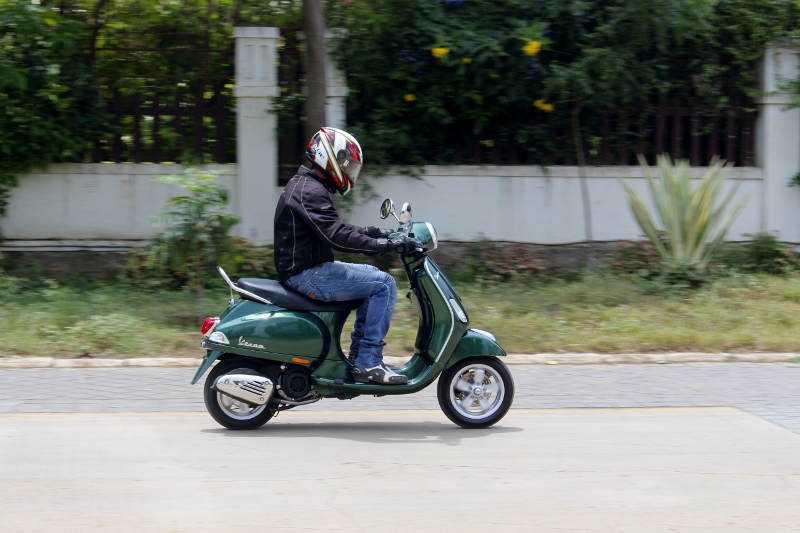 The Vespa uses the traditional single sided front suspension and a dual-effect rear shock-absorber. While the handling is decisive and telepathic, the ride quality is at the stiffer end of the spectrum. Charge ahead with some excess speed through a rough patch and the Vespa will punish you with a sore rear.
The basic VXL 150 is priced at Rs 86,000 (OTR, Pune) and the addition of features costs a premium of Rs 91,000 for the SXL, which makes it the most expensive scooter in the segment. Following this, one can also expect a limited-edition variant of the Vespa in the form of the Elegante next month. The Elegante will be on offer in pearl white with crimson split-seats and metallic brown with beige seats. Whether the über-cool style quotient will justify the high price-point, and whether the Vespa will break boundaries of a utilitarian scooter and cross over into the realm of a lifestyle product remains a question of market maturity.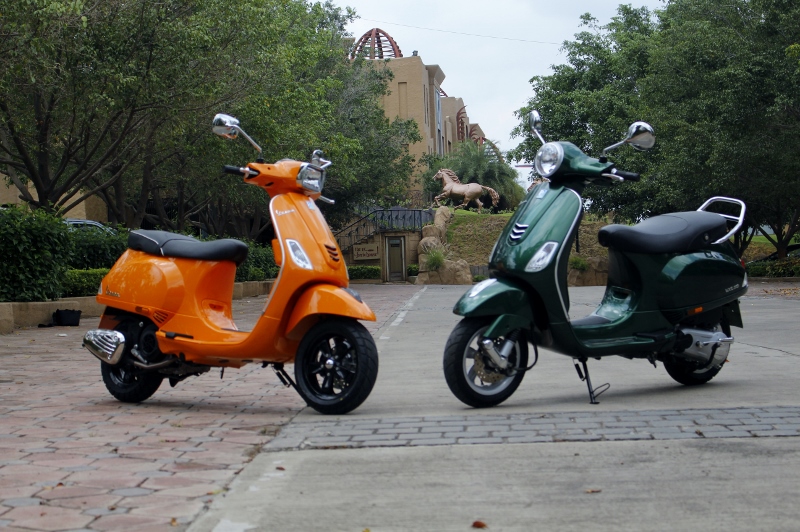 Need to Know: Vespa VXL 150 / SXL 150
Price (OTR Pune)
Rs 86,000 / 91,000
Engine
150-cc, four-stroke, three valves
Maximum Power
11.6 PS @ 7,000 RPM
Maximum Torque
11.5 Nm @ 5,500 RPM
Transmission
CVT
Brakes (F / R )
200-mm ventilated disc / 140-mm drum
Tyres (F / R)
Tubeless, 110/70 R11 / 120/70 R10