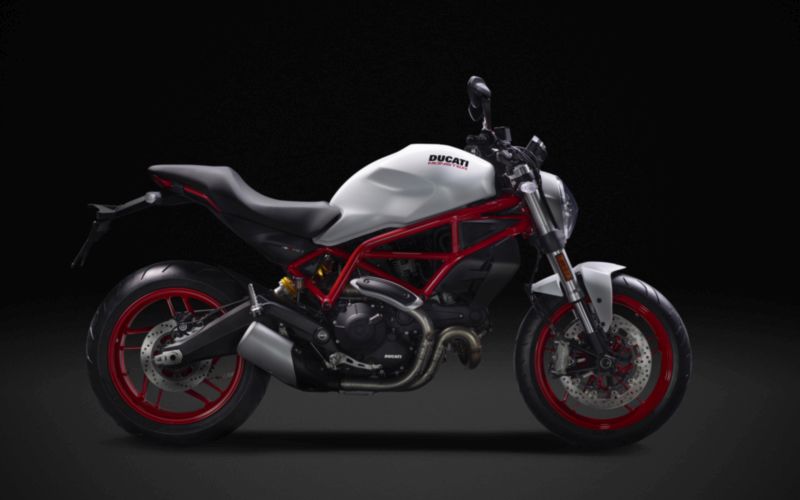 There's a new sporty, compact, essential yet incredibly stylish and up-to-date Monster: the 797, and we hope to see it here in India soon.
The Monster 797 recalls the iconic '90s bike while offering cutting-edge modern build quality and equipment. From the Trellis frame to the air-cooled L-twin engine and single round headlamp. It will be the most accessible Ducati naked bike, Scramblers apart, and has been designed to express just that.
The compact but beefy tank, round headlamp and tapered tail section make it look undeniably Monster. The Monster 797 gets standard ABS with a top-drawer front braking system consisting of two 320-mm Brembo discs gripped by two Brembo M4.32 radial calipers. The Desmodue air-cooled 90° L-twin engine displaces 803 cc and delivers 75 PS at 8,250 rpm. Cradled in the Trellis frame, it showcases the mechanics in inimitable Monster style and puts performance and fun within everyone's grasp, ensuring an exciting ride experience. Moreover, the 797 is Euro 4-compliant.
With the Scramblers priced at the Rs 8-9 lakh mark (on-road, Pune), and the Monster 821 priced upwards of Rs 10 lakh, Ducati will have to bring in the 797 at an ex-showroom price of around Rs 8.25 lakh, to get in the Rs 9-10 lakh on-road price band. Fingers crossed!
Story: Jim Gorde