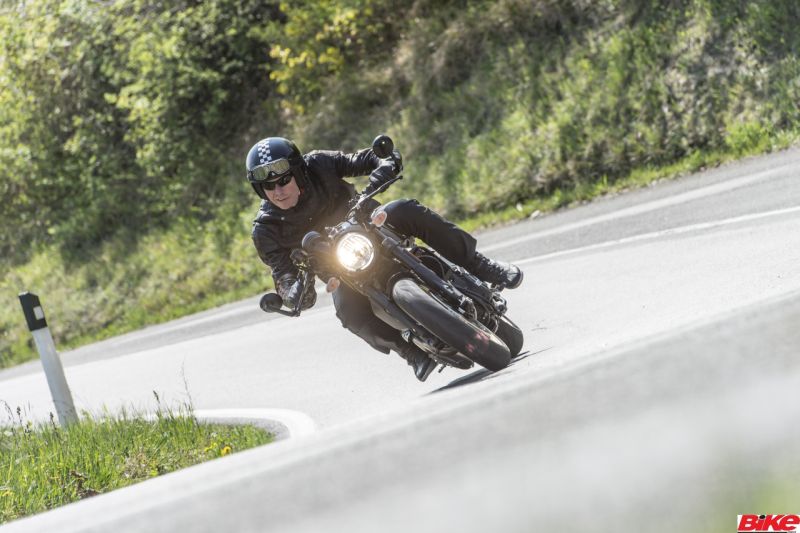 By Scrambler standards the riding position is still sporty. The clip-ons are 175 mm lower and 155 mm further forward than the Icon's wide one-piece bar; the seat is 15 mm taller at 805 mm, and the foot-rests remain unchanged. But Ducati haven't repeated the mistake they made a decade ago with the Sport Classic 1000, whose racy riding position proved too uncomfortable for the mostly older riders who appreciated its retro style.
The Café Racer managed to look reasonably aggressive, but seemed more poodle than pit-bull even before the motor fired up with an appealing but restrained Euro 4-legal beat from the low-slung exhaust. Then it was out with the light-action clutch and into the Bologna traffic, where the bike's light weight, generous steering lock and sweet low-rev fuelling made it infinitely more rider-friendly than many of the fire-breathing Ducatis that have headed for the Futa over the years.
Suddenly that Scrambler tank badge made a lot more sense. In fact, the engine response has been softened slightly from previous Scrambler lumps, because following complaints of a sharp throttle the twist-grip has been revised to give a slightly slower initial action. That worked in that the Café Racer accelerated from low revs with no hint of abruptness.
Perhaps, the flip-side was that once we got out of the city on to faster roads I needed a slightly bigger handful to let the Ducati stretch its legs, but I can't say that was an issue. Its acceleration is hardly dramatic by Bolognese V-twin standards but that softly-tuned Scrambler motor is pleasantly flexible and smooth, and the Café Racer revved enthusiastically through the sweet six-speed box, heading for a top speed of about 200 km/h.
Not that it was particularly easy to see what the revs were doing on the tacho bar that runs around the bottom of the single, round dial. In Scrambler tradition, instrumentation is pretty basic: digital speedo and a bunch of warning lights, but no gear indicator or fuel consumption reading.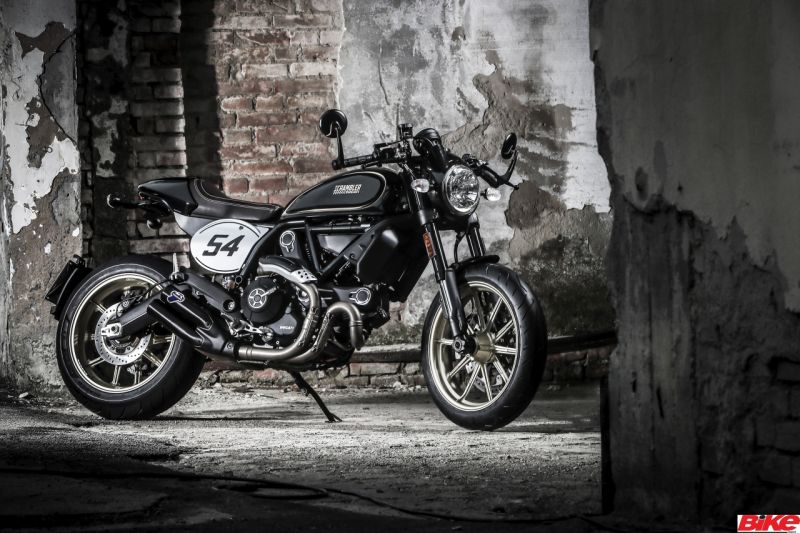 That sporty but not-too-radical riding position worked well at speed, the wind taking just enough weight off my wrists to make me think the Café Racer would be fine for a longish main-road ride. But there was no time for that, because soon we were on to the SS65, which got increasingly twisty as it headed up into the Apennines.
Those Ducati test riders have done a good job with the Café Racer's chassis, which worked well despite its basic specification. The fact that the bike weighs just 188 kg wet undoubtedly helped. It could be flicked into turns with minimal pressure on its bars, and tracked round feeling impressively neutral and controllable.
It slowed respectably hard, too. A single front disc might seem slightly stingy for a sporty bike, but the big 330-mm rotor has the benefit of being chomped by a blend of Brembo's radial master cylinder and radial Monobloc caliper, giving excellent lever feel and enough pure stopping power for the fairly soft front end to cope with.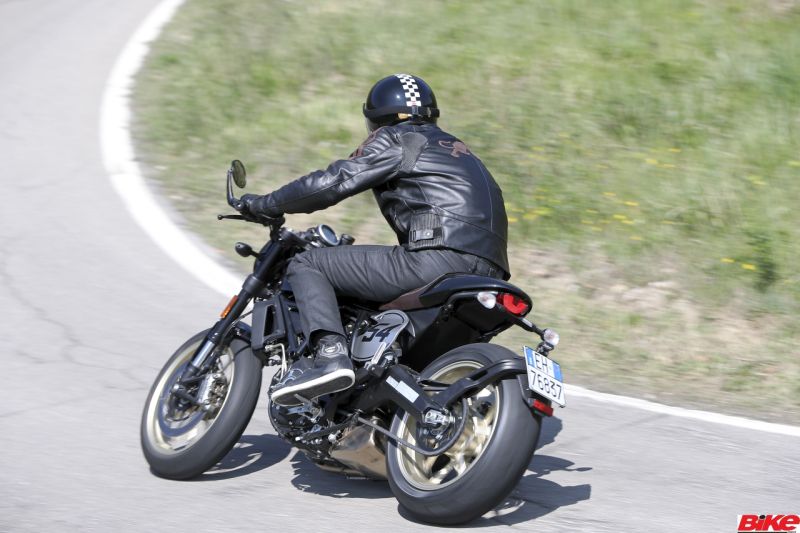 Inevitably, the Café Racer's long-travel suspension meant it cornered more like a Scrambler than a Ducati sports bike, soaking up minor bumps with efficiency but feeling slightly vague and remote when the pace got hotter. At least, there was plenty of ground clearance, provided I occasionally repositioned my boots on the pegs to avoid boot-toes touching down.
And payback for the lack of traditional Ducati-style firmness came after we'd stopped for lunch then headed back down to Bologna, when I realised that I'd been riding for several hours and was suffering only minor discomfort through the fairly thinly padded seat, and none at all from my wrists. This Café Racer is good for more than a sprint to be first in the queue for a skinny late.
With a 13.5-litre tank and fuel consumption of close to 5.0 litres/100 km it should have a range of about 200 km, too, as well as being respectably economical to run. Shame, on that score, that the price is over 20 per cent higher than that of the base-model Icon, meaning that the Café Racer is arguably not really an entry-level model at all despite that Scrambler name.
Fans of Bolognese V-twins who aren't hipsters or classic enthusiasts might consider that similar money would buy the much more sophisticated Monster 821, complete with 50 per cent more power and the Ducati name on its tank. But if you want the nostalgic street-racer look, this latest in the Scrambler family provides an enjoyable, unthreatening dose of café-racer style and performance without the traditional pain.
This Bolognese Café Racer could be yours for Rs 9.32 lakh (ex-showroom, India). Take a look at our launch report for India-specific details.