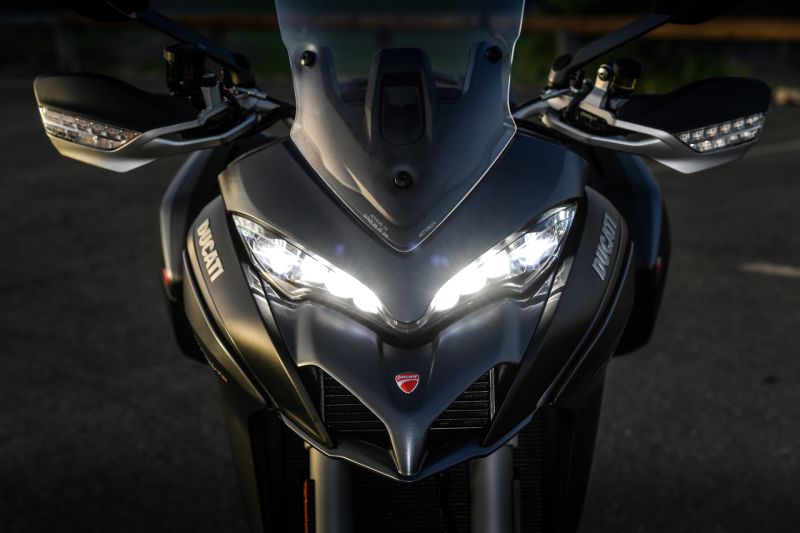 The Ducati Multistrada 1260 S storms its way into 2018 with a new engine and comprehensive tweaks over its predecessor. The Multistrada 1260 and 1260 S have been priced at Rs 15.99 lakh and Rs 18.06 lakh respectively (ex-showroom prices). Here is our first impression following a ride in the mountainous region of Spain.
Story: Roland Brown
Photography: Milagro
If the Multistrada's only new feature were its accessory heated grips, I wouldn't be complaining right now. The digital display is showing an ambient temperature of 2° Celsius as I follow lead rider Beppe through thickening fog down a wet, winding Spanish mountain road that is strewn with boulders and fallen branches. But at least the updated grips are keeping my hands warm and my concentration on the job in hand. (Also read: Ducati Multistrada 1260 and 1260 S Launched in India)
In fact, the Multi's other 2018 tweaks are also contributing to a ride that is much more enjoyable than it might have been. In these conditions, I'm grateful for the 1260 S' smooth, glitch-free and gloriously flexible torque delivery, which makes accelerating out of slippery bends stress-free, in combination with the IMU-governed traction control and new quick-shifter.
And as I tip the Ducati into a succession of streaming hairpins, I'm appreciative of the way the revamped chassis is keeping the bike stable — especially on a couple of occasions when I round a turn to be hit by a blast of wind that has the bars twitching momentarily. You'd need a back-to-back test to evaluate whether the Multi's shallower steering geometry and longer wheelbase are having a notable effect, but they'll do for me on this nasty day on Gran Canaria's highest peak.
Those modifications combine to create a Multistrada that is more comprehensively updated than its familiar look might suggest. Headline feature is that new engine, which is the 1,262-cc Testastretta DVT unit borrowed from the XDiavel. The longer-stroke (up from 67.9 to 71.5 mm, while bore remains 106 mm) lump is unchanged apart from relocated mounting points, and having its water pump on the right crankcase instead of between the cylinders.
Ducati say the maximum output of 158 PS at 9,500 rpm is an increase of six PS on the previous 1,198 cc unit, which is still used for the Enduro models (and was originally rated at 160 PS). But the bigger desmo motor's main gain is lower down. This Multi produces 85 per cent of its maximum torque from 3,500 rpm, and generates 18 per cent more grunt than the previous model at 5,500 rpm.
Chassis revisions are intended to add stability. The steel frame is tweaked to increase rake from 24 to 25 degrees; a longer single-sided swingarm contributes to the wheelbase growing by 56 mm to 1,585 mm. "Some riders thought the Multistrada's handling was a little too sporty," says Davide Previtera, the Project Manager. "We've tried to make the bike more relaxing, especially when heavily loaded with pillion and panniers, without losing agility."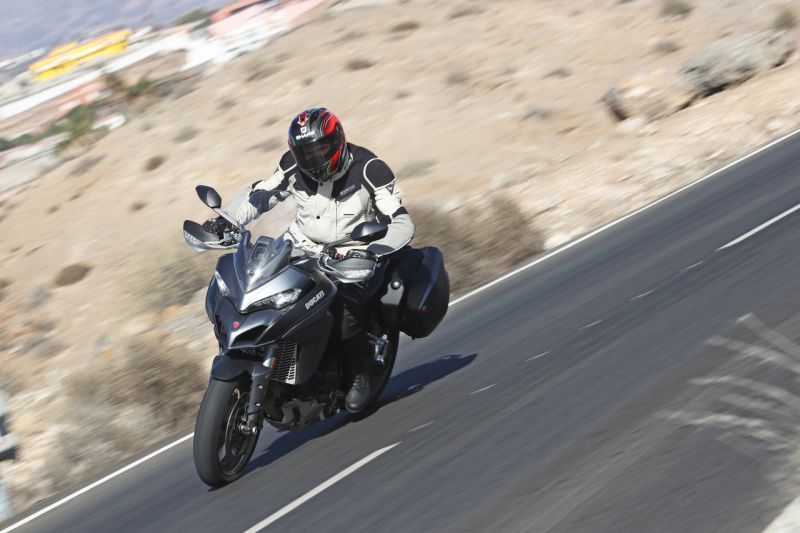 The wheels and pillion grab-rail are also new, but most other mods are related to electronics. The Skyhook semi-active suspension system used by the 1260 S (as before, there are standard, S and Pikes Peak models; plus a DAir version of the S, equipped for Dainese's airbag-equipped clothing, in some markets) is revised with new Sachs units at front and rear. The 1260 S and Pikes Peak come with a two-way quick-shifter.
Instrumentation is updated, with the S-model's TFT screen becoming brighter and gaining features, including colours to differentiate the four riding modes. The display interface, switchgear, throttle control and optional heated grips are revised, there's a new tyre pressure monitoring system, and a smartphone app allows remote fine-tuning of the functions within each riding mode as well as providing Strava-style route sharing and other social media elements.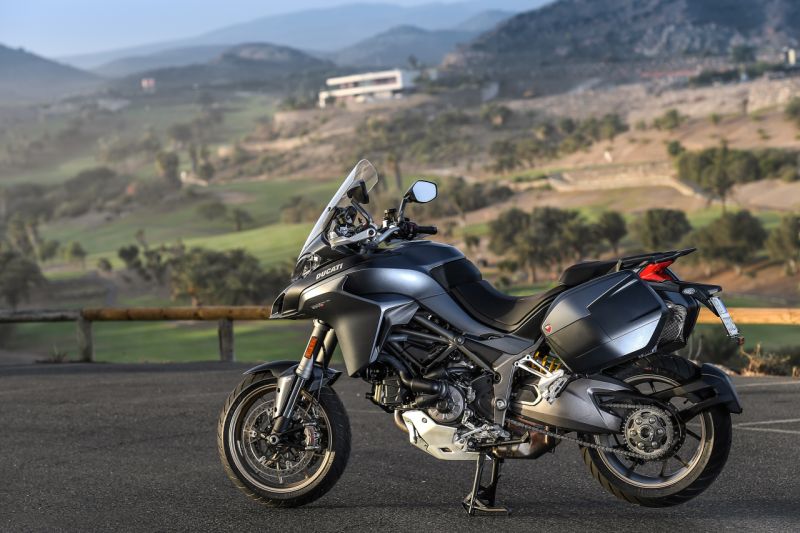 Despite all that the 1260 S feels just like its predecessor as you climb aboard the tallish, height-adjustable seat (825-845 mm) and fire up the big V-twin, which barks in familiar rorty fashion through its revised exhaust system. On the smooth, dry roads heading inland from the south of Gran Canaria, the extra mid-range grunt is immediately welcome, not least because the zone between about 4,000 and 7,000 rpm, where torque output is most increased, is where the majority of riders spend so much time.