'Norton resisted requests to produce more Domiracers, but that bike has now given birth to a street-legal model, the Dominator, plus this even more exotic variant, the Dominator SS, or Super Sport.' We rode it recently in and around Donington Hall in the United Kingdom
Story: Roland Brown
Photography: Phil Masters
Despite running a few minutes late in returning the Dominator SS, I couldn't resist one short, final detour. Norton's factory is located to the rear of Donington Hall, signposted to the right at a fork in the access road. But I aimed the bike left, instead: down the short, tree-shrouded drive that suddenly curved to give a view of the classically symmetrical Gothic stately home.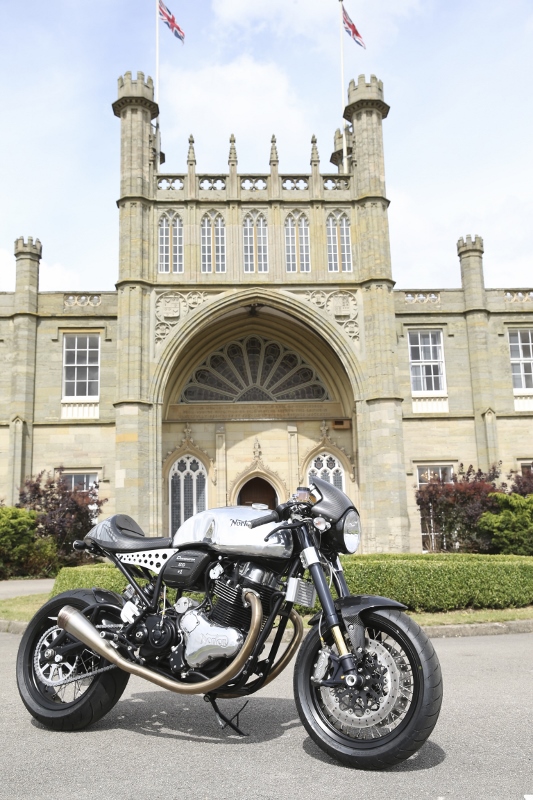 A pair of Union Jack flags fluttered from the roof. Norton boss Stuart Garner's Aston Martin – number-plate SG V8 – was parked outside near the red carpet at the door. It was a magnificent, quintessentially British scene, surely made all the more stirring by the arrival of an equally spectacular Norton motorbike, sun glinting off the mirror finish of its shapely petrol tank.
I rode slowly up the drive, made a quick lap of the circular garden feature outside the Hall's front door, then gunned the Dominator's parallel twin engine to exit the way I'd come, the straight-through pipes bellowing a brief but deafening note. A couple of minutes later I was pulling up outside Norton's factory reception, handing back the SS to a mechanic – "We heard you coming" – and stepping off with my ears ringing, pulse racing and a huge grin on my face.