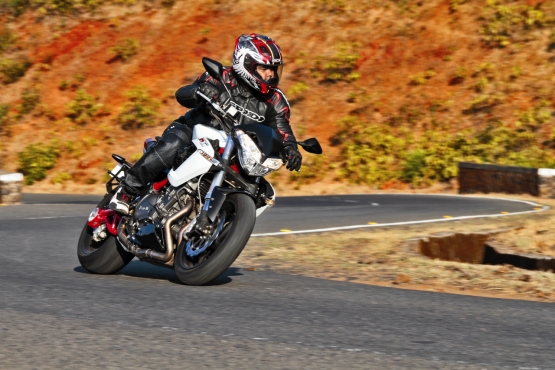 On the move, the whole package gives you confidence like few others. The big brakes, although sans ABS, still have a very progressive feel to them. The fat 190/50 rubber at the rear puts the ample power down very well indeed and can handle the bends extremely well. Approaching the narrow mountain roads at speed is not at all disconcerting and the TnT dips into the corner fluidly and emerges infallibly, all set for the next one. The intuitive handling characteristics are very likeable indeed and the riding position, with recesses almost seeming specifically carved out, made me feel like it was built just for me. Needless to say, it inspires confidence and lets one get about going quickly round corners as well as hunkering down while speeding on straights with a huge smile hidden behind a serious-looking helmet.
At 202 kg, with some fuel in the 16-litre tank, the TnT 899 is a joy to ride and feels very nimble, and isn't as top-heavy as some of its competitors are. The solid feel of the levers and other components also made a remarkable difference in reassuring me of its abilities on the move. Furthermore, even the tag is not expected to be too prohibitive: around Rs 10 lakh, maybe. Benelli are set to initiate a global re-branding exercise with the 'TNT' name going on all models in the line-up for 2015, and India is hot on the list.
In the end, the TnT is the stuff of posters and wallpapers, and I, for one, am just happy to see it on sale here. How is it as a personal ride? Let me rephrase the words of AC/DC's Brian Johnson: It's TnT, it's dynamite!