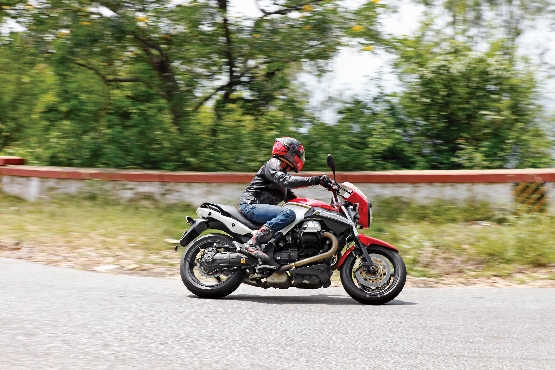 Going over the few potholes on the road to Nandi Hills near Bengaluru, you can't help noticing that the suspension set-up is on the softer side of life. Push it hard and the softer set-up becomes even more apparent in the way the front dives when you brake hard. While on a day out on the track you might find it bothersome, on our less than ideally surfaced and even worse maintained Indian road network, it comes across as a boon. As a result the bike doesn't bob around as you tackle that patchy bit of tarmac, but instead goes through it, absorbing all the irregularities. To be fair, though, the softness is only in comparison to other such global big-capacity motorcycles and if your rear end is used to Indian machines, then you will still feel some of the shocks being transferred through to you. Overall, however, the ride quality is well sorted and you won' t find yourself complaining about an achy bottom even after a long day in the well-padded saddle of the 1200 Sport.
The handling of the 1200 Sport is a bit more complex, though. The aforementioned gyroscopic effect makes the bike want to lean to the left and do exactly the opposite in a right turn. Now, the effect is inversely proportional to speed and, therefore, the faster you go, the less of a problem it is. Unfortunately, on Indian roads one can only travel that fast. So you get this overwhelming feeling of the bike toppling on its own in slow left-handers while trying to run wide on a right-hander. The biggest issue here is getting your mind to accept this phenomenon and adjust to it. Once you're past that bit, things become very enjoyable.
On the whole, the Moto Guzzi 1200 Sport's appeal has to be understood as a niche product that will entice a select set of enthusiasts. This is not for the speed junkie or the lazy cruiser. Nor is this motorcycle meant for the naked street brawler fan. Instead this is a bike for those looking for some classic Italian motorcycling feel. And on that count, the 1200 Sport delivers by the bucket-load.