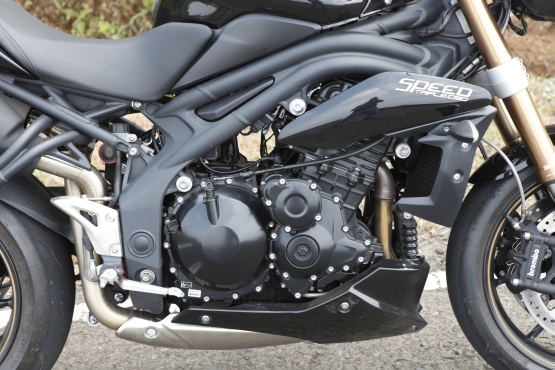 A whole lot of credit for that goes to the engine under there. The 12-valve, 1,050-cc fuel-injected triple has bores now up to 79 mm with a not-so-far-away 71.4-mm stroke. That means both power and torque come in an appreciably linear fashion and don't overwhelm you very often, unless you end up doing some ham-fisted antics as I did. Er. Anyway, that power and torque we talked about is a considerable 127 PS which peaks at 9,300 RPM, just eight horses less than its European counterpart, while peak torque is a hefty 105 Nm, which arrives at 7,800 RPM. The rev-happy nature of the engine is one thing, but its ability to deliver the goods lower down the rev range, and its rather light clutch action are what make it such fun to ride even in the chaotic Pune city traffic.
Get stuck behind a slow-moving car in the fast lane? Not a problem, shift down to third, or even fourth, and you're comfortably trundling along at 40 km/h without a hint of stalling. At these speeds, though, the Speed feels like a grumbling tiger. The engine note sounds like it wants to really get verbal with the slow driver and force them into the left lane. But with that sort of power, all one needs is a tiny window of opportunity. One more downshift, and the Speed collects itself in a split second and barrels away, making the horribly underpowered box on four wheels but a tiny speck in the mirrors.
Now, the Speed Triple may seem like big, wild, naked roadster, but under the skin, there's a bunch of electronic goodies which will take care of you and do their best to make sure you don't end up doing something really stupid really fast. Even so, things are kept simple and the core focus was to make the bike as enjoyable to ride as possible. First up, the potent brakes and fat rubber are complemented by ABS to ensure the quickest stopping times in the least possible distance. The grippy Metzeler rubber – 120/70 up front and a wide 190/55 at the rear – let you pretty much plop yourself into a corner, find the apex with ease, and whack the throttle open on the way out. Such is the ability and confidence that the Speed lends the rider. It takes only a bit of getting used to before all the caged cravings and antics come out and play. And the Triple happily co-operates.