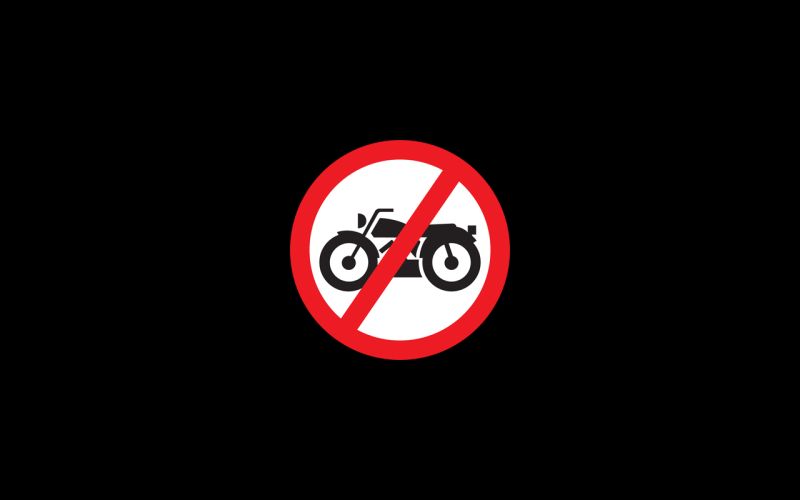 I've already touched upon this in my Triumph Speed Triple – Golden Quadrilateral travelogue that you can see in the bumper 10th anniversary August issue of Bike India magazine, but I felt that bikerpartheid needed more exhaustive deliberation. Bikerpartheid, or the discrimination against vehicles with two wheels comes in many forms. Today though, I'm focusing on only one of this dreaded social malaise's many proponents, our Country's various state governments.
Anytime you see a glorious stretch of tolled tarmac laid out to connect two bustling cities, this malevolent social anathema raises its ugly head. You ride along, aquiver with excitement, chomping at the bit to open up your two-wheeled asphalt-muncher. When you reach the beginning of this glistening, inviting, and spanking-new stretch of tarmac you see an insolent sign with a silhouette of a bike and a huge red 'X' running across it, and like a toddler popping a balloon, all the excitement just fizzles out.
Yep, no bikes allowed, and on a lot of the country's most superlative highways; the Pune-Mumbai Expressway and Ahmedabad-Vadodara one are but two top-of-the-head examples. Today I'd like to question the logic (or lack thereof) of this decision. The usual excuse given for this heinous bigotry is that a lot of the bikes in use in India are 100cc commuters that will cause a hindrance to their faster four-wheeled (or more) counterparts.
Well there are two things wrong with that argument. One, the TATA Nano and the Maruti 800, both small capacity commuter cars don't go much faster than your average commuter bike, if at all. Two, trucks. Trucks are allowed to go on any highway they jolly well please, and when was the last time you saw a truck go faster than 60 km/h? Even those speeds are an absolute stretch for your average trucker.
The second argument put forth is safety. How are bikes any safer on national highways than on expressways? People drive and ride as fast as possible on any highway, so if you're not wearing complete riding gear, you're fudged either way. In fact, having better surfaced roads with greater visibility and wider run-off areas means you're better off on an expressway as a rider than you would be on a conventional highway.
Above everything else though, my strongest argument against those who advocate bikerpartheid is the Yamuna Expressway. This 165 km super highway connects New Delhi and Agra, and bikes are allowed here, and expected to pay tolls and everything. If two-wheelers are permitted to be ridden on one of India's biggest, baddest expressways, then why not everywhere across the country?
What do you think? Should bikes be discriminated against? Do you have any insight on this topic? If so, we'd love to hear from you in the comments below.