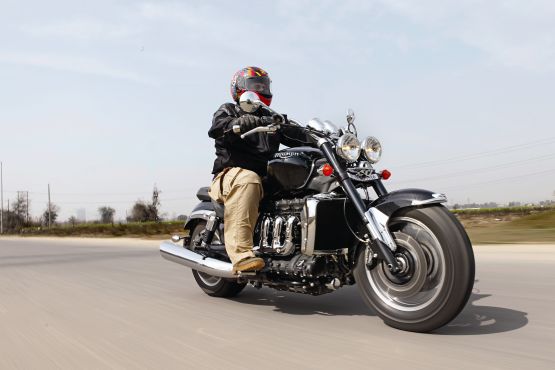 It truly goes like a rocket and has the stability to match the outstanding acceleration. However, there is one place where the Rocket III makes you break out in sweat. The Rocket III is somewhat like the American muscle cars that were known for their straight-line stability and bad handling in the corners. It behaves exceptionally well in a straight line, but when I attempted to show it a corner, I was literally taken for a ride. There is simply too much bulk on the bike and it affects the handling in a very big way. I approached a corner with a certain line in mind. However, on turn-in the weight of the Rocket III was simply too much for me to handle and I had to take a much wider line through the corner. The high centre of gravity and the weight of the bike hamper its handling to a certain extent in the corners, though it handles slightly better in long, smooth-flowing corners.
This muscle bike has great stability and straight-line speed with a less than impressive handling in the corners. Its ride quality is pretty good, if not the best. The suspension setup is still a bit on the firm side, but then small undulations and bumps are not a big deal for the Rocket III. In the braking department two huge 320-mm brake rotors with four-piston Nissin callipers provide excellent braking.
Overall, the Rocket III is an example of what a sane company can do when it decides to make the world's highest capacity production motorcycle. Everything about the Rocket III revolves round the 2.3-litre motor. The design puts the engine at the centre-stage: the good build quality and fit-and-finish get overshadowed by the massiveness of the inline three motor. Rs 20 lakh (ex-showroom) is quite a lot of money to pay for a motorcycle whose USP is its massive amount of torque. However, it is certainly a motorcycle that puts a smile on your face once you have ridden it. It gives a sense of being the most powerful thing on the road. It may not seem like a practical option, but then which big bike is a practical motorcycle for Indian conditions? Thus, if you really want to stand out in the crowd and want to get noticed for being different, then the Rocket III is most certainly the motorcycle that can elevate you to that stature.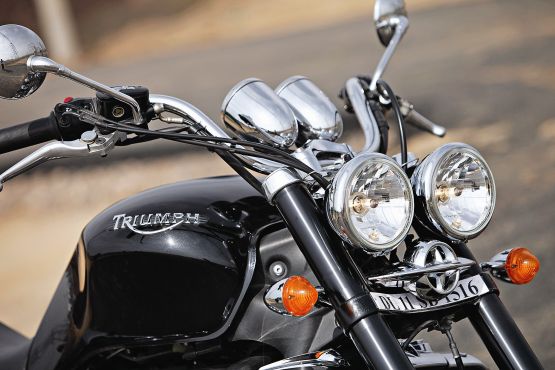 Story: Ravi Chandnani
Photography: Sanjay Raikar