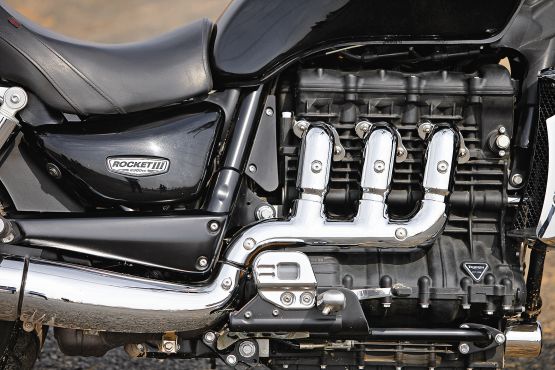 The riding position of the Rocket III is quite interesting. It looks very similar to that of a cruiser, but it is closer to the riding position of a street bike although the handlebars are quite wide. After making myself comfortable on this massive bike I started the mother of all engines: the 2,294-cc inline three motor. This is an engine that deserves to be fitted into a small hatchback. The longitudinal layout of this engine gives it a lot of character and, when I twisted the throttle at standstill, the bike pulled towards the left because of the rotation of the crankshaft. It may produce just 148 PS, but the 221 Nm of torque from this inline three would put many four-cylinder motors to shame. The Rocket III is a massive motorcycle and that is perfectly represented in its exhaust note. It starts off with a bang which then turns into a constant loud burble that is quite unique. It doesn't have that thump…thump… sound. It has a very distinctive note that I had never heard before. The exhaust sounded like a top fuel drag bike idling half a kilometre away. I revved it a bit and noticed that the sound only gets louder and louder.
It was finally the time when I, for the first time in my life, dared to tame this beast. I shifted to the first and heard a clunk indicating that this shaft-driven motorcycle is ready to go. As the bike started moving forward, I noticed that it isn't that difficult to ride after all. In a straight line the bike felt very easy to ride, though I could still feel its bulk. The upright position and excellent ergonomics did calm my senses a bit, but I had to be very careful while maneuvering the bike through Gurgaon traffic. Being a huge motorcycle it does feel a bit out of place in traffic, but you get used to it after some time.
After scaring a few motorists in the city I headed off towards the highway to see what the Rocket III was capable of on wide open roads. I was instantly impressed by the way it accelerated. The massive amount of torque is available at 2,750 revolutions per minute, which is where you would want to keep the revs if you wanted to enjoy the smooth acceleration. It pulls like a train in a straight line and you have to hold on to the handlebars for dear life. The Rocket III accelerates so quickly that when I looked at the speedometer I realised I was doing 110-120 miles per hour, which is roughly 180-190 km/h. All of this happened within a few seconds. I was convinced that there is no shortage of power on the Rocket III.