There are big scooters, and then there's the SRV 850. The Aprilia is the only scooter in the world to be powered by a V-twin motor. Displacing 839.3 cc, the fuel-injected and liquid-cooled 90º V-twin makes 76 PS at 7,750 RPM and 76.3 Nm of torque at 6,000 RPM. Moreover, a variomatic transmission deals with this prodigious output and sends it to the rear wheel through a chain drive – you won't find the wheel hanging off the engine here.
With those numbers, the SRV 850 can go! A slight twist of the wrist and my cameraman and I, far from being fitness models, were both off in a jiffy. The SRV effortlessly whisked us off deeper into the beautiful surroundings. Everything about the SRV seems like excess, but, for what it is capable of, is absolutely essential. Take the superbike-width 120-section tubeless rubber, for instance, not to mention the 160-section rear. You also get twin 300-mm discs up front and 280-mm rear disc, with ABS, again. Get around the weight of the scoot and you eventually get very comfortable not just on it, but with it.
The suspension set-up is also very Aprilia. There's a hydraulic front fork and a seven-way adjustable rear monoshock. That should let you fine-tune your ride for weight and distance. Speaking of which, this is not just a "scooter" for use in the city for getting those bread and veggies or going to college. It's a touring machine and a capable one at that. You wouldn't expect a 76-PS creation to live a limited life now, would you?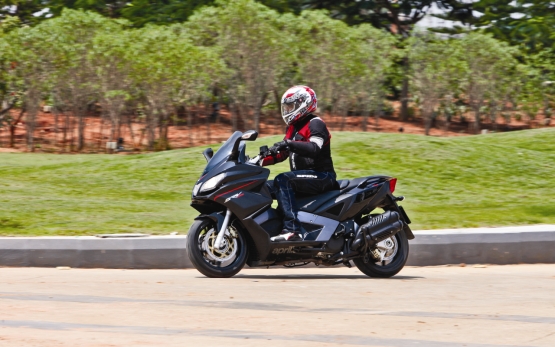 The SRV accelerates to 100 km/h faster than most other scooters on sale would hit 40 km/h. Once you're up to speed, there's a lot more twist of the accelerator left, and that makes overtaking remarkably easy in traffic, especially on the highway. As phenomenal as it is in a straight line, it can handle changes in direction very well, as we found out at one particular mud-strewn corner. As I leaned the SRV in, the tyres held their grip well and I also found out that tight turn-ins are easier to deal with than I had earlier imagined.
Also, unlike the scooters we're used to, it doesn't sport a five- or six-litre fuel-tank. Thankfully, whatever is under there can hold 18.5 litres, and that translates into a decent range, no matter how hard you ride it. Then there's the price. At Rs 13.92 lakh (OTR, Pune), for the healthier ABS version, it delivers the goods, and in a very quick and effective way, might we add.
We know Montrose didn't have an Aprilia SRV 850 back then, but this scooter, right now, gives their words new meaning. It's big. It's bad. And, boy, does it make for a good ride! It doesn't matter if you're going to your father's farm, to a red bridge across the bay, or to any place far away. You'll be at the place in less than a day, probably. So, get on that bad motor scooter and ride!