A day at Ather's brand-new asset: a high-capacity manufacturing facility in Hosur. This investment is crucial to Ather's pan-India expansion plan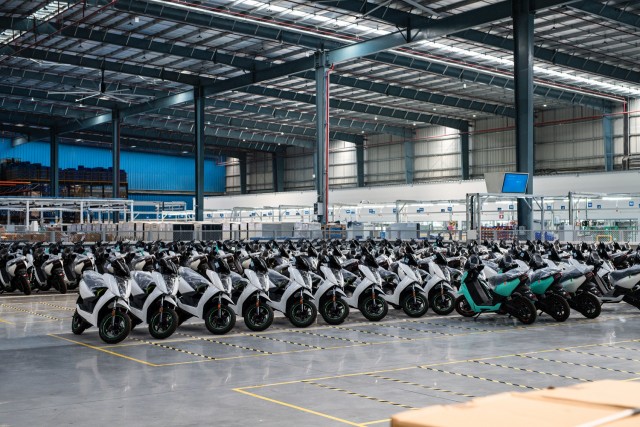 Story: Joshua Varghese
Photography: Ather Energy
A flight to Bengaluru and a bus ride across the Tamil Nadu border into Hosur must have left a considerably large carbon footprint. One can readily imagine environmentalists rolling their eyes when they are told that this effort was made to visit a manufacturing facility for two-wheelers. Another hub that generates tonnes of pollutants? Well, rein in that thought because this plant visit was a little different. This facility produces zero effluents and all e-waste is recycled. Of course, this is quite easy if the factory makes only electric vehicles and battery packs.
Ather Energy manufactures what may just be the quickest scooter sold in India today and that includes all scooters — petrol-powered and electric too. After having slowly won over people in Bengaluru and Chennai, Ather has set its sights on the big picture: to go pan-India. To aid this electric invasion, the manufacturer has invested in a large production facility — 1.23 lakh square feet, to be precise. This plant is capable of churning out 9,200 scooters per month, slightly more than 1.10 lakh units annually. Ather also announced that this was an investment of Rs 635 crore spread over the next five years.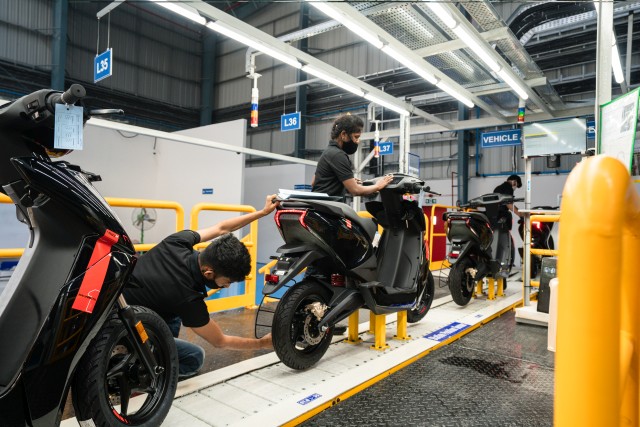 Backed by the Tamil Nadu government's EV Policy, Ather Energy makes battery packs as well (1.2 lakh units per year) and this is a key area of focus for the company in the future. Ather is the only EV manufacturer in India that makes its own batteries and has filed as many as 13 patents in the design and manufacture of lithium-ion batteries. The 2.9-kWh battery used in the Ather 450X comprises 21700-type lithium-ion cells and, as we experienced during a road test earlier this year, the battery discharges predictably while also enabling the scooter to perform consistently well. In addition to creating multiple job opportunities in the region, more than 4,000 employees will receive training over the following years to develop skills relevant to the EV industry.
Inside the plant, the story is no different. A spotless shop floor spread out in front of us with separate departments laid out neatly like a well-organized tabletop. Raw material enters the factory at one end, undergoes the mandatory quality control check, and then proceeds to begin life as a piece of the Ather scooters on the assembly line. At the moment, automation is restricted only for the battery line. So, many technicians toil away methodically at their respective stations as the conveyor bearing the scooters crawl by. Thankfully, up to 90 per cent of all production in those premises is localized and Ather Energy claims that only the lithium-ion cells that sit in the battery pack are of foreign origin.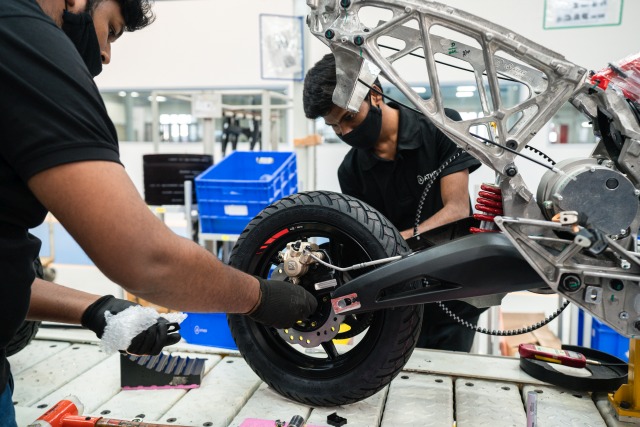 Ather Energy has confirmed deliveries and presence across 27 cities in 15 states. These include Bengaluru, Chennai, Mumbai, Pune, Delhi, Hyderabad, Kochi, Coimbatore, Kolkata, Kozhikode, Ahmedabad, Mysuru, Hubballi, Jaipur, Indore, Panaji, Bhubaneswar, Nashik, Surat, Chandigarh, Vijayawada, Visakhapatnam, Guwahati, Nagpur, Noida, Lucknow, and Siliguri. The company expects to expand to 40 cities by the end of the year. As you read this, Ather has already begun deliveries in Mumbai, Pune, Ahmedabad, Bengaluru, Chennai, and Hyderabad with 21 more cities expected to join the list by the end of the first quarter.
Also Read: Ather 450X Road Test Review