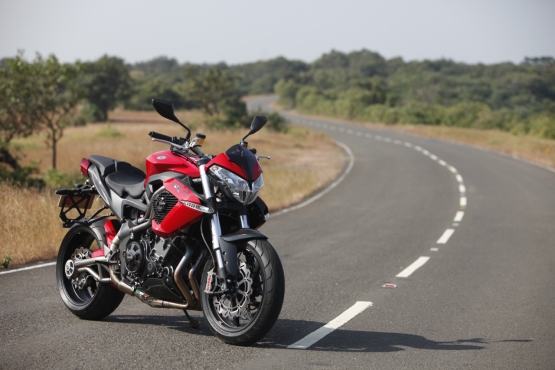 If hooliganism is your thing, then the Benelli TnT 1130R is your must-have bike. But novices, beware! This ain't no firecracker; it's a bomb!
Story: Aninda Sardar
Photography: Sanjay Raikar
Unapologetically and unabashedly mean. That's what the Benelli TnT 1130R is as we discovered when we managed to become the first in the country to get astride this lovely machine. From the feral manner of its power delivery to the ferocious bite from its brakes, the TnT 1130R is a mental machine that instigates the worst form of hooliganism in you to come to the fore. Allow me to explain. There are plenty of fast bikes available in India now. It isn't like how things used to be a decade or so ago. And riding is a real joy on practically all of these bikes. It never fails to bring a smile to your face. But it's only on a seriously hooligan bike that you find yourself grinning like a school kid instead of smiling like a mature adult. The TnT 1130R helps you discover that lost school kid from the depths of your being and pastes that grin on your face.
Moving on from an enthusiast's esoteric gibberish, the bike itself is totally unlike anything else you can see on the road. Apart from the obvious reason that we were the only one with access to the bike, it just looks so very different from anything else on two wheels. As you can see in the photos, it's got a tiny head, a massive torso and a slim rear. It's almost built like a body-builder: a head sitting on a muscular torso with a slim rear. Speaking of the rear, the design is absolutely striking with that genuine carbon-fibre under-seat exhaust with twin wrap-around lamps flanking it.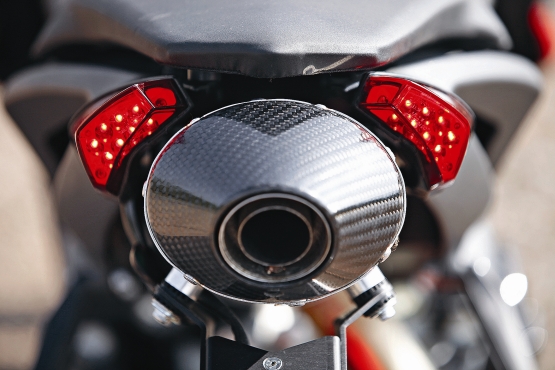 Get astride this mean looking machine and we guarantee you, you're in for a surprise. Believe you me, it's a light motorcycle. Before you think my brains have been addled, let me tell you that at 205 kg, the Benelli TnT 1130R is just about 10 kilos heavier than the heaviest Royal Enfield you can buy in the market. When you factor in the aspect that the Benelli's engine is more than twice as large as the Royal Enfield's, it's not difficult to understand why I would describe this motorcycle as a light one. In fact, that's the first thing I noticed when I wheeled the machine out. Although the bike is tall with a saddle height of 830 millimetres, it looks taller than it actually is. Once seated on the fairly comfortable stepped seat with its tiny back support, I could plant both my feet firmly on the ground and push the bike backwards as well. Even one of my shorter colleagues could get both his feet on the ground (though only the toes in his case) and push the bike back too. The pillion seat is a step higher, as expected on a bike like this, and is comfortable to sit on, but the under-seat grab-rails don't feel particularly comfortable.